Bon Iver
Daydream Hibernation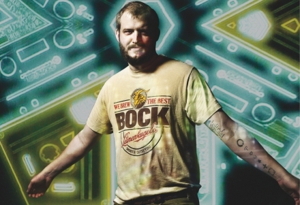 Hometown: Eau Claire, Wisc.
Album: For Emma, Forever Ago
Why He's Worth Watching: Justin Vernon's homespun album is full of intimate songcraft, and has already whipped up a veritable hurricane of blog buzz, not to mention perfect five-star ratings in major U.K. music rags Mojo and Uncut.
For Fans Of: Iron & Wine; Phosphorescent; Loney, Dear

Justin Vernon looks slightly out of place. The bearded songwriter who performs under the moniker Bon Iver (pronounced "bohn ee-VARE") sits placidly on a black leather couch in an ultra-slick Manhattan photo studio. It's dark in the back of the room and the screen of Vernon's MacBook laptop throws a wan campfire glow on his face. If you didn't know he was waiting patiently to have his picture taken for this magazine's cover feature, you might mistake him for one of the photographer's assistants. He's in a hooded sweatshirt, ratty jeans and a T-shirt advertising some Wisconsin brewery, and has no plans to hit wardrobe. But his look serves as a reminder: It wasn't cool that got him here; it was the cold.

In November 2006, Vernon returned to the wintry chill of his hometown Eau Claire in Northwestern Wisconsin. He'd been living in North Carolina, playing music with his band DeYarmond Edison and trying to achieve some visibility on the local scene. But Vernon and the rest of the group increasingly ran into creative differences, and he felt his pursuit of artistic fulfillment had settled into a grinding routine—in his own words, "a weird mediocre state, which feels very bad for someone who wants to do something special with his life." The band dissolved. He broke up with his girlfriend. He packed up his Honda, began a grueling 18-hour drive back to Wisconsin and bid the South a choked-up farewell.

"There was this big pile of doubt," Vernon remembers. "It's like 51 percent of me was relieved that I was away from what I had to get away from. But 49 percent of me was scared shitless that I had just left everything that had given me so much joy over these long years. It's like when you come to the end of a relationship and you love a person, but you know you're not supposed to be with them anymore."

Unsure what to do next, he retreated to his father's hunting lodge. He didn't go there intending to write and record an album. He went there to take stock of his life, enjoy a bit of solitude, think, nap, chop firewood, play guitar, do nothing, do something, work in the barn, walk nearby trails—find his natural rhythm. After about a month of emotional decompression and therapeutic self-indulgence, music began gradually, insistently welling up.

"There wasn't any distraction. There wasn't anybody for me to run to and say, 'Hey look what I'm doing!' As soon as you say something, as soon as you get excited about it and go tell someone, your ego is involved. Even the smallest fraction of that and you can kill some of the magic."

His routine of writing and recording evolved into long days, occasionally 14-15 hours, spent working on songs and refining musical ideas. Listening to the resulting album, For Emma, Forever Ago, you can feel the wintry solitude in the layering of Vernon's singular falsetto, at times piling up into a lush choir—a sort of wolf-pack harmony serenading the wide-eyed Wisconsin moon.

Vernon stumbled upon his nom de plume months later while sick in bed watching an episode of Northern Exposure—the residents of the show's small Alaskan village greet the first snow each year by congregating in the town square and wishing each other "bon hiver," a French phrase meaning "good winter." This coldest of seasons is a perfect metaphor for Vernon's music: the purity of a fresh blanket of overnight powder; the way it resembles a perfectly white canvas. Even a single footprint can document the fact that you were here, like messy initials carved in tree bark.

And For Emma is a record in the most basic sense—a document of what happened when a young man spent a winter in the woods of Northwestern Wisconsin, finding his muse, finding himself, finding some peace of mind. When you arrive at the album's gorgeous closing track, "Re: Stacks," you won't think about all the critical kudos and adjectival bouquets music critics have heaped at Vernon's feet over the past year. You'll think how log-crackling warm it feels inside his songs.

Bon Iver on MySpace
Back to Best of What's Next
Others Tagged With