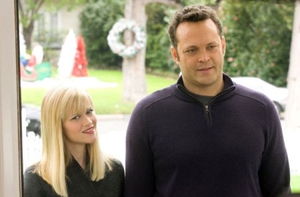 Release Date: Nov. 26

Director: Seth Gordon
Writers: Matt Allen, Caleb Wilson, Jon Lucas, Scott Moore
Cinematographer: Jeffrey L. Kimball
Starring: Vince Vaughn, Reese Witherspoon, Robert Duvall, Sissy Spacek, Jon Voight, Mary Steenburgen
Studio/Running Time: New Line Cinema, 82 mins.
Proving that quantity does not equal quality, director Seth Gordon (The King of Kong) presents Four Christmases, a weak, soulless holiday film in spite of its inclusion of five previous Oscar winners.
When their plane to Fiji is grounded, self-centered lovers Kate (Reese Witherspoon) and Brad (Vince Vaughn) are forced to pay a visit to each of their divorced parents on Christmas day. Brad's redneck father (Robert Duvall) continuously ridicules his son while his brothers, amateur cage fighters, use his body as a punching bag. Brad's mother (Sissy Spacek) is having sex with Brad's ex-best friend. Kate's mother (Mary Steenburgen) has given her soul—and body—to Pastor Phil (Dwight Yoakam), and Kate's father (Jon Voight) actually appears to be kind of normal. The behaviors of their dysfunctional families have, perhaps understandably, kept the young couple from plunging into marriage. But, after being spit on by a baby, terrorized by grade schoolers and embarrassed by their loved ones, Kate and Brad inexplicably begin to question their noncommittal ways and turn their thoughts to holy matrimony. Holy crap!
Although we've come to expect such disappointment from Vaughn recently (The Break-Up, Fred Claus) it becomes downright painful to watch Academy Award winners Witherspoon, Duvall, Spacek, Steenburgen and Voight bring their games down to this level. Only Jon Favreau's portrayal of Brad's psychotic brother and Brad's dramatic reading as Joseph during the church nativity play come close to eliciting any real laughs in this holiday disaster.
Watch the trailer for Four Christmases:
Others Tagged With