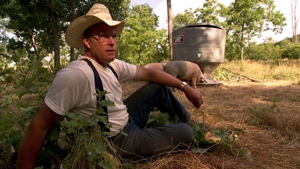 Release Date: June 12
Director: Robert Kenner
Cinematographer: Richard Pearce
Starring: Michael Pollan, Eric Schlosser, Joel Salatin, Barbara Kowalcyk, Gary Hirshberg
Studio/Run Time: Magnolia Pictures, 94 mins.
Food documentary is a better appetizer than meal
It may sound like it's been done before, but the slickly produced film Food, Inc. is the first major documentary to try to summarize the contents of two popular and troubling books about our nation's dysfunctional food system: Fast Food Nation by Eric Schlosser and The Omnivore's Dilemma by Michael Pollan. It's a tremendous amount of material to cover. The politics of food subsidies, changes in the American diet, genetic modification of crops, stockyard conditions, seed patenting, the industrial organic industry, household economics, obesity and other diet-related diseases, and the surprising prevalence of corn and soy in the aisles of our supermarkets are just a few of the topics that Food, Inc. skitters past. By aiming for all-encompassing breadth instead of depth, the film is both alarming and overwhelming. But because it spends only a few minutes on any one topic, it makes a better appetizer than entrée.
Of course it's hard for any single film or book to shed light on the rapid changes that have taken place since our grandparents were young, in the way we grow, process, and eat our food, because the problems are not just numerous, but systemic. Richard Linklater understood this when he made Fast Food Nation, a fictional film inspired by Schlosser's book. While some audiences were disappointed by the film's prismatic, impersonal story, Linklater's formal examination of the food chain is highly thought provoking. But truly unpacking the systemic problems of food production via storytelling would probably require a sprawling, multi-part, spider web of an epic, like the food-based equivalent of The Wire.
That's one reason why I enjoy Pollan's book; he illuminates aspects of the system by zoning in on a couple of its major pieces. His extensive profile of farmer Joel Salatin in The Omnivore's Dilemma is particularly inspiring, and my favorite parts of Food, Inc. are when Salatin himself appears, wearing denim, suspenders, and a cowboy hat, to speak eloquently and passionately about his back-to-basics farming, where the sun and rain grow the grass, the grass feeds the cows, the chickens come in to pick at the remainder, and the eventual slaughter is done not only in the open air but in front of any customers who care to watch.
When director Robert Kenner is doing just that, watching, focusing on a topic, or listening to great advocates like Salatin, Schlosser, or Pollan, I'm with him. When he then soft-pedals his examination of the massive organic food industry and champions Wal-Mart for dipping a toe into that world via Stonyfield Farms, I feel like I'm being guided by someone who not only doesn't have the time, in 90 minutes, to explore so many complex issues but also doesn't understand them deeply enough to know or admit when he's making a major, dissonant compromise. Still, if Food, Inc. whets the appetites of its viewers and spurs them to question how their food arrives on their plates, it's doing a heap of good.
Watch the Food, Inc. trailer:
Others Tagged With