Elijah Wood Talks Charity Compilation, Imaginary Dogs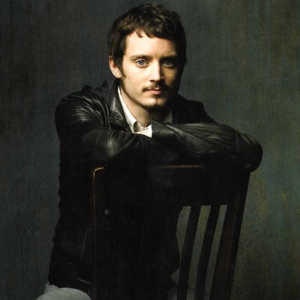 Yes, he played Frodo Baggins, the brave little hobbit who saved Middle Earth in nothing but a wee cloak and bare feet. It was an iconic performance, and we love him for it. But these days, Elijah Wood is on a different adventure—a few of them, actually.
He recently curated an iTunes compilation album with an excellent 20-song tracklist featuring Sleigh Bells, Sonic Youth, The Soft Pack, Ty Segall and many more. And it's for a cause we can get behind: Art of Elysium, which brings artists and musicians into hospitals to visit seriously ill children.
The same day we heard about his compilation, we caught wind of his new acting project: an Australian-imported TV series about a man and his dog. Only the man imagines his dog as a guy dressed up in a dog suit who drinks and smokes and trash-talks other dogs (also guys dressed up in dog suits). It sounds weird, but clips from the Aussie original had us in stitches.
Needless to say, we were intrigued by both these projects, so we decided it was time to catch up with Wood. Over the phone, he told us about the compilation, his first entry into the world of television via imaginary-dog comedy, and the music he's been listening to.
Paste: How did the idea for this compilation come about?
Elijah Wood: iTunes actually approached me about doing it. And I was excited on a couple levels. I'm a huge fan of music, and it was a fun opportunity to put something together from the ground up, and tout the bands I really like. But at the same time it was also exciting to put something together that would go to a charity I really believed in. It was a pretty wonderful opportunity.
Paste: What about this particular non-profit got your attention?
Wood: I think I'm always partial to charities that focus on helping children… particularly children in hospitals. The charity is based on bringing artists of all kinds into hospitals and spending time with the children and engaging them in workshops. Essentially making them forget that they're in the hospital. A lot of these children are separated from their friends and families, and having to undergo treatment that can be painful and upsetting. I think what's so wonderful about the charity and the programs they enlist in these hospitals is that they sort of give kids a sense of not necessarily being in the space that they're in. It allows them to create and be inspired by artists of all kinds.
Paste: And you curated the compilation, correct? You handpicked all the musicians featured?
Wood: I brought a lot of ideas to the table, bands that I was already a fan of. And then throughout the process with the folks at iTunes, I was introduced to a lot of bands that I hadn't heard as well. It was also quite collaborative. I really wanted to do something that would incorporate bands that sort of evoked sounds of the 1960s and '70s in terms of their influence in rock music. That was kind of the tone I wanted to go for. It's ended up becoming a lot more eclectic than that, which I'm pleased about. The final session, where everybody shared their ideas, I brought my computer and a bunch of songs that I wanted to suggest, and the folks from iTunes were suggesting bands as well, and we had this big listening session, which was really fun. It's been an incredibly rewarding process in the sense that I learned a lot as well.
Paste: Are any of the bands personal favorites of yours?
Wood: The bands that I felt very strongly about were Stardust & White Dwarfs, Wolf People. There's a band called Music Go Music that I love. I suggested Sleigh Bells before the album came out, because I fell in love with their demos and was super excited for their record.
Paste: We love Sleigh Bells around here.
Wood: I was chomping at the bit for that album for ages. I felt like I lived with those demos for so long, and the record was definitely satisfying. White Denim is another band I really love, and we actually got an exclusive from them, which is exciting. There's a band called Malachai from England. I fell in love with their debut a few months ago. The Soft Pack, too. I love the Soft Pack record.
Paste: So, what music are you listening to right now?
Wood: I haven't fallen in love with and listened to a record from front to back like I have with the Black Keys record. I just got this record by a band called Tame Impala, called Inner Speaker. It's heavily influenced by late-'60s, early-'70s psychedelia. They're from Perth, Australia, and the lead singer often times really reminds me of George Harrison. So it has this sense of…if the Beatles had done really intense, late-'60s psychedelic rock. There was a great compilation that came out a couple of years ago called The Roots of Chicha, which was a really incredible compilation of Peruvian psychedelic cumbia music. I fell in love with cumbia as a result of it. I had never heard of that style of music before. So just recently, I looked online for another compilation, just to see if I could satisfy my cumbia needs.
Paste: I don't think I've ever met anyone with cumbia needs.
Wood: [laughs] Well… I had them.
Paste: And you survived?
Wood: I totally did. There's another band on that compilation called Juaneco y Su Combo. I found a whole record of theirs called Masters of Chicha. If you've never heard cumbia, check out The Roots of Chicha. That album is incredible.
Paste: We hear you're working on a TV series, Wilfred, with David Zuckerman [set to direct]? We watched the YouTube videos of the original. That's some funny stuff.
Wood: [laughs] Yeah, it is. It's really funny. It's not the easiest thing to pitch or to describe. Because if you do the basic one-sentence, bullet-point description, it sounds like it could kind of be awful.
Paste: How did you get hooked up with this project?
Wood: My manager gave me a copy of the pilot about a month ago. And I'd never read anything like it before. I found it to be strange and cerebral and really funny. It sort of evoked the movie Harvey for me. Jimmy Stewart plays this guy named Elwood who has an imaginary friend named Harvey, whom he introduces to people, but nobody can see him. And Harvey kind of represents a disassociation with reality, but also a more positive more beautiful outlook on life. So to a certain degree, there are elements of that within the context of Wilfred. You get the impression that it's in this person's mind only, the personification of this dog, and it could be either for his own good or his own detriment.
Paste: And this is your first venture into the world of television, right? How are you feeling about that?
Wood: It's already different, because the material is comedy-based. I've never done any comedy. It's something I've wanted to do for a long time. It's giving me an opportunity as an actor to explore a kind of material I've not explored. And television is just logistically really different. You record an episode in four to five days. I mean, you have a season. [laughs]. There are so many elements that are new, but also really exciting. It'll be really fun.