Cake: Showroom of Compassion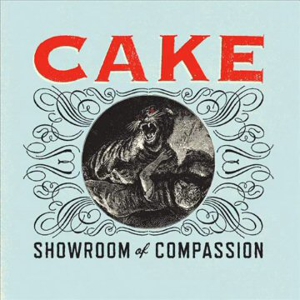 After waiting seven years for the band's sixth studio album, many Cake fans were ambivalent when frontman John McCrea announced that Showroom of Compassion would have a "very different" sound. But while it might be a little more mellow, it's still very much a Cake album—crazy noises, random shouting, chortling trumpets and all.
Recorded under the solar panels of Upbeat Studio, Showroom marks a departure in many ways for the band—from Columbia Records, from the Sacramento, Calif., power grid, and from the style of the past. Lead single "Sick of You" features McCrea's trademarked talk-singing alongside familiar guitar riffs and trumpets, but a greater inclusion of keyboard scales adds a new layer to the relatively stark landscape.
Other notable tracks include "Mustache Man (Wasted)" which starts off very similar to 1996's "Its Coming Down" but quickly picks up, erupting into a rapid guitar riff that repeats throughout the song. On the other hand, instrumental "Teenage Pregnancy" offers an intermission not unlike 2001's "Arco Arena," though significantly more depressing with minor scales and forlorn horns portraying an ominous sense of dread fitting to the title. It's an outlier but still fits with the album nicely.
Retaking the reins and returning to their indie roots, Cake delivers after the lengthy hiatus. New, old, different or not, Cake fans will have plenty to appreciate.
Others Tagged With