Comic Book & Graphic Novel Round-Up (2/23/11)
Ivy, Scalped, Buz Sawyer, DMZ
Every Wednesday, Paste looks at some of the most intriguing comic books, graphic novels, graphic memoirs and other illustrated books.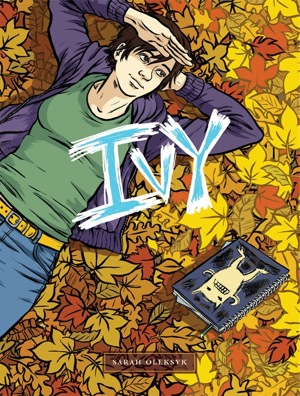 Ivy by Sarah Oleksyk
Oni Press, February 2011
Rating: 7.5
I'm sure Sarah Oleksyk gets tired of the inevitable Alison Bechdel comparisons, or if she isn't, she will be once people start reading her new graphic novel, Ivy. It's not just the androgynous look of many of the characters, including the eponymous girl, but more that Oleksyk isn't afraid to make them unsympathetic. Ivy is rude, thoughtless, quicker to anger than to demonstrate compassion, and apt to make rash decisions. In other words, she's a teenager. While you may not always love her, you'll probably relate to the way Oleksyk shows her finding her way and screwing up constantly on the way to doing so. There's a deep maturity in this young author's depiction of adolescence that manages not to condescend or wink at the reader, and although the panel layout doesn't vary much, her figures seem drawn with assurance and ease. The book doesn't whomp you over the head with its pleasures and its narrative isn't really a new one, but it's quietly well-executed in just about every aspect. It's not Bechdel yet, but it's getting there. (HB)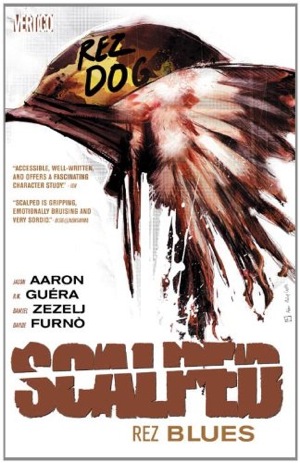 Scalped Vol. 7 Rez Blues by Jason Aaron, R.M. Guera, and various artists
Vertigo, February 2011
Rating: 8.4
Jason Aaron is one sadistic bastard. Seven volumes into his Native American crime blockbuster, Scalped, the acclaimed scribe won't give any of his characters a break. He continually pushes and kicks his cast along a downward spiral barbed with violence and regret. A credit to his sharp instinct and sculpted characterization, his tale of an undercover FBI agent fighting a corrupt casino boss has never lost momentum. Turning away from the inevitable powder keg at series' end isn't even an option for those who have stuck around for 35 issues.
The latest collection, Rez Blues, hits some especially dramatic notes for Agent Dashiell Bad Horse and the Prairie Rose ensemble. The plot expands through generations to paint a vivid collision course of every tertiary character, large and small. Bad Horse's pregnant girlfriend Carol takes the spotlight as she struggles to rationalize bearing a child in such a depraved environment. Aaron handles the abortion issue capably. His characters aren't archetypes of morality; they're concrete human beings coping in the face of exhausting hardship. While this entry is more character-driven connective tissue between the overarching plot (nothing here rivals Red Crow's brutal showdown with the Hmongs), it's still exemplary storytelling from one of comics' most hardboiled titles. (SE)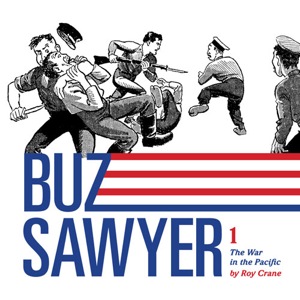 Buz Sawyer Vol. 1: The War in the Pacific by Roy Crane
Fantagraphics, March 2011
Rating: 9.0
There used to be these things called newspapers. They were like a bunch of paper placemats that were folded over and wrapped up together, but full of department store ads instead of the story of when Dave met Buster. They also usually ran comic strips, and one of the best in the days of our grandparents was Roy Crane's Buz Sawyer. Crane arguably invented the adventure strip in the 1920's with Wash Tubbs and its Sunday spin-off Captain Easy, and by the time he started Buz Sawyer for Hearst in 1943 he was an accomplished master of the form. In the serialized adventures of Buz Sawyer, ace World War II Navy pilot and clean-cut ladies man, Crane expertly mixes high action in the Pacific with just the right amount of romance, creating a storytelling engine as sturdy and reliable as Sawyer's SBD Dauntless. Crane's gorgeous art, with cleanly drawn figures, extensive shading, and a slightly cartoonish style, took full advantage of the space provided comic strips back in the day. It's difficult to imagine how Crane, who passed in 1977, would work with the severely reduced real estate of today's comics pages. Of course there's an unfortunate racial element to Buz Sawyer, as all non-white characters are reduced to the broadest and most offensive stereotypes, but that doesn't diminish Crane's formidable talents. (GM)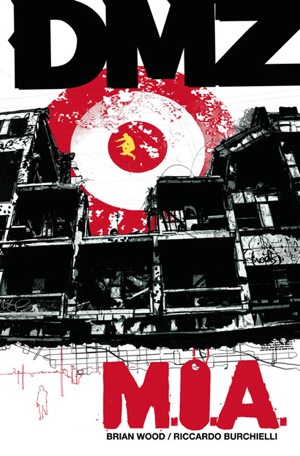 DMZ Vol. 9: M.I.A. by Brian Wood and Riccardo Burchielli
Vertigo, February 2011
Rating: 6.7
Brian Wood's stories are often giant, graphic love letters to New York City, and DMZ is no different. The main difference lies in its inspiration: whereas The New York Four and Couriers take their cues from less abrasive influences, DMZ is a direct product of the political turmoil and hysteria that gripped the city after 9-11. Wood and artist Riccardo Burchielli do a fantastic job of showing the soul of a city after the commercialization and gloss are stripped away. As a long-lived resident, Wood flexes his intricate knowledge of the Big Apple, painting an anthropologic map that rivals Tolkien's descriptions of Middle Earth.
M.I.A., the ninth volume of the series, serves as a natural breakpoint in the continuing story of a modern civil war as journalist Matty Roth faces the aftermath of a nuclear explosion for which he bears some responsibility. Unlike previous volumes, this thread lacks the pressure and plotting that make this series such a gritty joy. Much of the arc witnesses Roth sulking around the city in an existential malaise, pondering his role in the urban battlefield. It doesn't help that Burchielli's storytelling can appear muddled, specifically in one scene where dogs seem to climb a vertical fire escape. Still, DMZ 's insightful commentary makes for one of the most intriguing political war stories around. (SE)
Others Tagged With