RCA Didn't Like Ray LaMontagne's New Album, He Didn't Care, Then He Got a Grammy Nomination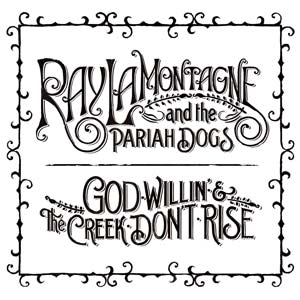 Record labels have a history of concerning themselves with producing hits rather than the artist's vision, so it's no surprise that Ray LaMontagne recently said his label, RCA, "[wasn't] happy at all" when he submitted his latest record, God Willin' & the Creek Don't Rise. But he stuck by his work, and then he got a Grammy nomination for it.
While RCA wasn't pleased, LaMontagne told the Associated Press, "I was. And so at that point, it's really up to you as an artist to draw a line in the sand. You either want to jump through hoops for some guy in a suit at a record label until they're happy or you just have to believe in yourself and what you've done."
LaMontange decided to go in a new direction after experiencing so many troubles with his traditional recording and touring process. "At a certain point I guess I just thought, `I don't want to do this anymore,'" he said. "I couldn't stand the thought of so much money being spent, my money…It just seemed needless. There were lots of little negotiations I could do without. That's really what made the difference."
So he ended his partnership with producer Ethan Johns, one of the men behind the first three albums and LaMontagne's initial success. He then gathered a highly sought-after group of musicians: Greg Leisz (Joni Mitchell), guitarist Eric Heywood (Son Volt), Jay Bellarose (Joe Henry), Jennifer Condos (Ryan Adams) and even some help from Ryan Adams, himself. Ryan Freeland, a Grammy-winning engineer, was also flown in from California.
LaMontagne and his backing group—known as The Pariah Dogs—recorded the folk-blues album in a 200-year-old colonial farmhouse in Massachusets, seemingly the perfect location for a record with such an oldschool feel. The whole thing only took about two weeks, with the majority of the recording completed in five days and the remaining time spent on "minor tweaks."
God Willin' constituted the singer/songwriter's "best work," LaMontagne believed, but RCA didn't agree. "So they asked me to please — very politely, please — go back in the studio and do something else. Which to me was, well, to say insulting," LaMontagne said.
He didn't go back in the studio, though. "And what's the worst that can happen," LaMontagne said. "Are they gonna drop you? Not to sound cocky, but I dare `em."
His resolution proved correct. God Willin' debuted at No. 3 on the Billboard Top 200 and eventually topped the folk and digital albums list. The song "Beg Steal or Borrow" also hit No. 1 on the AAA airplay list. Meanwhile, we'll find out Sunday how he does on the Grammy front.
Got news tips for Paste? Email news@pastemagazine.com.
Others Tagged With