Brandi Carlile: Live at Benaroya Hall with the Seattle Symphony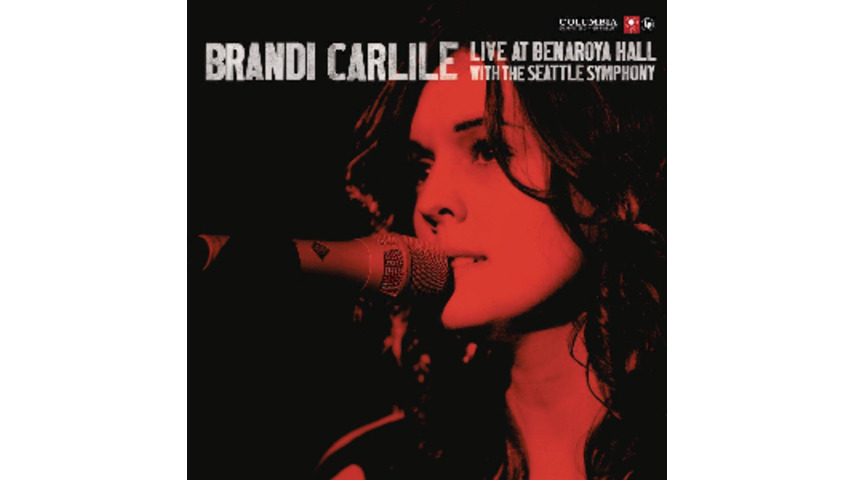 Listen to Brandi Carlile's Live at Benaroya Hall with the Seattle Symphony in its entirety here.
Anthemic and finally captivating
Within certain circles, Brandi Carlile's 2009 album Give Up the Ghost was a cause célèbre – a frequent entry on year end "best of" lists and a source of cult whispers. For all its apparent craftsmanship, to these ears that album never quite hung together as Carlile's operatic tendencies frequently drowned their musical beds and maybe even the songs, while the star power of Rick Rubin's production and guest turns by a Chili Pepper, a Heartbreaker and a certain Mr. Elton John tended to help somewhat overstate the point.
Here, suddenly, on a live record backed by a symphony (which she still largely overpowers), the gravitas and drama of her performance feels properly framed, and songs like "Before It Breaks" and "I Will" truly soar. A seemingly obligatory cover of "Hallelujah" pays reference to her all-apparent debt to Buckley, but with a twist as she follows with an incisive cover of Alphaville's "Forever Young." While modest in length and arguably over-stacked with covers (including her band of brothers' (literally) eerily dead-on take of "Sounds of Silence"), her basic passion here is overwhelming and contagious – in this set Carlile fans finally have a glowingly rendered exhibit to display to non-believers and a full proof of concept.
Others Tagged With