Wavves: Life Sux EP
[Ghost Ramp]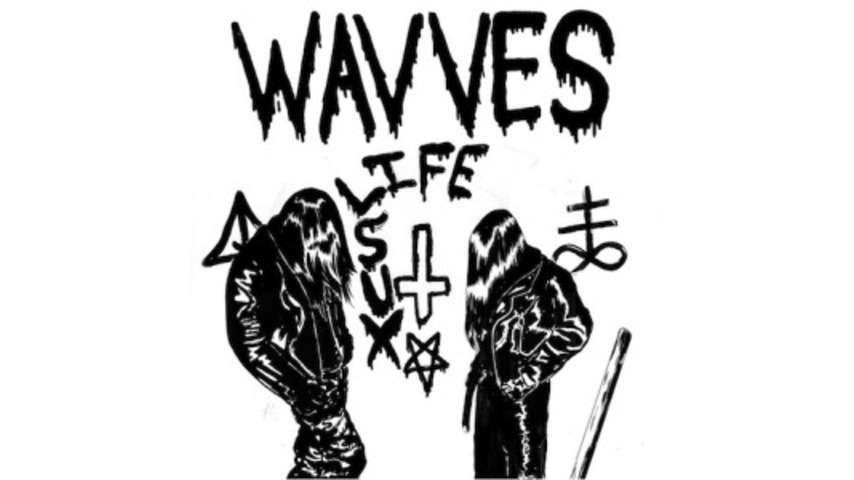 Looking back at Wavves' career, I can't help but feel a little sorry for Nathan Williams. There's a long list of reasons to hate Wavves beginning with Williams' well-documented petulance, which may have contributed to Wavves' revolving door of bandmates—which definitely contributed to a period of inconsistency and false-starts between 2009's Wavvves and 2010's King of the Beach. And that's to say nothing of that famous meltdown at Barcelona's Primavera Sound Festival in 2009, when then-drummer Ryan Ulsh (now of Virginia's excellent Super Vacations) dumped a well-deserved beer on Williams' head and stormed off stage.
The new Life Sux EP, the first Wavves release to bear the imprint of Williams' own Ghost Ramp label, couldn't be further removed from the Wavves of past infamy. It's what might've been a confident sophomore effort from a band that only really found its footing on third outing King of the Beach.
It's easy to forget that Wavves started as a bedroom project, caught a buzz from the press, and was suddenly on indie rock's A-list; William's woodshedding was suddenly a hot topic for indie nerds nationwide. It was kind of like throwing a high school freshman with some promise and an early growth spurt into an NBA All-Star game. The first two Wavves albums, Wavves and Wavvves, were hardly distinguishable from each other and their songs were hardly distinguishable from the soupy noise Williams buried himself in. Still, some cuts, like the much ballyhooed "No Hope Kids" were enough to put the eyes of the world on this rookie band. After Barcelona, Hella's Zach Hill joined the band, recorded a Daytrotter session and broke his hand. He was replaced by drummer Billy Hayes and bassist Stephen Pope after Jay Reatard kicked them out of his band.
That trio recorded King of the Beach, and marked a huge leap forward for the band. At its best (mostly toward the front of the record), King hit the snotty hooks and self-deprecating suburban malaise of Dookie-era Green Day.
That point of reference is worth paying attention to. That Rolling Stone readers consider Green Day to be the best punk band of all time is infuriating, sure, but it's not surprising; the Bay Area trio (and Dookie especially) were punk's ambassadors to pop. Dookie was released in 1994, the same year Superchunk released Foolish, The Offspring released Smash, NOFX released Punk In Drublic and Sunny Day Real Estate released Diary. Only one of those bands eventually went on to Broadway (for better or, mostly, for worse). In 1994, Alternative Nation needed a smirking dose of piss and vinegar, something that could provide a bridge to college rock for suburban pre-teens, and Green Day delivered it better than anyone.
In 2011, the alt-rock landscape is vaguely similar to 1994's. Full of abstract art-school pop bands in the Animal Collective mold, nostalgic guitar bands like the Dinosaur Jr-aping Yuck, and ambitious outgrowths of punk where even Fucked Up has a rock opera, 2011 needs a piss and vinegar band of its own to be charmingly unambitious, sarcastic and most of all, catchy as hell. On Life Sux, Wavves formally announces its candidacy.
Free of filler, and with the beneficial addition of cameos from Best Coast's Bethany Cosentino and Fucked Up's Damian Abraham, Life Sux is hands down Wavves' best statement. Williams takes out a grungy loan with the J. Mascis-y guitar riff on the aptly named "Bug," and the fatalist, Nirvana-like "Poor Lenore" dives into hardcore by way of No Age punk-gaze on "Destroy" (which also features Abraham's snarling second verse). The whole thing feels especially effortless on "Nodding Off," with Cosentino's back-up vocals softening Williams' snottiness. Even live cut "In The Sand," plays like it could've been the beach-hating highlight of King.
But the standout cut is the EP's second, "I Wanna Be Dave Grohl." Here, Williams delivers his most confident vocal performance to date. "I can't live with my mistakes/ Get out of bed/ Or face this day," he sings over Pope's jet-propelled bass line. (Hayes left the band and was replaced by Mae Shi drummer Jacob Cooper.) Melodically assured and fully developed, the song recalls Millencollin or Goldfinger in their prime. The vamp into the chorus suggests maybe Williams could get his wish, or something like it.
This is the moment at which Wavves ought to be thrust into the spotlight. With the temper tantrums and filler-packed, noise-cloaked practice swings (hopefully) behind them, I'm inclined to forgive and forget. Wavves is finally fulfilling its early promise by ditching the shit-gaze scuzz for propellant pop-punk informed by a well-read copy of Our Band Could Be Your Life. Welcome to paradise, dudes.
Others Tagged With