Bombay Bicycle Club: A Different Kind of Fix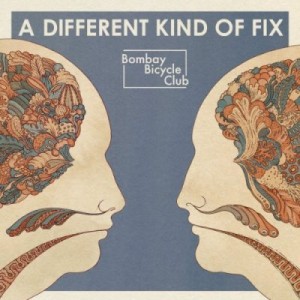 Bombay Bicycle Club's third album, A Different Kind of Fix, arrives late and with a certain air of mystery. Any late album comes with the added intrigue of the unknown causes for its delay, the kind of thing that is most likely simple and logical but that we all like to mythologize as the result of drug abuse and in-fighting and broken-hearted benders into temporary oblivion.
But I'll move on to what's actually important, the music. For their third studio album Bombay Bicycle Club combined the talents of long-time producer Jim Abbiss and Ben H. Allen, who has produced tracks by Animal Collective and M.I.A. The result is an album that's got just enough polish to not really feel like rock and enough layers of arrangement to feel far from folk, but not enough digital reconditioning to feel completely manufactured. It's rife with repetition and imbued with a deliberate fullness of sound. But more than anything, it's hard to nail down exactly who Bombay Bicycle Club is hoping to be. They moved away from their indie rock roots into the land of likably amorphous rock for large parts of the album.
The song that's most indicative of most of the album's direction is the first single, "Shuffle." You can feel Ben H. Allen's hand on the production, a mix of jangling keys, slapping metronomic drums and choral-pop vocals. It's a song that's hard not to like but not really possible to love, a line that sums up most of the album pretty fairly. There are, as always, the outliers. The album opens with "How Can You Swallow So Much Sleep," building spectral vocals into layers that pulse with the arc of the guitar, an interesting introduction that inspires further listening. There's also the last track, "Still," a simple, sparse and beautiful song that has the patience to sit and wait, to speak slowly, emote fully and move arhythmically, a song that aspires to be no more or less than what it is.
A Different Kind of Fix certainly isn't bad—it's got its moments. Perhaps its only offending quality is that it's utterly inoffensive; it's likable and overwhelmingly pleasant, but likable in a way that immediately gets put in the "friend-zone" and never has any chance of being anything more.
Others Tagged With