Snow Patrol: Fallen Empires
[Island/Def-Jam]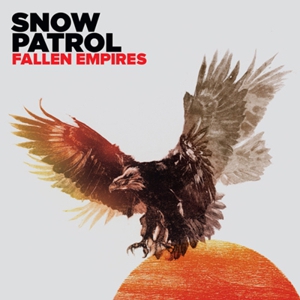 Snow Patrol seem to have their hearts in the right place. They've covered Low and Bright Eyes, name-checked Sufjan Stevens and spent formative time on Belle & Sebastian's old label. In interviews promoting their sixth album Fallen Empires, frontman Gary Lightbody said all the right things about experimenting and growing their sound. Which is great and all, but Empires sounds as much like a product of artists cautiously trying to nudge their songwriting forward a bit as it does the result of our nation's television music supervisors collectively willing another Snow Patrol album into existence, as someone needs to provide pensive, swoony anthems for scenes where attractive white people tell other attractive white people they love them/are dying/need to follow their dreams no matter what.
There's a handful of tacked-on electronic dance-beats on Empires, particularly first single "Called Out In The Dark," but that's just the sort of thing British rock bands of a certain stripe feel the need to dabble in to feel like they're keeping things fresh. But as much as they might fetish indie-culture, Snow Patrol is not an arty band that happened to get huge. They are a professional mainstream pop act specializing in well-crafted, cleanly produced arena-sized anthems. Which is fine, of course. They are hardly a unique entity, but they do what they do better than most of their peers (strangely, they're not even as experimental as Coldplay, though they are overall less cloying), and the world is not a worse place because someone is reliably filling it with open-hearted ballads that expertly knick from U2, The Bends-era Radiohead, Peter Gabriel and just enough shoegazing guitar that the band can live with itself.
As such, a Snow Patrol album doesn't need to be viewed in terms of how they changed up their sound, but in how many good songs they have. And Empires certainly has more memorable tunes than 2008's A Hundred Million Suns. Like many arena acts, Snow Patrol often fall into the trap of substituting huge-sounding production and vague slogans in place of meaning or a memorable melody, as in "New York," which will probably be in a million TV dramas anyway. But Lightbody has learned a few tricks from his favorites, and the best moments on Empires come when he narrows in on human-sized details, like the joy of hearing his favorite band (Teenage Fanclub. Again with this guy) on the jukebox while his football team wins a championship over gently strummed guitars and decorative strings ("Lifening") and effectively sentimental vignettes about troubled relationships and wishing "you went home/days ago/to say goodbye/or just hello" on the "Stuck In A Moment You Can't Get Out Of" update "This Isn't Everything You Are." Although the sparkling production of Empires doesn't allow for much in the way of nuance or detail, Snow Patrol still attacks the choruses of "You Are" and "The Weight Of Love" with enough oomph that you can already hear the stadium sing-a-longs. Artistic success is a malleable thing.
Others Tagged With