Eastbound & Down Review: "Chapter 16" (Episode 3.03)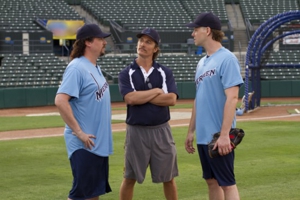 I've known Eastbound & Down is special since the first episode of the first season. The pilot ended with one of the most intense coke-sniffing scenes on TV, as Kenny Powers (Danny McBride) and his bartender friend Clegg (Ben Best) furiously cut and snorted line after line. It made it clear that Eastbound wouldn't flinch in showing just how sordid Kenny's life can get, while proving that it could be disturbing and hilarious at the same time.
The end of "Chapter 16" made me think of that scene. After an episode full of tough luck Kenny tries to find peace by maniacally blowing rails with his catcher Shane (Jason Sudeikis). They're leaping around Shane's room, their chant of "never say die" gradually turning into "never die". Kenny turns around to change the iPod to something more cokeworthy while Shane cuts up "another couple monster rails for us young fucking bloods." Kenny, back turned, dances gleefully to "Walk Like An Egyptian" while Shane silently has a heart attack in the background. It's a masterfully produced scene, with excellent editing, a perfect song choice and the best acting of Sudeikis's career. It's also a fitting capstone to one of the worst days of Kenny Powers' life.
The episode started off well for Kenny. His personal assistant Stevie (Steve Janowski) has finally arrived in Myrtle Beach to once again become Kenny's loyal servant, with wife Maria (Elizabeth De Razzo) in tow. Their primary job: watch Kenny's son, Toby, for as Kenny says, "a white baby needs care basically 24/7". Roy McDaniel (Matthew McConaughey), the Texas scout who signed Kenny out of Mexico, is in town to watch the Mermen play. And Kenny has the love of a cute (if airheaded) young college student named Andrea (Alex ter Avest). Everything's going right for KP.
And then everything changes. Spurred on by Maria, Stevie sets new ground rules for his relationship with Kenny, demanding mutual respect. Andrea won't commit to being there when Kenny needs her, and embarrassingly turns him down in a cringingly awkward scene in front of a classroom in session. Worst of all, Roy tells Kenny he's in Myrtle Beach not for Kenny but to watch Texas's big new international signing, the Russian fireballer Ivan Dechenko (Ike Barinholtz).
Roy asks Kenny to mentor Ivan. Kenny initially balks, but eventually embraces the Mr. Miyagi role, taking Ivan to an abandoned cement factory to teach him valuable lessons in tridents and team-building. Ivan understandably refuses all of Kenny's idiotic commands, saying he doesn't need lessons from "fucking has-beens". An angry Kenny abandons Ivan at the factory, driving off on his three-wheeler with his trident at the ready.
Earlier Kenny remorsefully told Stevie and Maria that they should convert his dojo into a nursery for Toby. After the run-in with Ivan an irate Kenny returns home and sees the fantastic job they did (Stevie based it on a "retro baby chic" spread in the latest Southern Living). "I don't want my dojo to look like the place where Cabbage Patch Kids come to fuck", Kenny screams at Stevie, throwing a lamp against the wall.
After this blow-up the unthinkable happens: an obviously despondent Kenny actually opens up to Stevie. He tells Stevie he's nervous about Ivan stealing the spotlight in Myrtle Beach and ruining his chances of making it back to the majors. A touched Stevie then gives a genuinely great speech, telling Kenny that he has a "battle-hardened confidence" honed by run-ins with "April, marketing and Mexicans". "I didn't just come to Myrtle to party and maybe cheat on my wife – I came here to be inspired!" Stevie exclaims. Even in his inspirational speeches Stevie plays the subservient lackey.
Cut to that night's game. Roy is in the stands. The Mermen are up 6-1 in the 9th. The bases are loaded when Kenny's called in to make the last out. The fans go nuts as Kenny charges out. He deals strikes one and two in quick secession. He looks around on the mound, soaking up the adulation of the fans. He sees Stevie in the stands, proudly holding Toby aloft. Kenny squares and deals a blazing pitch right down the middle of the plate, which is promptly smacked out over the outfield fence for a grand slam. Stevie slowly pulls Toby down, looking embarrassed.
Kenny's pulled and Ivan comes in. The crowd is confused by Ivan's Russian folk song entrance music and Soviet-style salutes. They aren't confused when he gets a quick three-pitch strikeout to win the game, though. Just like that these fans belong to Ivan.
And that's what brought Kenny and those mounds of cocaine to Shane's apartment after the game. Shane's death is truly shocking, but it might be the exact sort of wake-up call that Kenny needs to finally grow up and accept at least an iota of responsibility. But could there still be an Eastbound & Down if that happens?
Others Tagged With