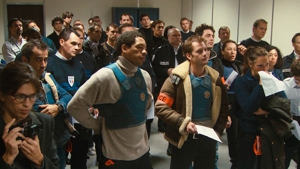 Police officers in the Child Protection Unit lead incredibly difficult lives and operate much like a dysfunctional family. At least, that's what Polisse, the winner of the Jury prize at the 2011 Cannes Film Festival, would have us believe.
Set in Paris, the unit is run by Balloo (Frédéric Pierrot), a fatherly figure who's frustrated by his bureaucratic boss for not giving the department the respect it deserves. He's also frustrated by his wife who schedules optimal times to impregnate her. Other police officers in the unit aren't faring much better in their personal lives. Nadine (Karin Viard) is dealing with a messy divorce from her philandering husband. Her partner, Iris (Marina Foïs), struggles with bulimia and control issues. Fred (Joeystarr) obsesses over his work at the expense of his family. He's also attracted to Melissa (Maïwenn), a quiet, mysterious photographer who has been assigned by the Ministry of the Interior to document the unit's work. Additional romantic tension in the group is provided by two partners, one of whom is pregnant. Personal dramas aside, the unit is constantly dealing with extreme stress, including a raid on a Romanian pickpocket camp, interviews with pedophiles and abusive parents and poor immigrants who don't have the resources to care for their own children.
Inspired by a documentary on the Child Protection Unit, Polisse has a realistic and gritty feel. Where it perhaps imitates a non-fictional film too much is in the cinematography. The lighting is basic, and the shot selection feels like it's simply covering action rather than heightening it. That said, it's a relatively minor flaw in an otherwise engrossing film. The writing is multi-layered with the interweaving storylines crossing effortlessly. Scenes move from character to character and from family life to office work fluidly, and interest is always maintained. At one moment, chuckling at a light-hearted situation is appropriate and in another, it's hard not to be heartbroken. One particularly moving scene involves a struggling immigrant mother who brings her son to the unit with the intention of leaving him.
Humor is used very effectively, in strong contrast to some of the disturbing material. In one scene, a teenage girl nonchalantly describes how she offered oral sex to get a cell phone and is completely clueless as to what could be wrong with it. The cops interviewing her are incredulous and can't help but laugh at the absurd situation. One writing misstep was in the emphasis on the relationship between a cop and the photographer, a character who isn't as involving as most. Perhaps that emphasis came about because the actress playing the photographer is also the film's writer and director. Regardless, Polisse stands as a moving portrait and tribute to police officers who deal with life's daily atrocities.
Director: Maïwenn
Writers: Maïwenn & Emmanuelle Bercot
Starring: Karin Viard, Joeystarr, Marina Foïs, Nicolas Duvauchelle, Maïwenn, Karole Rocher, Emmanuelle Bercot, Frédéric Pierrot
Release Date: May 18, 2012 (NY/LA)
Others Tagged With