Comedy Bang! Bang! Review: "Seth Rogen Wears a Plaid Shirt & Brown Pants" (Episode 1.05)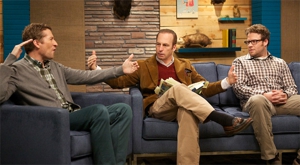 So far on Comedy Bang! Bang!, the show has allowed the guests to supply much of the comedy, with Scott Aukerman and Reggie Watts there to work their own brands of humor in sparingly amongst all the craziness. For example, with last week's episode, "Michael Cera Wears a Blue Denim Shirt & Red Pants," most of the major laughs came from the usual awkwardness of Cera and the over-the-top portrayal of the Cake Boss by Paul F. Tompkins. While this week's episode, "Seth Rogen Wears A Plaid Shirt & Brown Pants," doesn't produce gigantic laughs like last week's episode did, it's a welcome change to see Aukerman and Watts bringing a majority of the big humor, even if it doesn't always work.
The camaraderie between Aukerman and Watts has grown from week to week, and here it reached its precipice. The episode starts with a song about Scott getting up early and walking to work, but once he meets up with Reggie, the two go on a series of other adventures, ending with Scott going to bed, realizing he never went to work. There aren't any gigantic laughs in the bit, and it's obvious where the joke is going, but all the same it's a nice, lighthearted way to start the episode.
After this musical interlude, Scott takes to the streets to read the minds of people on the street. It starts with Scott just insulting people, pretending that they are really thinking these things (one example involves Scott claiming a guy that walks weirdly doesn't want to get his little butt wet today). When it turns out Scott is absolutely right and that he can read minds, he screams, blowing the tops off the heads of those he insulted. I've enjoyed how the show does nice twists on different late night talk show bits and Aukerman's glee at his silly insults makes this skit really work.
This week's guest is Seth Rogen, who talks to Aukerman about how he had shingles and shows a picture of him learning how to surf. As he shows the camera this picture, Topher Grace and Will Arnett appear as two cameramen who argue over who should "take the shot" with the studio cameras. Once again, it isn't a section that offers huge laughs, but more of an experiment that is more enjoyable than worthy of huge chuckles.
After Rogen, Bob Odenkirk comes out as Tommy Shalders, a famous child bird caller who has now grown up and desperately needs a job. Odenkirk's deadpan delivery and his determination, even though he hates birds, make this work. Aukerman then introduces Eugenia Clemente, played by Casey Wilson, who is a still-life painter. Eugenia plans on showing Aukerman how to draw a bowl of fruit, but Watts gets in on the action, asking Aukerman if it would be okay to paint him while he is learning from Eugenia. This leads to the episode's highlight, as months and years pass as Watts tries to finish this painting. Watts eventually shows the now-bearded Aukerman his painting, which is essentially a Family Circle cartoon featuring the two of them hugging. Everyone knows that the joke will be that the painting is not going to be some work of art, but the picture that is shown is perfect for the punchline and downright adorable. IFC needs to sell these posters immediately.
The episode ends with another great Scott Aukerman game; in this one the guests must guess the ailment of a person based on their picture. Of course the picture doesn't give you all the information, leading all the guests to guess incorrectly.
Even though this week didn't supply the humor of prior episodes, it still felt like a very strong show, due to the determination by Aukerman and Watts to go all-out and try new things. I mean, in one episode, you get a musical number, the passage of years of time, Topher Grace and Will Arnett fighting and Bob Odenkirk doing bird calls. That's a lot to throw into a half hour, which is what makes Comedy Bang! Bang! so intriguing even when it is not overpowered with laughs. It's a show that will do as much as possible, trying as many things as it can, and at the very least it supplies the viewer with an entertaining half hour. With its attempts to do things that aren't the norm in a comedy, Comedy Bang! Bang! so far always comes out a winner.
Others Tagged With