American Ghost by Janis Owens
Strange Fruit and Crackers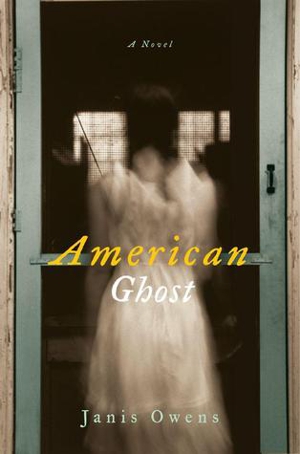 In her 2009 memoir/cookbook, The Cracker Kitchen, Janis Owens describes the word "cracker" with its myriad of meanings. Less pejorative than descriptive, "cracker," in her neck of the woods, distinguishes the local working class from the silk stocking set, or anyone else whose hands aren't calloused and crusty from manhandling pulpwood.
Owens should know the way of the Cracker, as she proudly claims the Northwest Florida culture as her own. And as she shows in her new novel, American Ghost, assuming Cracker-ism is a one-dimensional appellation would be a mistake.
American Ghost haunts Owens' own history. The story takes place in a fictional hardscrabble town called Hendrix (likely located near Blountstown along the Apalachicola River) made infamous by the long-ago torture, murder and spectacle hanging of a black man, Henry Kite, who had shot a storekeeper over a pack of cigarettes.
That moment of bloodlust resonated for generations and, in many ways, cursed the town and its seemingly humble residents, as evidenced by the experiences of the protagonist, Jolie Hoyt; her best friend, Lena; and Sam Lense, who has come to the area to research the Indian population.
While the story is well-told and expertly paced, and the characters well-developed and multidimensional, Owens' rich tableau of Cracker Florida will most resonate with readers.
American Ghost could be considered a sociology text given its detailed account of the intricacies of generational "mixing" among various ethnicities and tribal connections. In an early scene, protagonist Jolie attempts to describe her heritage. It's not traditionally Indian, she says, before Sam, the visiting researcher, cuts her short:
"I'll bet you fifty bucks I can tell you what your Big Mama said you were," Sam said. "I'll bet you a thousand."
Jolie protests over the money, and they wager a fried shrimp instead. She waits smugly for him to name some obscure local tribe and is stunned when he leans in and says, "Little Black Dutch."
Through Sam, and his degree in Florida history from Gainesville, the reader gets an intricate lesson in the evolution of at least one strand of Cracker DNA: Sephardic Jews, run off the Iberian Peninsula in the 1500s, created a mythic heritage to explain their dark hair and skin when they settled in Holland.
"They imported it with them to colonial America and it really caught on in the South, became a convenient ethnic dodge—the way mulattoes, half bloods, Turkish sailors and anyone of color could outwit soldiers and census takers and pass for white in the days of slavery and Indian removal," Sam explains.
The Byzantine genealogy only serves to deepen the Cracker mystique, and while Jolie understands its subtleties and nuances, it's a way of life that remains opaque to outsiders.
The lynching, which looms over the story, weaves racial bigotry into the scruffy burlap tapestry of an old South caste system. While Hendrix and its misdeeds come to us through a mishmash of real incidents and circumstances in similar burgs across the Florida panhandle, Owens draws Henry Kite's murder and mutilation from the 1934 spectacle lynching of Claude Neal on the courthouse lawn in Marianna. She even includes the later removal of the limb that held Neal's noose.
The novel's title, American Ghost, emerged from a conversation the author had with an acquaintance in Austin, Texas, who used the term to describe city dwellers. The remark put Owens in mind of the nuances of her still-unnamed story.
"As applied to this work, it speaks to our American history as recorded in the books, and then the unwritten history—the ghost history—of racism and its long shadow," Owens said. "In this interpretation, the ghost haunts, visits, is seen in glimpses, but is voiceless and unacknowledged."
Raised in Marianna and Ocala, Owens has relatives who witnessed the Neal lynching, and the jarring experience seems to still shimmer the family tree. Perhaps that's what makes Owens' voice so authentic and her characters so alive. Their motivations, reactions and dialogue feel so true, they could—almost—be real.
Bill Perkins is editorial page editor of the Dothan (Ala.) Eagle.
Others Tagged With