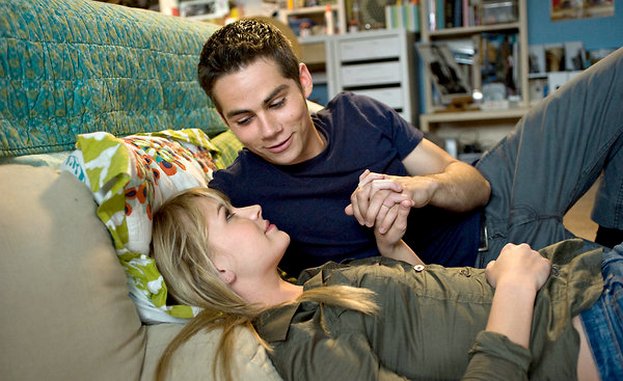 Jon Kasdan (son of Lawrence, brother of Jake) has crafted a smart, sensitive portrait of first love: the magic of it, the thrill of it, the awkwardness of it. Over the course of one weekend, high schoolers Aubrey (Britt Robertson) and Dave (rosy-cheeked Dylan O'Brien) meet, fall in love and have sex—to varying degrees of success. In the process, Kasdan both fabricates a fantasy (this is a romance, after all) and dismantles it, creating characters who are cute and articulate, altruistic and adventurous—a dream boy and girl—while exposing the reality of what it's like to have sex for the first time (hint: not so dreamy).
Aubrey and Dave meet at a party. Or, rather, they meet in the alley behind a party, where Dave is rehearsing, out loud, how he is going to reveal his true feelings to his friend Jane (Victoria Justice). Aubrey quickly lets him know that she has a boyfriend (she does, and he's a douche) and then counsels him that he's going about it all wrong. Before Dave can take her advice, the party is broken up by cops, and he walks her home.
Over the next couple of days, he inadvertently spends the night in her room, they go on a pseudo double date, he almost gets in a fight with her boyfriend, and her parents go out, giving her the house to herself. She invites Dave over.
Long stretches of The First Time effectively manage that inherent challenge for romances: Why this girl? Why this boy? Why not some other boy or girl? What makes him or her so special? Dave and Aubrey's connection is immediate, their chemistry palpable—perhaps because they find themselves opening up to a stranger in a way they never would to someone they'll see in school on Monday. Some of the characterization feels a bit contrived—she's an artist! He wants to be a teacher!—but the overall result is that they're each surprised and delighted by the quirks of the other.
Unfortunately, this delicate balance is occasionally disrupted by clumsy forays into slapstick, as when Dave must escape through her bedroom window and jump off her roof. A tangentially related car wreck never really pays off narratively. And Aubrey bonds with her parents over a realization that she seems to forget the moment she leaves the house and finds Dave on her doorstep.
Still, for a film that's treading the same territory as American Pie, The First Time lends a bit of dignity to the first time.
Director: Jonathan Kasdan
Writers: Jonathan Kasdan
Starring: Britt Robertson, Dylan O'Brien, Victoria Justice, Craig Robertson, James Frecheville, Lamarcus Tinker, Joshua Malina, Christine Taylor
Release Date: Oct. 19, 2012
Others Tagged With