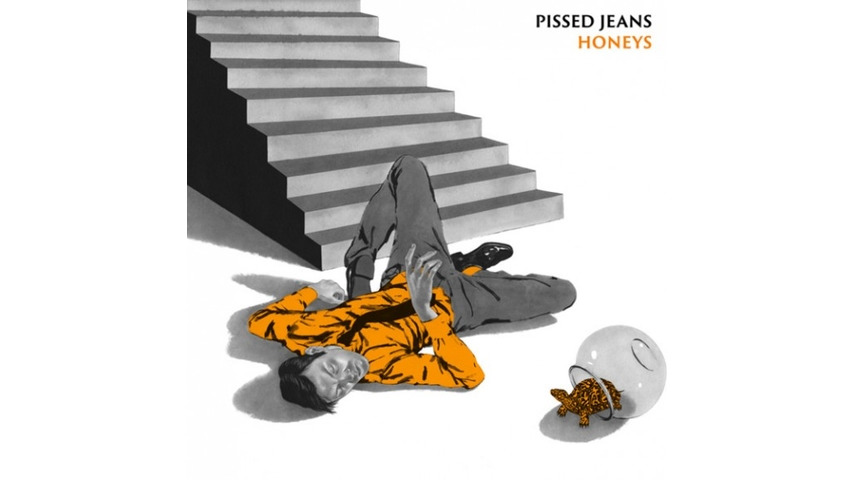 Pennsylvania's Pissed Jeans are a rare breed of hardcore punk band: Beneath the pummeling, distorted surface-level din of their music lies both sophistication and playfulness. That trend continues with Honeys, their fourth studio album—only now, their sound is more expansive and explosively weird.
"Bathroom Laughter" opens with a delirious classic-punk rumble, Matt Korvette barking unintelligible venom like a raving auctioneer over his band's violent whiplash of snare rolls and coiling power chords. It's the sonic equivalent of a Red Bull/Viagra cocktail—a forehead-bash of a hello, the perfect blast of testosterone to soundtrack your next mailbox-smashing. But Honeys grows more ambitious as it hurtles forward into the noisy unknown: "You're Different (In Person)" harnesses a frayed, 6/4 math-rock pulse, Bradley Fry's guitars oozing through the muddy bash of Sean McGuinness's kit; on slow-motion fuzz-ballad "Cafeteria Food," Korvette adopts a stoned croon over his band's sludgy, hellish churn.
Korvette is the kind of delirious, drooling punk frontman who sounds as goofy as he does menacing—almost like Jack Black fronting a Black Flag cover band. But this is a very good thing, adding a tongue-in-cheek warmth to offset the machismo. And Fry's guitars are subtly inventive and eclectic—from the drunken, bluesy chugging on "Male Gaze" to the stoner-rock fills on "Loubs" to his paint-peeling classic-rock solo on "Cathouse."
But it's Korvette's lyrics that make Pissed Jeans so incredibly compelling—his irreverent chronicles of everyday minutia and his middle-finger tributes to "The Man." The one-liners come as fast and furious as the riffage: On opener "Bathroom Laughter," his rants about a a drunken, crying bimbo end with this priceless coda: "I'm sorry, but you're not special / There's a pattern, and it shows / You try walking on the ceiling / And you're gonna stub your toes." On "Health Plan"—perhaps the album's noisiest, loudest punk assault—he teaches us all that staying healthy is about avoiding the trickery of doctors: "Try to turn my head, rub my back and find some cancer," he snarls, "No, I'm not crazy—I know how you operate." "Cafeteria Food," meanwhile, is a fantasy about dying corporate douchebags: "Inside, I'll be laughing 'cause you're dead, you died," Korvette sings, "And I'm wishing I had my tap shoes on / Dead, you died—and I'm feeling like Jesus Christ, our savior."
Like every Pissed Jeans album before it, Honeys is a unique balancing act of dumb and smart, as nimble as it is brash.
Others Tagged With