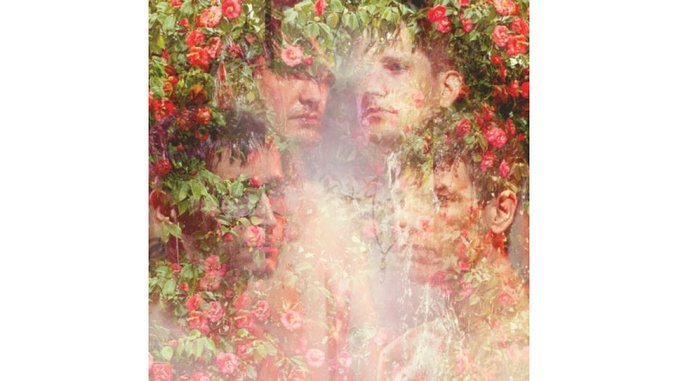 I've never seen Starfucker live, but by most accounts their performances are sweaty, physical (as in "let's get") good times. The electro-pop four-piece—whether they go by Starfucker, PYRAMID, Pyramiddd or STRFKR—always seem to be having fun, obliviously treating the gray and drizzly environs of their Portland home like a lit dance club.
Their sound may be somewhat out of place in the brooding atmosphere of the Pacific Northwest, but Starfucker's jazzercise pop isn't new in a world that's been inundated by overly precious synth-pap in the past six years. If you're going to dive headfirst into retro-kitsch, the songs better be good.
Starfucker's 2008 self-titled debut LP was a slightly campy take on '80s pop, although the follow-up Reptilians stepped it up both in songwriting and production. Miracle Mile follows that progression. Beneath all of the zippy, zappy synthesizers are some well-crafted pop songs. And while there are obvious go-for-the-feet dance numbers, the best ones are the wallflowers.
Opener "While I'm Alive" is an opener for a reason—a big disco beat leads up to a chorus that explodes like a piñata. It's ready-made for clubs, roller-skating rinks, parties, backyard barbecues, road trips, bat mitzvahs… you get the picture. Same with "Malmo," a song whose hyper-funky bass line could carry it from the dance floor on through the night and into the afterparty.
But that's the easy part. Unless you're in one of those aforementioned locations, synth and bass up your wazoo only goes so far. Miracle Mile shows that songwriter Joshua Hodges and his cohorts are no one-trick unicorns. "Beach Monster" is strummy and light with not a synth to be found, and "Kahlil Gibran" goes down even easier with Hodges going heavy on the falsetto and hand claps in the chorus. Starfucker saves the best for last with the heavy psych of "Nite Rite," which rides a repetitive bass line for seven minutes while synthesizers swarm and crash around it. Just imagine trying to find your sea legs on a crowded dancefloor.
Miracle Mile is the most varied Starfucker joint to date. It's also one of the prettiest party records you'll hear this year. It sounds as if the band has settled in after a bit of an identity crisis a few years ago, which saw them changing their name and appearing in Target commercials. Apparently, Starfucker reclaimed their name because fans refused to call them Pyramiddd. That's a good thing. There are a lot of bands trying to resuscitate dance music from the past three decades. But—whether you like it or not—there could only be one Starfucker.
Others Tagged With