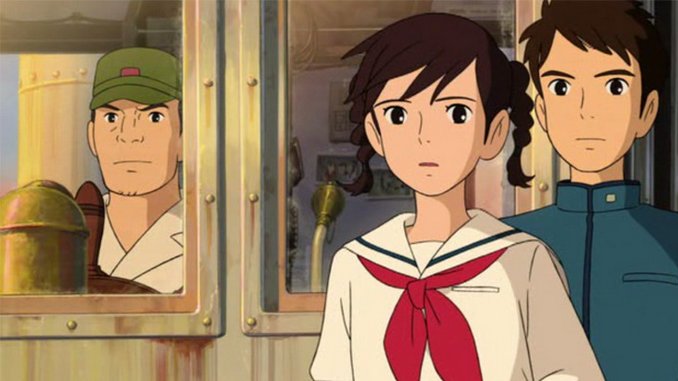 Adapted from the graphic novel by anime master Hayao Miyazaki (Princess Mononoke, Spirited Away and Howl's Moving Castle) and directed by his son Goro (Tales from Earthsea), From Up on Poppy Hill is a lush and lyrical ode to a generation pivoting between the painful past and the promise of the future. Set in 1963 in the harbor city of Yokohama, the hand-drawn 2D 'toon captures a moment in time when Japan is still struggling to recover and rebuild in the wake of World War II while eagerly preparing for the Tokyo Summer Olympics. Against this backdrop, high schoolers Umi (voiced in the English-language version by Sarah Bolger) and Shun (Anton Yelchin) meet cute and embark on a chaste romance complicated by secrets surrounding their births.
With her father killed at sea during the Korean War and her mother studying in America, studious Umi must balance her schoolwork with her responsibilities at the boarding house her grandmother operates. Significant screen time is dedicated to her and others' daily routines, which in Umi's case involves preparing a breakfast so delectable it makes viewers' tummies rumble and the raising of signal flags with a poignant message for her dead father.
At school, members of the Latin Quarter are mounting public demonstrations protesting the imminent destruction of their rickety turn-of-the-century clubhouse, where the math and science, music and philosophy, architecture and journalism geeks gather. The dusty old building is a chef d'oeuvre of production design, with decades of clutter, a maze of handmade huts and a sophisticated pulley system transforming the structure into a crowded indoor cityscape.
Umi gets involved with Shun, the editor of the school newspaper and the heart and soul of the "Save Our Building!" movement. But their budding romance chills when she shows him a picture of her father—the same photograph Shun has at home. While their country moves determinedly toward modernization, these two boldly defend the past, with the Latin Quarter serving as a symbol of their own messy histories.
Gorgeously animated, with rich color scapes and detailed mise-en-scène, Goro Miyazaki's sophomore outing incorporates lovely, introspective imagery of, say, a cloud passing in front of the moon or smokestacks shot at a steep angle. Koji Kasamatsu's exquisite sound design conveys all the delicate ambient sounds of early-morning breakfast preparations and the nuanced layers of noise in a cavernous clubhouse. And Satoshi Takebe's jazzy period score adds foot-tapping levity. From Up on Poppy Hill is a wonderful addition to the Studio Ghibli catalog.
Director: Goro Miyazaki
Writer: Hayao Miyazaki
Starring: Sarah Bolger, Isabelle Fuhruman, Anton Yelchin, Christina Hendricks, Gillian Anderson, Raymond Ochoa, Alex Wolff, Aubrey Plaza, Chris Noth
Release Date: Mar. 15, 2013
Others Tagged With