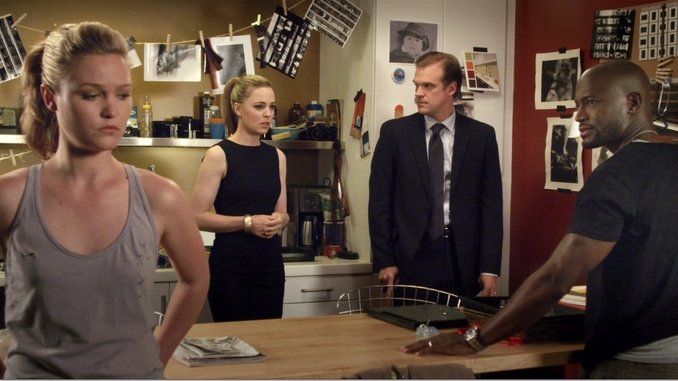 It's practically impossible to avoid clichés where the on-screen romantic couple is concerned. The happy couple, the angry couple, and the myriad relationships in between have pretty much all been done before, so filmmakers and writers often focus on other elements to inject novelty into a script. Adapted from Joe Hortua's stage play, Between Us bravely attempts newness in this all too familiar department, and deconstructs some of the many clichés to which audiences have grown accustomed. Though a bit too melodramatic at times—and perhaps even too aware of this new ground it hopes to break— it's ultimately a strong third effort from director Dan Mirvish.
Taye Diggs (Carlo) and Julia Stiles (Grace) start out as the film's resident happy couple—newlywed, bright-eyed, and bushy-tailed. The first half of the film takes place in the home of their friends and not-so-newlywed couple Joel and Sharyl (David Harbour and Melissa George, respectively). Beautiful and wealthy, these former artists have essentially sold out for the gated community lifestyle, while Carlo and Grace have remained true artists—or so it appears. The couples suffer through a visit that goes from awkward to horrific, as Carlo and Grace learn that it really can get that bad. They make a few half-hearted attempts to leave, and in these moments (and many others) it becomes far too obvious that the movie is based on a play. Roman Polanski's 2011 film Carnage had a similar feel, but the comedy kept it from becoming too dramatic a piece. But a drama like Between Us, in contrast, relies on intense dialogue that tends to overwhelm, even to the point where it can become uncomfortable to watch. And perhaps that was the Mirvish's intention— to impose a level of awkwardness that would mimic that of the characters— but his hand bears down a bit too hard and the film loses some authenticity as a result.
As the plot unravels and the happy couple/angry couple dynamic shifts, Between Us becomes more fascinating. In the first half of the film, George's character is the brutal, feminine type to announce 'We're getting a divorce. Crème brûlée anyone?' but Stiles's character brings the real shock and awe in the second act. Many surprises await the viewer, and it's refreshing to experience certain non-traditional expressions of marriage, artistry, and parenthood—especially refreshing because these ideas are organically presented by the characters. Thankfully, no attempt is made to offer a concrete resolution in this fairly dark tale.
Mirvish has taken an interesting approach to this story of two couples and four friends (often enemies) that love, loathe, betray, and—in the end— reflect each other deeply. Employing a non-linear style where even the flashback scenes are presented out of sequence, he manages to keep the entire piece flowing smoothly throughout. However, Between Us might have made a stronger impression if performances from the entire cast had been less exaggerated, and if the script deviated a bit more from the live performance on which it was based. Still, audiences can anticipate more good work from Mirvish who, hopefully, will continue to challenge cinematic norms as he does with this compelling anti-romance drama.
Director: Dan Mirvish
Writers: Dan Mirvish and Joe Hortua
Starring: Taye Diggs, Julia Stiles, Melissa George, David Harbour
Release Date: June 21, 2013