Interstellar Pop Underground: A History of the Elephant 6 Collective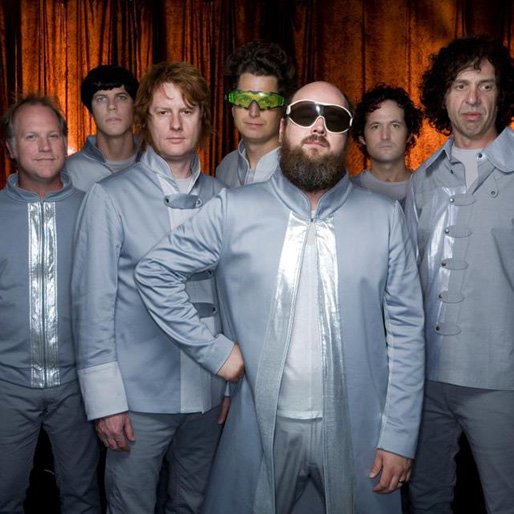 Page 1 of 5
It's no secret that Louisiana is endowed with one of the richest musical histories of any state in the country. As the iconic birthplace of jazz and zydeco, and home to all manner of legendary blues, gospel and country singers—and even more contemporary acts like pop maven Britney Spears and rap wunderkind Lil Wayne—it's easy to overlook the fact that the state also laid the foundation for one of the most influential underground rock movements of the past 25 years and one that would ultimately gain international recognition for its unique brand of DIY aesthetics, unorthodox recording techniques and unapologetic Day-glo aura. And although it's not a story that gets told very often in general overviews of the great sonic tapestry that is Louisiana's incredible musical heritage, it is one whose vitality and impact is no less remarkable in terms of its sheer scope and diversity.
As the spiritual home of the Elephant 6 Recording Company—the sprawling lo-fi, neo-psychedelic music collective/record label begun by childhood friends Robert Schneider, Will Cullen Hart, Jeff Mangum and Bill Doss in the small town of Ruston—Louisiana can undoubtedly be added to the list of states that have made an immeasurable contribution to the annals of independent rock and roll both here in the United States and around the world. Having produced the leading lights of some of the most brilliant acts of the mid-to-late-'90s alternative rock scene—including the Apples in stereo, Neutral Milk Hotel and the Olivia Tremor Control—Ruston would prove to be a bastion of unhinged creativity and subversive entrepreneurship that would rival anything coming out of more cosmopolitan locales such as Seattle and New York City. And although its roots would grow to include cities across the country—with everywhere from Denver, Colo., and Athens, Ga., playing significant roles in its development—Ruston would always be the town that provided the initial inspiration for the governing principles that would prove to be its reigning hallmark. With a phalanx of kindred acts filling out its roster of intrepid cosmic travelers, from the delightful twee pop of Elf Power and the Essex Green to the wildly eclectic excursions of Of Montreal and the imaginative audio dreamscapes of the Music Tapes, the Elephant 6 Recording Company would raise the bar for wide-scale countercultural activity and underground pop art—both musical, visual and otherwise—well into the 21st century. With more than 50 bands associated with the collective in some way, its tentacles would reach far beyond the confines of Ruston's city limits and would go on to become a phenomenon whose impact is still reverberating to this very day. Always more than a record company, the Elephant 6 crew were more like an ever-expanding family of abstract theoreticians who were on a mission to create their own sound world and define transparent dreams that only they themselves could see as a reality.
"It's a group of friends who collaborate together on music and art," says Elf Power's Andrew Rieger, a longtime member of the collective and head of Orange Twin Records. "Although all the bands and projects have their own unique sound and identity there is an underlying thread of a love of experimentation and chaos, mixed with a love of melody and pop music. The act of recording is a constant journey: trying new sounds and new ideas to arrive at an unexpected result. I've seen many Elephant 6 bands' songs transform into different things over the course of time, and the thrill of that process is a constant joy to all involved."
Specializing in a kind of audio shapeshifting that has its roots in the heady sonic experimentation of the late 1960s and early 1970s psychedelic music scene as well as the mid-20th century avant-garde—combined with an unlikely mix of pop hooks and punk attitude—what would become something of a sensation amongst rock critics in the heyday of 1990s indie music madness, actually began as a healthy exchange of lofty ideas, offbeat musical concepts and homemade tapes amongst the Ruston gang as they made their way through high school in search of an escape from the social drudgery of their quiet hometown. Focusing on a brand of wild sonic investigation that was both philosophically refined and aurally unhinged, the Elephant 6 would develop a singularly expansive aesthetic that stood in stark contrast to the prevailing tide of plaid shirts and grunge attitude engulfing the music world at the time. Separated by thousands of miles from both the sound and spirit of Seattle, the collective openly embraced the radical, sunny consciousness of the Summer of Love at a moment in pop culture when much darker undercurrents were circulating in the minds of the country's youth.
This is their story.
DAWN AT CUBIST CASTLE
Home to Louisiana Tech University, and mere miles from Grambling State, Ruston is ostensibly a college town, though you wouldn't know from looking at it. Aside from the fact that there's a college located there, there are few public signs of collegial life outside of the campus itself. With only a handful of bars and music venues, a few coffee shops, and no record stores, it's not exactly the kind of robust cityscape one would envision as the nesting grounds for a kaleidoscopic music collective such as the Elephant 6. Unlike more famous examples of hip undergrad countercultural meccas such as Chapel Hill, N.C. and Providence, R.I., Ruston seems to be locked into a kind of slow-moving social paradigm that unwillingly budges with the shifting sands of time. As a place where a citywide last call rings at midnight (even on weekends) and the best place to see a big concert doubles as a steakhouse with its own liquor store, it's hard to conceive of a town with less to offer imaginative young hipsters with a thirst for progressive ideas and cutting-edge art and music. And although the internet has provided Ruston with a window into the world at large in the 21st century, during the mid-'80s and early-'90s, Ruston remained far removed from the sway of popular culture and the constant stream of information so many now take for granted. Which is one of the reasons why friendships like those established between Schneider, Hart, Mangum and Doss remained such vital lifelines in an atmosphere completely devoid of larger social cues for what was cool and happening outside of their little burg. Located in a kind of no man's land between the much larger cities of Monroe and Shreveport, and several hundred miles north of New Orleans, there was very little chance of discovering things on your own were it not for a daisy chain of associations handed down through older siblings, close confidants, college students, teachers and the rare hub of recreational activity such as the legendary music venue/washeteria Fun-O-Mat, the now defunct Haymaker Music instrument store, and—most importantly—KLPI 89.1, Louisiana Tech's student-run radio station.
According to Schneider, the widely acknowledged ringleader and unabashed spokesperson for the Elephant 6, "It was a tiny little town that had not evolved beyond the 1950s or early '60s. I don't know if they ever had hippies. They certainly didn't have punk rock. It was a tiny, little sleepy town that looked like you were walking around in Andy Griffith. It was bigger than Mayberry, but it felt like what that looks like on TV. It's as classic of a Norman Rockwell-type town as you could live in. It was a wonderful place to grow up. It was a small town where you could ride your bike in the streets and I grew up in the '70s and '80s, and in general that was a wonderful time to grow up. It was a great time to be a kid."
Others Tagged With