15 Bands to See at Iceland Airwaves 2019
The must-see acts at one of the world's leading music discovery festivals
Photos by Julie Pike, Carlos Santolalla, Holly Whitaker
Music
Lists
Iceland Airwaves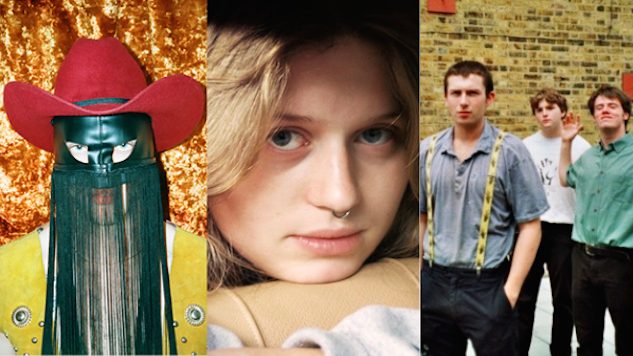 Reykjavík's annual Iceland Airwaves is one of the world's best music showcasing festivals, and one of our favorite music festivals, period. Their expertly-curated lineups feature ample Icelandic talent, rising international newcomers and big-name artists, and this year's lineup is another impressive offering. The 2019 edition will feature 130 bands from 20 countries, and it's the second consecutive year they've achieved a 50/50 artist gender balance. Notable artists playing this year include Of Monsters And Men, John Grant, Whitney and Mac DeMarco. The shows are spread out across the city's music venues and are in easy walking distance, and you might even want to supplement your experience with some of Iceland's famously relaxing outdoor excursions.
Our 2016 Iceland Airwaves travel guide recommended The Blue Lagoon geothermal spa, Mountain Guides' Walk on the Ice Side glacier tour and The Northern Lights Mystery Tour. Icelandair offers travel packages to Iceland Airwaves from all over North America and Europe, so if you're a music fan looking for an unconventional, progressive festival experience in a uniquely beautiful location, you should check out their all-encompassing festival packages here.
Paste has covered Iceland Airwaves four times previously (as early as 2005) and will be in attendance for this year's festivities, which take place Nov. 6-9. Stay tuned for social media coverage and a full recap, but in the meantime, check out 15 artists we're hyped to see at this year's festival, listed alphabetically below.
1. Alexandra Stréliski
Who: Composer/musician with film/TV credits such as Dallas Buyers Club (2013), Demolition (2016) and Big Little Lies (2017)
What: Poignant, evocative piano instrumentals
Where: Montreal, Canada
Key tracks: "Plus tôt," "Changing Winds"
2. Girl In Red
Who: Buzzy bedroom pop singer/songwriter
What: Wistful, lo-fi songs of young love and angst
Where: Oslo, Norway
Key tracks: "summer depression," "we fell in love in october"
3. Free Love
Who: Dance-pop duo formerly known as Happy Meals
What: Moody synth-pop with '80s and '90s pastiches
Where: Glasgow, Scotland
Key tracks: "Pushing Too Hard," "Playing as Punks"
4. The Holy
Who: Five-piece band with a 2018 debut LP Daughter
What: Melodic heartland rock meets driving post-punk
Where: Helsinki, Finland
Key tracks: "Ramses the Evil Brother," "Land Before Time"
5. Just Mustard
Who: Rising, acclaimed five-piece guitar band
What: Flowy, eerie shoegaze and harsh noise-pop guitars
Where: Dundalk, Ireland
Key tracks: "Seven," "Frank"
6. Kælan Mikla
Who: The Cure-approved trio, avant-garde poets and performance artists
What: Gothic dream-pop and ethereal darkwave
Where: Reykjavik, Iceland
Key tracks: "Næturblóm," "Nornalagið"
7. Murkage Dave
Who: Popular British DJ and promoter turned singer/songwriter
What: Mercurial soul, lush R&B, blunt lyrics
Where: London, U.K.
Key tracks: "Put You on My Shoulders," "See Man Smile"
8. Orville Peck
Who: Masked, queer, outlaw country singer/songwriter on Sub Pop
What: Spaghetti Western country, sinister guitars, baritone vocals
Where: Toronto, Canada
Key tracks: "Dead of Night," "Turn to Hate"
9. :PAPERCUTZ
Who: Solo project of composer Bruno Miguel
What: Ambient, minimal electro-pop with droning synths
Where: Porto, Portugal
Key tracks: "Ultravioleta (The Sight Below Remix)," "Where Beasts Die (Kyson Remix)"
10. Pillow Queens
Who: Pop/rock quartet, debut album due in 2020
What: Playful, riffy pop/rock with big heart and charisma
Where: Dublin, Ireland
Key tracks: "Rats," "Gay Girls"
11. Pottery
Who: Five-piece band signed to Partisan Records, SXSW standouts
What: Wonky art rock meets bluesy post-punk
Where: Montreal, Canada
Key tracks: "The Craft," "Hank Williams"
12. Shame
Who: Acclaimed five-piece punk outfit, their debut LP placed at number 12 on Paste's 2018 year-end albums list
What: Storming, self-deprecating post-punk
Where: London, U.K.
Key tracks: "Concrete," "One Rizla"
13. Sólstafir
Who: Icelandic metal veterans
What: Dense, beautiful metal meets post-rock, psych and hard rock
Where: Reykjavik, Iceland
Key tracks: "Silfur-Refur," "Fjara"
14. Velvet Negroni
Who: R&B musician with recent debut album NEON BROWN, opened for Tame Impala at MSG and featured on Bon Iver's latest album i,i
What: Dreamy, slick R&B with pop, funk and hip-hop elements
Where: Minneapolis, Minnesota
Key tracks: "WINE GREEN," "CONFETTI"
15. W.H. Lung
Who: Three-piece guitar band, debut album Incidental Music out now
What: Krautrock-laced synth-pop and indie rock, approachable yet complex
Where: Manchester, U.K.
Key tracks: "Inspiration!," "Simpatico People"
Iceland Airwaves 2019 is on Nov. 6-9. Purchase flight, hotel and festival ticket packages here.