Ben Folds Releases New Political Satire Track, "Mister Peepers"
Photo by Lisa Lake/Getty
Music
News
Ben Folds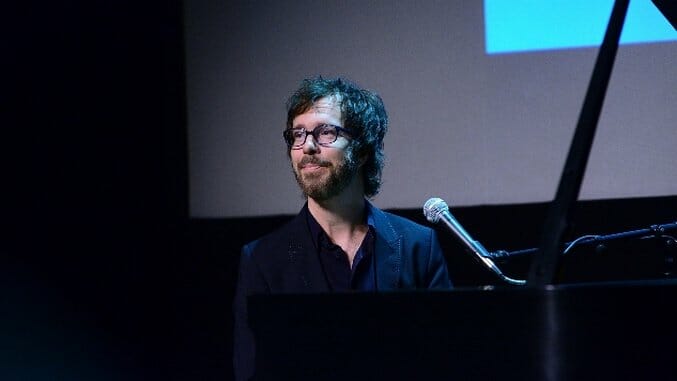 Singer-songwriter Ben Folds has delivered a new political satire track, "Mister Peepers."
The track concerns current Deputy Attorney General Rod Rosenstein—allegedly name-called "Mr. Peepers" by Donald Trump—who is overseeing the ongoing investigation into Russian interference in the 2016 presidential elections. Folds croons about certain members of Congress and the current administration's incessant attempts to thwart the probe.
The song was written, recorded and released in conjunction with the Washington Post Magazine. The Post is calling their most recent, experimental publication "an issue of alternative storytelling." The magazine also includes a Betsy Devos board game and a poem about the price of energy extraction in rural America.
When asked what drew him to the deputy attorney general for this project, Folds explains to the Post, "Because of the personal position he's been put in and the position that we're in at these crossroads, where we find ourselves deciding to stick up for our norms — or not."
"This guy, unwittingly, found himself in an incredible hot seat," Folds notes. "He's now in a position where he's going to get beaten up. And so that's the story."
"The story that has played before and will play out again."
Paired with a reporter as he composed his latest satire, Folds was sent regular updates on Rosenstein's role throughout the ongoing Mueller Russia probe.
One particular detail that caught Ben's attention was that Trump reportedly referred to Rosenstein as Mr. Peepers because of his glasses. That image led Folds to think of Piggy from Lord of the Flies: "I thought of the thugs that break the little kid's glasses," he recalled.
The lyrics follow a similar theme: an accidental victim of bullying, thrown into the political ring to be one of many "public punching bags."
Folds closes with a haunting message for the future: "When all those Mister Peepers people fall … Lord help us all."
Visit the Washington Post Magazine website to hear the song and see their interview with Folds. Scroll down for the full lyrics and behind-the-scenes recording session footage.
Behind the Scenes with Ben Folds:
"Mister Peepers" Lyrics:
God bless the bureaucrat and the lawyer, too
They're public punching bags
But someone's gotta do it
It's not so sexy, the procedure or the truth
I say God bless the bureaucrat and the lawyer, too
The House Intelligence Committee piles on
They'd love to know what Rosenstein has on the boss
But it's just for cameras, yeah, it's just a show of force
Y'all know he can't comply
But that's the point, of course
So they call him Mister Peepers
As the thugs all smash his glasses
Going full Lord of the Flies
Burning this island down to ashes
What's the rule of law if we can't agree on what a fact is?
There ain't nothing here to see, folks, move along, move along
Thank God for facts
They're stubborn things indeed
But little cowboys will try cases on TV
It doesn't make it so
Because you make believe
You can't lose in court and appeal on Hannity
The distinguished wrestler from Ohio
He's free to lie, he's not the one who's under oath
The law don't suit the boss
This Deputy must go
We got him in the locker room, boys
Start the show
So they call him Mister Peepers
Send some thugs to smash his glasses
If he's gone and peeped the wrong thing
Then they'll burn his name to ashes
What's the rule of law
If we can't establish what a fact is?
There ain't nothing here to see, folks, move along, ah move along
They say it dies in the dark
Right now, they're trying to kill it in broad daylight
Can flashlights really fight bombs?
We'll see
Right now
You boys are Christians, right?
What would Jesus do?
Would he bury crimes and carry water like a stooge?
Or smear a family man in case he tells the truth
About the boss?
Yeah, what would Jesus do?
Would he call him Mister Peepers?
Send some thugs to smash his glasses?
The institution's standing tall
Though we tried our best to trash it
Aren't we all the keepers
Of this fragile young Republic?
And when all those Mister Peepers people fall…
Lord help us all