Ben Folds Returns After Eight Years with New Album What Matters Most
Listen to the new single "Winslow Gardens"
Photo by Alysse Gafkjen
Music
News
Ben Folds
After eight years, Ben Folds returns with the new single "Winslow Gardens," alongside a new album What Matters Most set to release on June 2 on New West Records.
The multi-talented singer/songwriter, musician and composer from North Carolina first found success as the frontman and pianist of the alternative rock trio Ben Folds Five in the late '90s, and followed that a decade later as a solo artist, releasing Rockin The Suburbs with hits like "The Luckiest."
His versatile approach to writing and composing, along with performing arrangements of his music with symphony orchestras and a cappella groups, has led to a varied career that includes an impressive 20-minute concerto with the Nashville Symphony in collaboration with yMusic.
Folds has also written scores for classic animated movies such as Hoodwinked! and Over the Hedge. The jack-of-all-trades in music has brought a refreshing sound to the world of singer/songwriters. It helps to know how to play the piano, bass and drums when making some of the best songs of the 21st century.
His new single "Winslow Gardens," is a light, springy tune backed by his iconic keys. The lyrics hint at a couple going away for a trip and finding themselves in that place much longer than expected. Ten weeks turns to ten years, while it all feels like just ten minutes—you lose track of time as small routines with your loved ones become the only things that matter. The swirling, repetitive melody at the end of the chorus, "You started all over / We've started all over again," makes you feel like you're in a that time loop with the characters—and it's not particularly a bad feeling, but a comforting one.
Listen to the new song, and check out the new records' artwork, tracklist and tour dates below.
What Matters Most Album Art: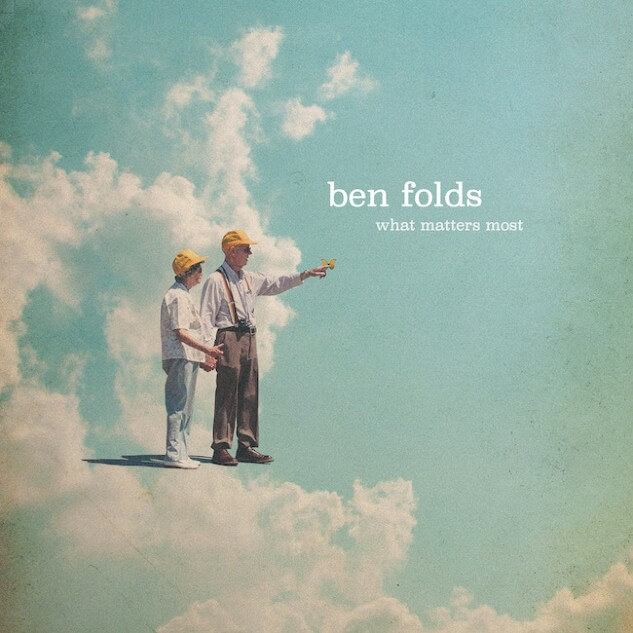 What Matters Most Tracklist:
1. But Wait, There's More
2. Clouds With Ellipses (feat. dodie)
3. Exhausting Lover
4. Fragile
5. Kristine From The 7th Grade
6. Back To Anonymous
7. Winslow Gardens
8. Paddleboat
9. What Matters Most
10. Moments (feat. Tall Heights)
Ben Folds Tour Dates:
March
24 – Eau Claire, WI @ The Pablo Center at The Confluence
25 – Viroqua, WI @ The Historic Temple Theatre
26 – Dubuque, IA @ Five Flags Theatre
28 – Fort Wayne, IN @ The Clyde Theatre
29 – Urbana, IL @ Krannert Center for the Performing Arts
April
21 – Tallahassee, FL @ Capital City Amphitheatre *
23 – Atlanta, GA @ Atlanta Symphony Hall *
25 – Cincinnati, OH @ Cincinnati Music Hall *
26 – Knoxville, TN @ Tennessee Theatre
28 – Greensboro, NC @ Steven Tanger Center for the Performing Arts *
29 – Wilmington, NC @ Greenfield Lake Amphitheatre
30 – Charleston, SC @ Charleston Gaillard Center
May
30 – Chicago, IL @ Orchestra Hall*
June
13 – New London, CT @ Garde Arts Center
14 – Lowell, MA @ Memorial Auditorium
16 – Lewiston, NY @ ARTPARK Mainstage Theater
17 – Huber Heights, OH @ Rose Music Center
18 – Louisville, KY @ Palace Theatre
20 – Wilmington, DE @ The Grand Opera House
22 – New York, NY @ Beacon Theatre
23 – Greensburg, PA @ Palace Theatre
24 – Indianapolis, IN @ Rock the Ruins at Holiday Park
25 – Detroit, MI @ Motor City Casino
27 – Nashville, TN @ Ryman Auditorium
28 – St. Louis, MO @ Stifel Theatre
30 – Onamia, MN @ Grand Casino Mille Lacs
July
01 – Fargo, ND @ Outdoors at Fargo Brewing
22 – Columbus, OH @ Bicentennial Stage at the Columbus Commons *
August
02 – Bonner, MT @ KettleHouse Amphitheatre *
04 – Park City, Utah @ TBA *
08 – Milwaukee, WI @ Riverside Theater
09 – Cedar Rapids, IA @ McGrath Amphitheatre
10 – Kansas City, MO @ Uptown Theater
11 – Salina, KS @ The Stiefel Theatre for the Performing Arts
13 – Arvada, CO @ TBA
15 – Mesa, AZ @ Mesa Arts Center
16 – Los Angeles, CA @ The Wiltern
17 – Oakland, CA @ Fox Theater
19 – Eugene, OR @ Cuthbert Amphitheater
20 – Seattle, WA @ Paramount Theatre
October
06 & 07 – Minneapolis, MN @ Orchestra Hall *
20 & 21 – Dallas, TX @ Morton H. Meyerson Symphony Center *
November
08 – Bath, United Kingdom @ The Forum
09 – Brighton, United Kingdom @ Brighton Dome
10 – Birmingham, United Kingdom @ Symphony Hall
12 – Oxford, United Kingdom @ New Theatre
13 – London, United Kingdom @ Royal Albert Hall
15 – Gateshead, United Kingdom @ Sage Gateshead
16 – York, United Kingdom @ Grand Opera House
17 – Manchester, United Kingdom @ O2 Apollo
18 – Edinburgh, United Kingdom @ Usher Hall
20 – Dublin, Ireland @ The Helix
23 – Zurich, Switzerland @ Kaufleuten
25 – Berlin, Germany @ Admiralspalast
26 – Wiesbaden, Germany @ Kurhaus
27 – Utrecht, Netherlands @ TrivoliVredenburg – Grote Zaal
30 – Paris, France @ La Cigale
December
01 – Antwerp, Belgium @ De Roma
02 – Dudelange, Luxembourg @ Opderschmelz
04 – Essen, Germany @ Lichtburg