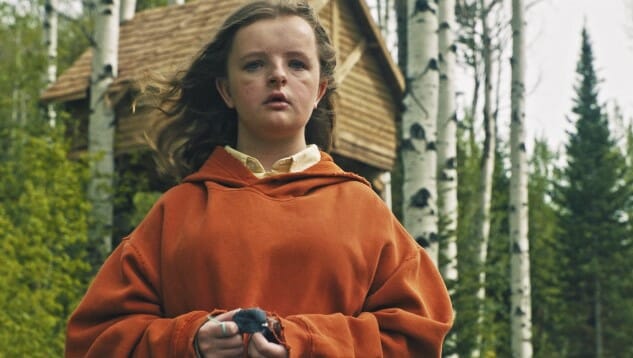 This post is part of Paste's Century of Terror project, a countdown of the 100 best horror films of the last 100 years, culminating on Halloween. You can see the full list in the master document, which will collect each year's individual film entry as it is posted.
The Year
On its own, 2018 is a pretty strong crop of horror titles, but within the context of the 2010s it seems to possess a bit less volume than absolutely huge years like 2014, 2016 and 2017. Still, this has been one of the steadiest decades ever for horror cinema, and it has remained a force at both the box office and the arthouse theaters, not to mention in the streaming sphere.
This was another big year for overall horror grosses, driven largely by franchise entries and remakes such as Halloween, The Nun, The First Purge and Insidious: The Last Key, but also by the year's #1 earner, A Quiet Place—always nice to see an original story on top, rather than yet another adaptation. At the multiplex, John Krasinski's film was one of the year's biggest talking points, generating a robust $340 million and blowing away expectations in the process.
It's also a solid piece of genre craftsmanship from an unexpected source in Krasinski, an actor-writer who had never ventured into the horror genre before. Much of the film's vitality is derived from the strength and simplicity of its central premise: Earth has been invaded by aliens who wiped out the majority of the human race, relying on an extremely acute sense of hearing. Survival in this new world means living a life of silence, which gives writers a fun set of tools in crafting a family home designed to minimize any sort of noise. Thrust into this dangerous world is a family unit that is often seen through the eyes of deaf teenage daughter Regan (Millicent Simmonds, in a strong debut), whose difficulty in knowing if she's creating noise makes her especially vulnerable to the extra-sensitive creatures that live around them. The film thrives on the tension and suspense it generates by lining up future instances of "noise" in advance, even if some of the exposition regarding the creatures and their arrival is a bit on the clunky side. Many comparisons were drawn at the end of the year between the "soundless" aspect of A Quiet Place and the "sightless" aspect of Netflix's Bird Box, but considering that the latter was an adaptation of a novel released in 2014, the similarities are likely simply coincidental.
This is another strong year on the arthouse side of the spectrum, as Annihilation tackles what had been regarded as a potentially un-adaptable novel by Jeff VanderMeer, infusing it with a sense of solemn majesty and cold beauty, while Luca Guadagnino chose to remake Suspiria not by aping the colorful style of Dario Argento but by maximizing the story's sense of tactile physicality, ending in a bloodbath for the ages. So too does The Endless veer off the straight and narrow path, rewarding fans of directors Justin Benson and Aaaron Moorhead's little seen 2012 thriller Resolution by unexpectedly tying the events of both films together into a sort of impenetrable Gordian knot.
This is a year not lacking for brutality, certainly—you also have Nicolas Cage's descent into utter madness and depravity in Mandy, whose Cheddar Goblin will make you chuckle, right up until Cage is tearing apart a gang of LSD-drinking demonic bikers with his bare hands. Apostle, likewise, is just as hard-hitting a horror film as you would expect from Gareth Evans, the man who brought us The Raid and The Raid 2. All in all, one gets the sense that we were all working through some seriously violent emotions in 2018.
2018 Honorable Mentions: Annihilation, Apostle, Suspiria, Mandy, The Endless, A Quiet Place, Revenge, The Ritual, The Clovehitch Killer, Halloween, Overlord, The House That Jack Built, Climax
---
The Film: Hereditary
Director: Ari Aster
Some of the most memorable horror films of recent years have all come as the feature debuts of their respective directors. The Witch had Robert Eggers. The Babadook had Jennifer Kent. And Hereditary had Ari Aster, a filmmaker who seemingly arrived fully formed, like one of the prescient children born with absolute consciousness in the Dune universe. Like the directors before him, Aster took advantage of the opportunity that the horror genre has always offered to give young talent exposure, while still retaining a modicum of auteur-like fingerprinting. His is a merciless debut; one that feels intended to roughly scoop out your sense of hope or optimism until one is left completely hollow.
In no uncertain terms, this is a film about grief, something it shares at least partially with 2019 Aster follow-up Midsommar. Although the visual identity of each film is obviously as different as different can be, they are united by their portraits of characters weathering crushing grief that is so profound, it threatens to entirely swallow them up, to inundate them in an impossibly vast and impenetrable ocean of emotional emptiness and constant aching. Here, the cruel hand of fate is targeting a family unit, the Grahams, where the secretive (and abusive) elder grandmother has recently passed away. Navigating these waters is Annie (Toni Collette, in the role of a lifetime), a miniature artist whose mastery of tiny crafting details is lost on the substantially more complex challenge of governing a family. Her husband, Steve, is aloof and distant. Her son, Peter, is experiencing his fair share of teenage resentment. And her youngest daughter, Charlie, is a special case—"touched," as we might have said in a previous generation, with unnerving eccentricities that will no doubt make her life a lonely one. Neither, as we come to find out, is Annie free from buried traumas of her own. We begin to wonder: Which of these people should we be worried about most?
Hereditary thrives on dread; on the innate expectation it projects that terrible things are going to happen for unknown reasons. In its most horrifying sequence, an accident involving Charlie completely turns the story on its head, but the greatest horror isn't derived simply from seeing with our eyes what happened to the little girl—it's in the audience's anticipation of what will happen once the events are discovered, and in hearing her family react as any family no doubt would. Collette is a force of nature here, completely letting go of any sense of embarrassment or reticence to commit every bit of her body and soul to the moment. The fact that she was snubbed in terms of Academy Award nominations was a crime, although something to be expected when it comes to the horror genre.
In making that choice in its midpoint, though, Hereditary feels like it has crossed some kind of sacred boundary. It's the genie-out-of-the-bottle moment—once it passes, it becomes clear there's no force on heaven or Earth that is going to save this family, because Aster is going to have their blood. Arguably, it also marks the point where the film makes a transition from "intense psychological drama" to legitimate "supernatural horror film."
Unsurprisingly, Hereditary seemed to mystify multiplex audiences, unaccustomed to films relying so heavily on visual motifs and expert sound design to get their point across, but the film is also capable of being "actively" scary as hell, whenever it chooses to be. Devastating portrait of a grieving family? Pulse-raising haunted house thrill ride? Hereditary oddly manages to be both, establishing Aster as an auteur in the making.
---
Jim Vorel is a Paste staff writer and resident horror guru. You can follow him on Twitter for more film and TV writing.