Hot Chip Share 8-Bit "Bath Full of Ecstasy" Video Ahead of U.S. Tour
Images via Domino Record Co.
Music
News
Hot Chip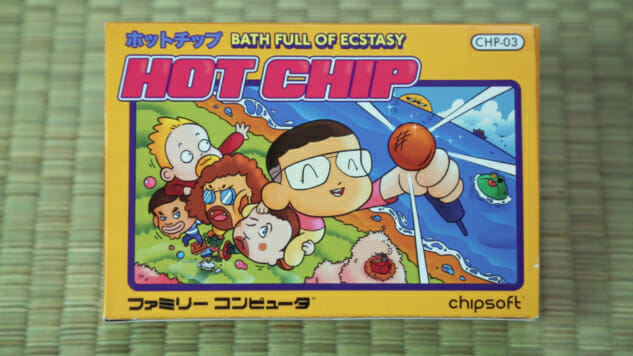 As if Hot Chip weren't already absurd enough, the indie-tronica group's latest music video comes in the form of a fictional playthrough of a Japanese videogame called "Bath Full of Ecstasy."
The dreamy groove of Hot Chip's title track off their June record, A Bath Full of Ecstasy, forms the soundtrack for the group's homage to '80's videogame culture—in which the five pixelated members of the band explore the digital kingdom of the Bubblebath Fairy. With the help of a magic microphone, lead singer Alexis Taylor is able to melodize foes into oblivion while the band's Felix Martin coaxes burgers from hanging sloths.
While this ridiculous game doesn't actually exist out there, the video—structured as a YouTube retro game review—goes into serious depth, detailing a voice-activated controller layout and a beautifully animated instruction booklet displayed by the "reviewer." Oliver Payne, the artist behind the video, has also designed covers for Taylor's solo projects.
Hot Chip's release of their "Bath Full of Ecstasy" video coincides with the beginning of the U.S. leg of their world tour, with a three-night run at Brooklyn Steel starting tonight, Sept. 3. You can watch their new video below and find their tour dates further down.
Hot Chip Tour Dates:
September
03 – Brooklyn, N.Y. @ Brooklyn Steel (Sold Out)
04 – Brooklyn, N.Y. @ Brooklyn Steel (Sold Out)
05 – Brooklyn, N.Y. @ Brooklyn Steel
07 – Washington, D.C. @ 9:30 Club (Sold Out)
08 – Philadelphia, Pa. @ Union Transfer
09 – Boston, Mass. @ Royale
10 – Montreal, Que. @ MTELUS
12 – Toronto, Ont. @ Phoenix Concert Theatre (Sold Out)
13 – Chicago, Ill. @ Riviera Theatre
14 – Minneapolis, Minn. @ First Avenue
17 – Vancouver, B.C. @ Vogue Theatre (Sold Out)
18 – Seattle, Wash. @ The Showbox
19 – Seattle, Wash. @ The Showbox (Sold Out)
20 – Portland, Ore. @ Roseland Theater
21 – Sacramento, Calif. @ City of Trees Festival
22 – Las Vegas, Nev. @ Life Is Beautiful Festival
24 – Santa Cruz, Calif. @ The Catalyst
25 – Oakland, Calif. @ Fox Theater
27 – Los Angeles, Calif. @ Shrine Auditorium
28 – San Diego, Calif. @ CRSSD FES
October
09 – Osaka, Japan @ Osaka Big Cat
11 – Tokyo, Japan @ Akasaka Blitz
16 – Belfast, U.K. @ Limelight
17 – Dublin, U.K. @ Olympia (Sold Out)
18 – Birmingham, U.K. @ O2 Institute 1 (Sold Out)
19 – Glasgow, U.K. @ Barrowland
21 – Bristol, U.K. @ O2 Academy (Sold Out)
22 – Nottingham, U.K. @ Rock City
24 – Norwich, U.K. @ LCR
25 – Manchester, U.K. @ Manchester Academy
26 – London, U.K. @ Alexandra Palace
31 – Monterrey, Mexico @ Showcenter Complex
November
01 – Guadalajara, Mexico @ Bugambilias Show Center
02 – Mexico City, Mexico @ Radio Bosque Festival
07 – Lima, Peru @ VMF
09 – Santiago, Chile @ Fauna Primavera
13 – Quito, Ecuador @ Plaza Deportivo Cumbaya
15 – Sao Paolo, Brazil @ Popload Festival
28 – Madrid, Spain @ Sala Riviera
29 – Barcelona, Spain @ Razzmatazz
30 – Milan, Spain @ Alcatraz
December
02 – Amsterdam, Netherlands @ Melkweg
03 – Berlin, Germany @ Columbiahalle
04 – Luxembourg City, Luxembourg @ den Atelier
05 – Lausanne, Switzerland @ Les Docks
07 – Paris, France @ Elysée Montmartre (Sold Out)
08 – Paris, France @ Elysée Montmartre (Sold Out)
10 – Antwerp, Belgium @ Muziekcentrum Triz
11 – Hamburg, Germany @ Docks
12 – Copenhagen, Denmark @ Vega
14 – Stockholm, Sweden @ Vasateatern
15 – Oslo, Norway @ Rockefeller