Jessica Chastain Calls for More Female Storytellers in Powerful Critique of Cannes Film Festival
Photos by Andreas Rentz/Getty, Pascal Le Segretain/Getty
Movies
News
Jessica Chastain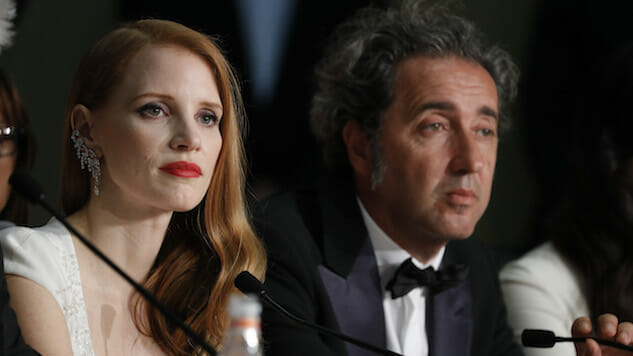 This weekend, Sofia Coppola made history as only the second woman in 70 years to win best director at Cannes Film Festival for The Beguiled. The film is a retelling of the 1971 Civil War-era film by the same name from the perspective of the film's female characters rather than the male—however, it seems this spotlight on a female narrative was an anomaly among the Cannes line-up.
As a jury member of this year's festival, Jessica Chastain remarked at the closing press conference that she was "disturbed" by the portrayal of women in the films screened over the course of the weekend.
While Chastain herself has been cast as a number of complex and well-rounded characters; from a wealthy southern belle amidst the civil rights era to a genius astroscientist who helps her father find the solution to life beyond Earth, she seems to recognize that this is not the experience for many actresses. Instead, they are stuck in stereotypical roles that rely on the same played-out tropes rather than authentic experiences of real women.
"If you have female storytelling, you also have more authentic female characters," said Chastain. The representation she is advocating is for does not ask much of filmmakers; however, Hollywood has rarely given shine to female characters that "are proactive, have their own agencies, don't just react to men around them."
The Bechdel Test, a tool used to gauge gender bias in film, simply asks "are there two female characters in this film that have a conversation about something other than a man," yet most popular films fail to pass.
This probably has something to do with the fact that even the film buffs of the world would have trouble naming more than a handful of successful female directors, not to mention that the number of women of color on that list is terrifyingly low. Chastain's critique makes an attempt to bring the conversation to the forefront, and hopefully this time Hollywood is listening.
Watch Chastain make her remarks below.
Say that, @jes_chastain. pic.twitter.com/H7QHnEE5JA

— Ava DuVernay (@ava) May 29, 2017