Lana Del Rey's NFR! is an Instant Folk-Pop Classic
The pop star has graduated from queen of bygone California beach vibes to a new title: President of Our American Feelings
Music
Reviews
Lana Del Rey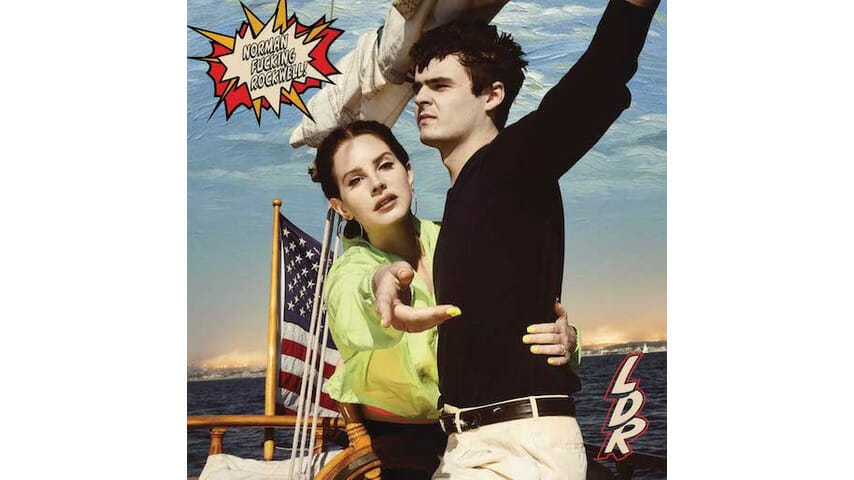 From outside her corner, Lana Del Rey has always appeared more aesthetic than artist. She emerged in 2012 as the gray-eyed anti-Katy Perry, a pop star who preferred sultry sleepers over big hooks. Like Perry, Lady Gaga and Carly Rae Jepsen, she acquired leagues of stans—but also plenty of haters. She went on to release five major label LPs that, while maybe singular within pop music, don't really stand out in the context of her personal catalog. Del Rey's music was often synonymous with sameness, and her personal brand with a tired California cool-girl image. You were more likely to buy Born To Die or Lust For Life at Urban Outfitters than a local indie shop.
You can still buy Norman Fucking Rockwell!, Del Rey's long-awaited sixth studio album, at Urban Outfitters (in a $40 pink vinyl exclusive, no less). But it's so much more than an accessory for your Crosley Cruiser. Delivered with her signature slyness, this is a record that, while evoking decades of folk, rock and Americana traditions, feels so tightly woven into the fabric of today's America that the word "classic" is an immediately obvious descriptor. You'll know it's something special about 15 minutes in—if not sooner—just as rusty acoustic guitars and electronic whirs mesh with stuttering psychedelia on the staggering nine-minute centerpiece "Venice Bitch," which holds the album's first great one-liner: "Fear fun, fear love / Fresh out of fucks, forever." NFR! isn't another slice of monotonous desert pop—it's a lyrical triumph and a masterclass in pop production.
The latter achievement is thanks in part to Bleachers frontman Jack Antonoff, who is slowly working his way up to Rick Rubin-level prestige in the producing world. He's the hooks master on Lorde's Melodrama, a few songs on Carly Rae Jepsen's Dedicated, and, most recently, Taylor Swift's Lover. He's an occasional maximalist, but on NFR!, he knows when to hold back—and when to occasionally crank it up. Ballads have the space to just be ballads: The stunning title track has just enough cinema-score strings and harp flourishes, but smooth piano and Del Rey's caramel alto are the main players. Some vocal layering is the primary effect on the Laurel Canyon lullaby "Happiness is a butterfly." But then another string-dominant serenade, "How to disappear," features jingle bells and sounds like a chopped and screwed Christmas carol. Del Rey's message of devotion, "The Next Best American Record," is paired-down folk perfection that gradually builds to the final chorus when the sound of breaking glass shatters the formula altogether. It's a perfectly-timed sonic shock.
Six of Norman Fucking Rockwell!'s 14 tracks were previously released as singles, while at least five others were teased in one form or another. LDR isn't presenting us with much new material on NFR!, but when those songs are all piled on top of one another, they sound new, or at least more at home. The references to music, art and literature, which include everything from Elton John, Neil Young and an actual Sublime cover to Sylvia Plath and Rockwell himself, are more vibrant in number. These are love letters and breakdowns and confessions, and while they don't necessarily cohere to a single story, they're all narratively rich. NFR! is less like a novel and more like a journal full of scribbles, poems, questions and revelations, each more clear than the last.
NFR! uses "fuck" so very freely, but it rarely sounds all that bold or blunt. On "Love song," Lana sings "I'm a fucking mess" like one might say "I'm going to the grocery store," followed by sentiments both passionate and tender and well-suited to the song's title. She's fed-up and sad on "Mariner's Apartment Complex," but instead of crying out, she calmly croons, "They mistook my kindness for weakness / I fucked up, I know that, but Jesus / Can't a girl just do the best she can?" as collected as can be. She never makes cheap grabs at sympathy—her cucumber-coolness and rock-solid lyrics demand empathy.
Lana has spent her whole career idolizing the West Coast and toying with vintage landscapes. She's not shutting up about Malibu just yet, even when she's experiencing her own California comedown on "Fuck it I love you," or, on the brilliant "California," when someone she loves is jonesing for an escape from the land of sunshine and fake smiles. She promises parties that "last all night long" and assures an A-list lover, "You don't ever have to act cooler than you think you should / You're brighter than the brightest stars." It's a flip on Joni Mitchell's "California"—this time, it's the singer who's at home in the Golden State, awaiting her European traveler with the same copies of "Vogue" and "Rolling Stone" coveted by the elegant Spaniards in Mitchell's version.
She's more Hollywood-hesitant on "The greatest," a song not unlike the one by her collaborator and sad-pop foremother Cat Power, who also sang of lost dreams and rock-bottoms. Del Rey mourns herself and anyone who's tripped and fallen in New York or L.A., the lost dreams capitals of the world. "L.A. is in flames' it's getting hot / Kanye West is blond and gone," she sings. The track waves a clean goodbye to West (someone who's definitely succumbed to the pressures of dream-chasing and career-building) and smartly summarizes our national exhaustion ("The culture is lit, and if this is it' I had a ball / I guess that I'm burned out after all"), but more than anything, "The greatest" expresses disillusionment with the idea of California. The plot is less like a fairytale American Idol success story and more La La Land and A Star is Born, proof that even realized L.A. dreams result in some major loss and regrets.
Lana is constantly switching between phases of bruised and building. The broken, sad-girl blues that dominated Born To Die and Paradise are still simmering on NFR!, but here, she's working toward something bigger than her own feelings. She doesn't ask us to weep for her—she captures the drama and despair of a nation, with wit to spare. Lana Del Rey is not just your little Venice bitch. She's our little Venice bitch.