LOUD NOISES!!!: The 10 Greatest Shouted Lines in Anchorman: The Legend of Ron Burgundy
Movies
Lists
Anchorman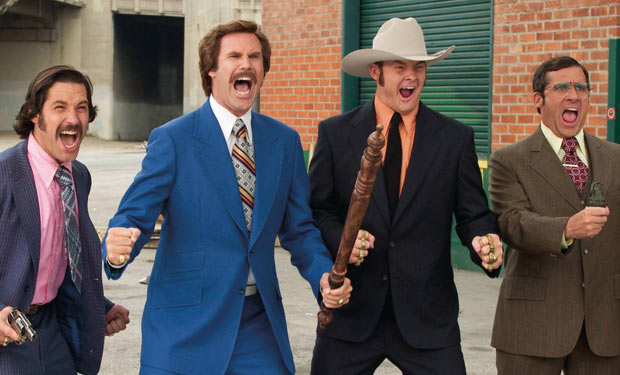 After nearly ten years, the movie most responsible (along with The Big Lebowski) for entire conversations comprised entirely from its absurd, often-improvised dialog is finally getting its long-gestating, vigorously demanded sequel. The Internet is already lousy with quotes—and lists of quotes—from Anchorman: The Legend of Ron Burgundy, but rarely does anyone appreciate how much of the McCay/Ferrell comedy brand relies on high-decibel delivery.
Admittedly, it can often be a fuzzy distinction between shouting, exhortation and good ol' enthusiasm, but here are ten of the shoutiest lines that benefit from (or even work in spite of) pumping up the volume. Hey, sometimes you just have to yell, "WHEN IN ROME!"
10. "I'M IN A GLASS CASE OF EMOTION!"
Brian Fantana is having some difficulty pinning down Burgundy's location.
9. "You're making me look stupid. GET OUT HERE, PANDA JERK!"
Reporter in the Field/Cologne Enthusiast Brian Fantana can't believe the lack of professionalism on behalf of the zoo exhibit subjects.
8. "YOU CAN USE MY OFFICE AND AFTERWARDS MAYBE WE CAN GO TO LUNCH!"
Ron's having trouble playing it cool about his attraction to Christina Applegate's Veronica Corningstone. Later, he will blame this on the pleat of his pants.
7. "I WILL SMASH YOUR FACE INTO A CAR WINDSHIELD, THEN TAKE YOUR MOTHER, DOROTHY MANTOOTH, OUT FOR A NICE SEAFOOD DINNER AND NEVER CALL HER AGAIN!"
Champ Kind may have difficulty reconciling his feelings for Ron, but he sure knows how to get inside the head of Wes Mantooth, Ron's crazy-jealous Channel 9 rival.
6. "VERONICA CORNINGSTONE AND I HAD SEX AND NOW WE ARE IN LOVE!"
"…Did I say that loud?"
"Yeah, you pretty much yelled it."