Next Gen Brews: 8 Fast-Rising Denver Breweries
Photos by Jim Vorel and via Ratio Beerworks
Drink
Features
craft beer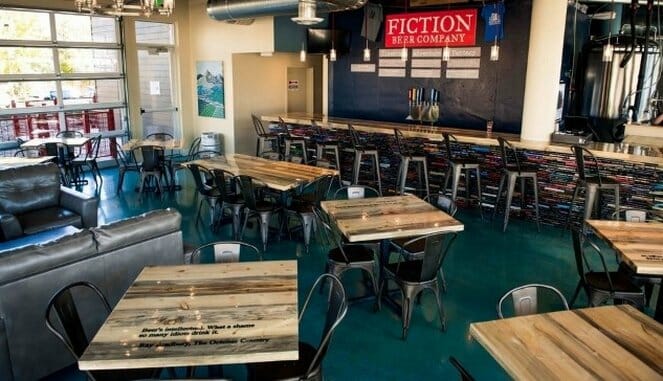 You know that a city's beer scene is deep when you can visit it for multiple days, exclusively to explore said beer scene, and barely make a dent in the surface.
That's me and the city of Denver. In the past two years, I've been to Denver four times, and every single time it was for beer. Two of them were for the Great American Beer Fest, the country's largest beer competition. The other two times were specifically to explore beer of the Colorado front range, and Denver in particular.
The first time I hit Denver, it was a bucket list beer vacation, mere months before I found out that I'd be heading down to Atlanta to begin working for Paste full-time. That trip was slightly more cursory, in the sense that I was focused on visiting as many of the front range's great breweries as possible, traveling from Boulder to Longmont to Fort Collins to Denver. In five days, I managed to physically visit 20 breweries, but once again that was only a surface-level introduction.
This summer, after two more GABF visits to Denver, I returned to the mile-high city on a weekend mission to immerse myself in the younger generation of Denver breweries. With the excuse of attending Sesh Fest, a session beer festival (which I wrote about in detail here), I crammed visits to another 8 breweries into two days, none of which I've ever visited before.
To say that I was impressed is an understatement. There's an embarrassment of great beer in Denver right now, and much of it is coming from breweries that don't even have a national presence as of yet, thanks to limited production and distribution. I drank fascinating experimental styles, and I drank spectacular versions of classic styles (such as Scotch ale) that were as good as any I've ever tasted. If you're headed to Denver in the near future, then you can't afford to miss these places.
Note: Sorry to the many breweries that I missed, but 48 hours (plus a beer festival) only allows for so much drinking in a short time frame.
---
Station 26 Brewing Co.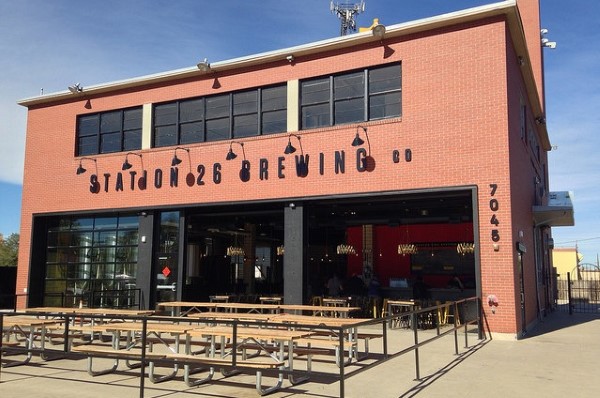 Station 26 was a fitting place to start, considering that they recently made a very impressive showing in our massive, 247 IPA blind tasting, landing not one but two IPAs in the top 50—flagship Juicy Banger at #44 and limited release Space Wrangler IPA at #20. In fact, they would have been the highest-ranked Colorado IPA in the entire tasting except for the presence of WeldWerks Brewing Co.'s Juicy Bits at #8.
In terms of presence, Station 26 feels like a pretty laid-back neighborhood brewery, which co-owner Justin Baccary confirmed was the intention. Housed in a concrete-and-brick former fire station, it has an industrial but easy-going feel, with a modest patio for the locals to soak in the clear Colorado skies. The fact that they initially targeted a specific neighborhood is indicative of how segmented the beer scene of Denver has become—with more than 60 breweries within the city limits (and more than 100 in the suburbs), each and every brewery tends to be within walking distance of another brewery. To find an area underserved on beer has become increasingly difficult, so when Station 26 found one, they pounced. And they were quickly rewarded for their efforts, as the brewery's Colorado Cream Ale immediately won a GABF medal shortly after they opened in 2014.
The beer portfolio of Station 26, meanwhile, tends toward balance—"a variety of beer for everyone," according to Baccary. That includes beers that are obvious crowd-pleasers, such as the Colorado Cream Ale and its newer citrus variation, Tangerine Cream, which I can confirm tastes just like a Creamsicle. The others I tasted seemed very consistent and balanced, from a gose with just the right level of lactic tang, to the nicely individualistic Chocolate Rye, which combines the subtle spice and bready quality of a good roggenbier with a hint of roast. Ultimately, though, this is a place I'd be visiting for IPAs—both the Space Wrangler and especially the Juicy Banger (on second taste) are superlative examples of modern, juicy, low-bitterness IPA. If you love the tropical and stone fruit character found in many nouveau American IPAs, then Juicy Banger should be on your list.
---
Ratio Beerworks
Ratio is perhaps the most instantly visually distinctive brewery that I visited during this trip, with a blinking, theater-like marquee proclaiming its beer menu that instantly draws the eye front and center. It's the sort of aesthetic touch common to Denver taprooms that one simply doesn't see at my current home in Atlanta, thanks to Colorado's much friendlier beer laws—amazing that these companies want to invest more in their taprooms when they're actually allowed to sell beer there, right? Who could have predicted that economic cause-and-effect?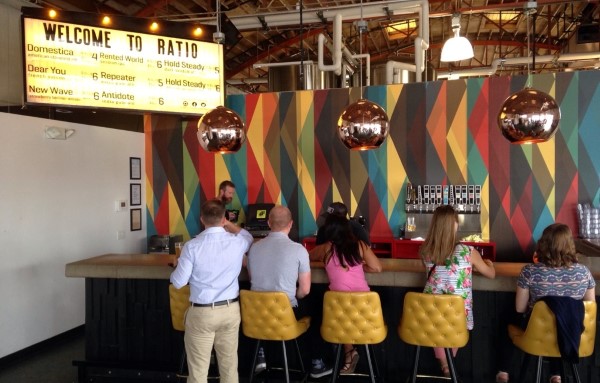 Ratio was created by three cofounders, who bonded over love of beer and the city's punk rock scene, which lives on via in-brewery concerts and a weekly Tuesday vinyl swap. It was amusingly described to me by marketing manager Tristan Chan as "only the third" brewery in the Ri-No (River North) neighborhood of Denver when it opened 17 months ago, which has since exploded to more than 10 breweries—only in a few cities such as Denver can you go to a neighborhood and hear relative brewery density described in such a way. Now, Ratio resides deep in the heart of this so-called "brewery district."
In describing the brewery's philosophy, Chan cites "traditional styles, with a little modern twist." Pertinent examples include Dear You, a dry and delightfully spicy French saison dosed with tropical fruity Citra hops, or Domestica, their "American standard ale" play on the ubiquity of light lagers. There's also an impressively restrained sour program bubbling up here, such as the New Wave strawberry berliner weiss captured in the video below—one of the only strawberry beers I've ever had that I can legitimately recommend.
My favorite beer from Ratio, though, was one I hardly expected to make much of an impression: Hold Steady, the "chocolate rye scotch ale," which perfectly captures the style's subtle toffee, toast and crystal malt character without succumbing to the overly caramelized, cloying simplicity that I've all too often come to expect. This year-rounder is one of the best examples of scotch ale I've had in quite a while.
---
Call to Arms Brewing Co.
Call to Arms was another Denver brewery I walked into, only to immediately think "There is not a taproom in all of Atlanta this pleasantly appointed." It's simply a fact—Denver makes for a great beer tourism city because the breweries feel like places where you can linger and socialize. They're all "full service." You can't discount how big a part of the experience that can be, when you live in a state that doesn't allow for it.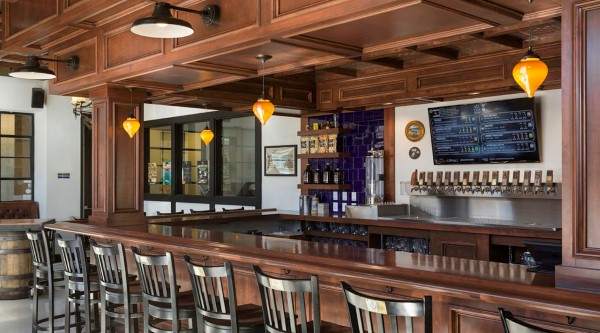 But I'm getting off-topic here. Call to Arms was founded in 2015 by three former brewery workers from Boulder's ever-wonderful Avery Brewing Co., and it definitely carries more than a little bit of Avery DNA into its adventurous lineup of beers. Compared to some of the other breweries I visited, one immediately notes that Call to Arms has quite a large lineup on tap—15 beers, which run the gamut from lagers and IPAs to saisons and sours. Farmhouse ales seem to be something of a specialty, as it's hard not to notice that they're very well-represented, often with geeky names in the vein of "The Brett Has NO Myces."
I also appreciate the presence of a regularly tapped Vienna lager, Amigos Borrachos, which I managed to sample during Sesh Fest. An all-too-often overlooked style, a properly done Vienna lager like this one simultaneously conveys malt complexity and drinkability, which is a combination that has become increasingly difficult to find in a hop-infused American craft beer marketplace. Kudos to Call to Arms for finding success in making a style that very few modern breweries have really embraced.
---
Little Machine Beer
It's certainly easy to note a different aesthetic, walking into Little Machine. Gone is the "neighborhood pub" vibe of Station 26 or Call to Arms, replaced by a slick, geeky homage to science fiction and nerd culture. Just ask the friendly robot guarding the front door.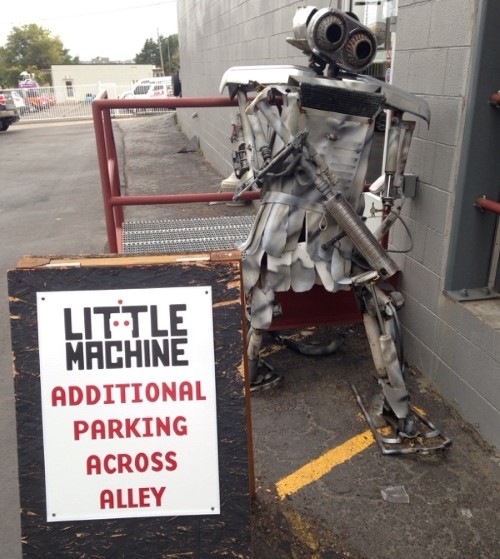 Inside, the brewery is built around a wonderful circular bar, maximizing the possible seating in a way that simply looks visually appealing and communal. With a draft list that rivals Call to Arms in terms of size, you'll likely be reading it up and down once or twice before making a selection … assuming you're not distracted by the magically kitschy Captain Future, Wizard of Science poster as I was.
Beer styles at Little Machine run the gamut—primarily working off American classics, but also with flourishes from British, German and Belgian brewing traditions. I found myself enjoying several beers with vastly different profiles, which to me suggests the kind of adaptability that a great brewery needs—if the same place can make a solid "coffee double brown ale" and a good boysenberry sour, then they've probably got a good thing going. Coupled with their excellent, robot-themed branding, Little Machine feels like a brand that could be propelled into regional prominence by a core of geeky Colorado drinkers. The Yafi IPA alone was among the best hop-forward beers I tasted over the course of the weekend, bridging the gap between classic west coast IPA and the hazier NE-IPA style that is now making significant inroads in Denver.
---
Spangalang Brewery

A jazz album cover parody
Spangalang, aside from being a very fun thing to say while inebriated, is a bit of jazz terminology that loosely refers to a drummer who can play the classical jazz cymbal rhythm and direct the flow of the music. It also refers to this free-wheelin', jazz-inspired brewery in the heart of Denver's Five Points neighborhood. Like several of the other breweries in town, it was founded when a small group of brewery employees from another local (in this case, Great Divide) struck out to open a brewery of their own. The result is a colorful, hip little taproom where the majority of Spangalang beer is consumed, and it made a superlative nightcap to my first day in Denver.
The Spangalang beer menu seems to make a specific point of highlighting approachable, lower-ABV beers, which is something I've increasingly come to appreciate. The 3.5% ABV Sugarfoot is a Belgian table beer/abbey single hybrid that packs an enormous degree of flavor into its tiny frame, and was understandably rewarded with 2015 GABF gold. The "Lemon Session," likewise, is a 4.4% ABV wheat beer dosed with Citra and a ridiculous charge of lemon zest to create one of the most explicitly lemon-forward beers I've ever tasted—a very specific flavor profile indeed.
Still, it's not an entire menu of only session beer styles. I didn't get a chance to taste many burly stouts while visiting Denver in the heat of the summer, but the best one I did have hailed from Spangalang in the form of their Nighwalker, a 9.75% ABV Russian imperial stout with plenty of roast, dark fruitiness and a velvety body. This kind of beer is a godsend to those of us who don't believe in limiting ourselves by the idea of "seasonal drinking," and I'm glad that a stout of its caliber could still be found at one of the city's smaller breweries in the dog days of summer.
---
Comrade Brewing Co.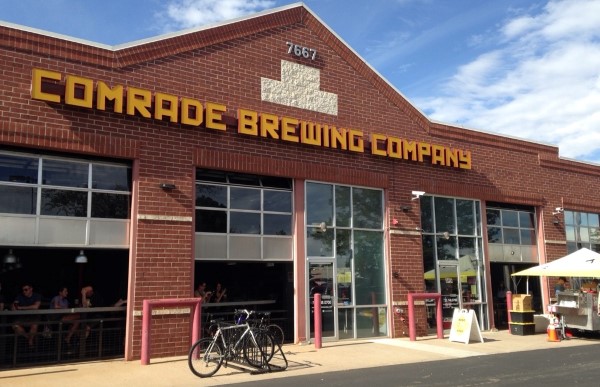 I feel fairly confident in saying that Comrade is the best Communist Russia-themed brewery I've ever visited, and you can quote me on that. A bit out of the way on the southeast side of Denver, compared to the other breweries I was visiting, I made a bit of a detour to visit Comrade and the following brewery, Fiction Beer Co. I was glad I did, and not just for the sausage cart parked outside.
The first thing one notes about Comrade is the location—I can't think of many production breweries I've seen that are located within a strip mall. But regardless, they've made the space work for them, with a wide-open taproom that frequently plays host to musical acts, including a charming folk duo during my visit. As with many Colorado breweries, exuberant-looking dogs were also common.
Comrade is best known for their flagship IPA, Superpower, and after a taste it was easy to see why. Superpower was easily one of the best IPAs I've sampled in Denver, an exemplary take on a classic west coast profile that is bursting with grapefruit citrus, resin and spicy pine. Having just blind-tasted a ton of IPAs, this strikes me as one that would excel in a blind-tasting environment, divorced from hype. Alongside Station 26's Juicy Banger, it was the best IPA I tasted over the course of these two days, although it fits in a more classic west coast niche, rather than Juicy Banger's leanings toward tropical/stone fruit flavors.
The rest of the lineup is nearly as good, from the easy-drinking, latte-like Koffee Kream Extra to the well-balanced Bear Dog, an imperial red ale that strikes a deft balance between hops and crystal malt. I was also weirdly pleased to drink a solid Irish red ale in the form of REDCON. For a style that was once completely ubiquitous and done-to-death, one hardly ever sees Irish red ale from a well-liked craft brewery these days, which has returned some novelty to the style.
---
Fiction Beer Co.
Of all the Denver breweries I visited, I think Fiction may have the strongest overall theme, aesthetic and sense of self. This place knows exactly what it is, and they've leaned so hard into their underlying philosophy toward beer and their taproom space that you can't help but admire it. The literary-themed taproom is small and cozy, with a bar built from stacks of old book spines and plenty of community books you can borrow while drinking. Troupes of local thespians perform boozy renditions of Shakespeare regularly in the space, and every beer unspools its personal story with a (sometimes rambling) bit of text that explains its literary inspiration, from Jack Kerouac to Philip K. Dick. It's the ultimate taproom for library geeks; a Bohemian brewery ideologically rather than beerlogically.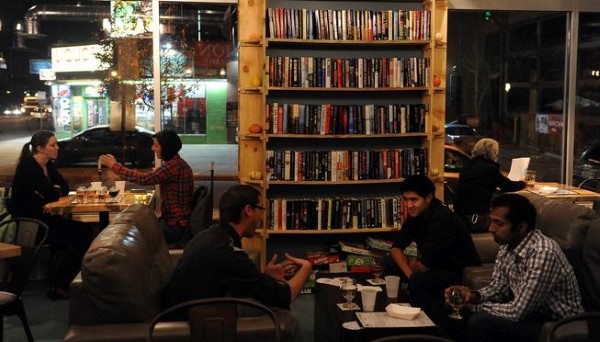 And as for the beer, Fiction is fortunate to excel there as well, although I unfortunately didn't get to taste quite as many styles from them as I did elsewhere—the sad reality of reaching one's alcohol limit, I'm afraid. Remember how I praised the IPAs of Comrade and Station 26? Well, Fiction is packing the best DIPA I tasted on this weekend in Colorado, the hazy, NE-IPA inspired Cosmic Unity. Awash in hard-to-place tropical fruit notes of mango and papaya, it was a refreshing alternative to the more traditional DIPAs I was tasting elsewhere, with a very soft, silky mouthfeel. It's the kind of sticky, ultra-juicy NE-IPA that would stack up well against the luminaries of that style, such as Tree House and Trillium.
It was also nice to see Alternate Present, a Man in the High Castle-inspired take on one of my favorite underappreciated beer styles: Schwarzbier. In the heat of the summer, a mildly roasty but easy-drinking black lager is exactly what more breweries should be producing to slake the cravings of dark beer aficionados. With the lightest of coffee flavors and a touch of smoky char, Alternate Present is the kind of beer I'd gladly drink by the liter out on patio, preferably with a length of knockwurst.
---
Great Divide Barrel Bar
Alright, so Great Divide obviously doesn't qualify as new blood in Denver, given that it was founded in 1994 and produces more than 40,000 barrels per year, but they do have a brand new Ri-No facility and "barrel bar," and I would be remiss if I didn't stop by to check out the expansion plans of Denver's largest craft brewery. As a bonus, it's right across the street from the amazing sours of Crooked Stave in the communal "Source" building.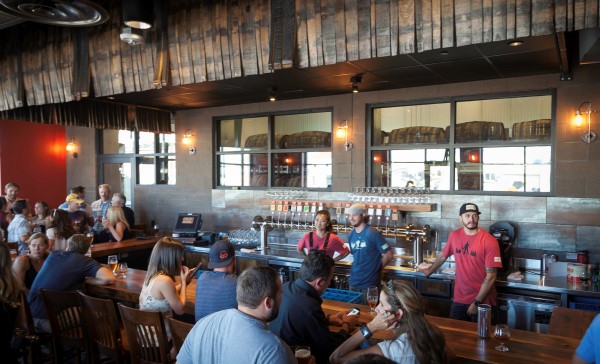 But in terms of the new facility, there's only one word for it: Massive. A relatively small amount of space was used to make a cozy bar, but it connects to a huge, sprawling warehouse that is being built into Great Divide's brewery of the future. Although every drop of beer is still being produced in the original downtown Denver location (just a short stroll from Coors Field), that beer is now being canned on the modern line at the new facility, which is so large and efficient that it only needs to be run a couple of times per week. It's clear that the brand is still projecting huge growth, 22 years into its lifespan, and it's building a facility here that will serve it for a long, long time. That includes the expansion of Great Divide's barrel-aging program as well, with segments of the brewery rigorously sealed off to prevent any possibility of cross-contamination.
Meanwhile, at the "barrel bar" itself, guests can sample the classic Great Divide year rounders (my favorite is still the farmhouse ale, Collette) as well as the fruits of those barrels. Naturally, there are plenty of spins on the Yeti imperial stout, but the most interesting beer I tasted was actually an unusual, whiskey barrel variation on the brewery's DIPA, Hercules. It's a taste profile I didn't really expect to work (bourbon and hops?), but Great Divide pulls it off with intriguing aplomb. The result is a bit like a malty, caramelized creme brulee, rich in vanillans, and with just enough herbal hoppiness to cut through the sugar. Interesting, unexpected stuff from a brewery more than two decades into its run.
---
Those, unfortunately, are the only breweries I was able to visit in a 48-hour period, in addition to attending the aforementioned beer festival. But as ever, I leave with a greater appreciation for one of the country's best beer cities in Denver. It has a sense of inexhaustible-ness, a feeling like even if you lived here, you'd never be able to get to every one of these places. Even if it was my job to cover Denver beer exclusively, it doesn't feel like I'd be able to get to them all.
And indeed, I found this sentiment reflected by the brewers and brewery owners themselves, throughout the weekend. If there's one thing I heard in those 48 hours more than any other it would be "_______? Oh man, I love their beer. I haven't been able to visit the brewery yet, but I can't wait to go."
That about sums up Denver craft beer in a nutshell. It's an embarrassment of riches, and I can't wait to be back again.
---
Jim Vorel is Paste's resident beer geek. You can follow him on Twitter for much more beer content and blind tastings.