Somewhere Between the Transcendent and the Mundane You'll Find Nirvana
A captivating look at Nirvana's final chapter, Live and Loud also provides the most vivid live document of the band to date
Music
Reviews
Nirvana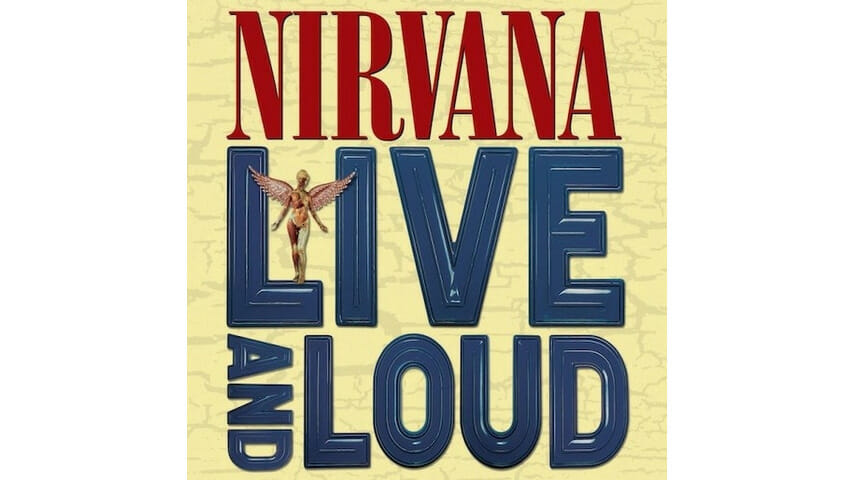 When MTV arranged for Nirvana to play a show with The Breeders, Cypress Hill and a last-minute-cancelling Pearl Jam in a cold, aging warehouse on the Seattle waterfront in December of 1993, no one had any way of knowing that Nirvana were less than three months away from playing their final show. So when the network aired a heavily truncated version of Nirvana's performance from that night two weeks later on New Year's Eve, the expectation was that the touring cycle for Nirvana's third album In Utero would continue on into the foreseeable future. Of course, things didn't turn out that way, and in the quarter-century since frontman Kurt Cobain's death, so much mythology has accumulated around the band that it's gotten difficult to focus on the band strictly in terms of its music. In many ways, Live and Loud is the ideal release for just that purpose.
If you were searching for a live recording that best represents the thundering power Nirvana were able to summon live, this late-stage performance at Seattle's Pier 48 probably wouldn't jump out as a top candidate. Given the presence of TV cameras and the fact that the show took place in a setting that wasn't actually a music venue, it's not like you're quite getting an audio-verité snapshot of the band in its natural habitat. You'd also probably overlook Live and Loud—even the title screams "unremarkable"—because it never reached the same legendary status as the band's iconic appearance on MTV Unplugged, filmed just a month prior. When Live and Loud was first released in its entirety in 2013 as a DVD bonus with the deluxe reissue of In Utero (which also includes a disc of the audio), it didn't cause much fanfare on its own, presented amongst a host of other bonus material.
Last week, on the same day that Live and Loud was released in standalone audio form for the first time, the official Nirvana YouTube page debuted video of the entire show, albeit chopped up into a playlist of all the individual tracks—hardly the ideal way to take it all in. Listening back without the benefit of the visuals to enhance what you're hearing, there are times when, if not exactly rushed, the pacing comes across as if the band is almost too comfortable in its capacity as a well-oiled machine built to market itself. Nirvana certainly talked a good game about resisting corporate influence. In many respects, they walked the walk too, but as Live and Loud shows, they had a professional smoothness about them that belies their underground instincts. This sense of almost automatic proficiency is highlighted by the total lack of interaction or between-song banter (at least that made this final edit), making it difficult to read the energy between the band and the hometown crowd.
Moreover, you get the impression that the band is less invested in songs like "Come As You Are," a single from the monster hit album Nevermind. It's not just that Cobain had by 1993 shit-talked what he referred to as the slick sound of Nevermind in interviews and looked visibly weary from hearing his own songs get overplayed on radio and MTV. He was by that point shit-talking Steve Abini's far more abrasive production on In Utero too. In fact, you don't need to go by anything Cobain said in the press at all—you can listen to Live and Loud blind, without knowing any of the context of what you're hearing, and detect a pretty dramatic contrast: Roughly a third or so of the album's 17 songs give off the vibe of a business-savvy band doing its act, while another third captures a fraught, almost cornered group of musicians really going for it as if their lives depended on it. (Looking back, maybe they did.)
The remaining third of the set falls somewhere in the middle. The contrast is blurred by just how tight Nirvana were as a unit onstage. Even when you can sense something approaching indifference, as if they were playing a corporate function (which, in a sense, this show actually was), the music gets enlivened just by virtue of the band executing it with such proficiency. On the other hand, for all the chaos and abandon they were able to marshall, Nirvana played with such remarkable unity onstage that it makes you wonder whether Cobain and company harbored a secret love for the precision of progressive rock. On the night this show was filmed, it hadn't been long since former Germs (and future Foo Fighters) guitarist Pat Smear had joined the band. And yet he slots right in, the four players pounding and pounding away like some kind of chain gang.
The gnashing "Scentless Apprentice" and the harried "Radio Friendly Unit Shifter"—both non-single In Utero cuts—practically drip with volatility. Likewise, Nevermind selections like "Breed" and "Drain You" percolate with a vitality that's surprisingly life-affirming given how much the band had already played those songs on the Nevermind tour cycle. Most strikingly, though, the sheer size and crunch of the mix places Live and Loud far and above Nirvana's other three electric live albums, From the Muddy Banks of the Wishkah, Live at Reading, and Live at the Paramount (also released this year).
Especially on the harder-hitting material, if you play Live and Loud on a nice home stereo and turn the volume up, those other titles get exposed for what they are: glorified bootlegs. "Breed," for example, begins with a squall of Cobain guitar feedback followed by the main riff, which is then joined by a marching-band-meets-punk pattern on drummer Dave Grohl's snare, followed by a thick, growling bassline courtesy of Krist Novoselic and then, finally, Smear, whose contribution to the density of this recording can't be understated. At times, his guitar is even louder than Cobain's, but when both are playing it's as if you can feel the air pushing through the speaker cones onstage. In totality, the sense of ambience is massive.
The setlist here arguably sputters to the finish line, with the triple-shot of "Come As You Are," "Lithium" and "About a Girl"—songs where it's hard to tell whether the band dials things down because the inherent mellowness of the songs calls for some temperance, or because they're less passionate about those songs—capped-off by the meandering noise experiment "Endless Nameless." Don't be fooled, though. Even during moments when the band doesn't seem particularly inspired, Live and Loud shows that Nirvana made one hell of a racket, right down to the end.
"You can't fire me because I quit," Cobain yowls on "Scentless Apprentice." It wouldn't be long before he saddled those lyrics with an awful weight by making them come true in grim fashion, but thanks to Live and Loud, we finally have an enduring snapshot of Nirvana as a powerhouse live act that even Cobain's final act can never erase him from.