The Sims 4: Moschino Stuff Pack Brings High Fashion to The Sims, with All Its Beauty and Impracticality
Games
Features
the sims 4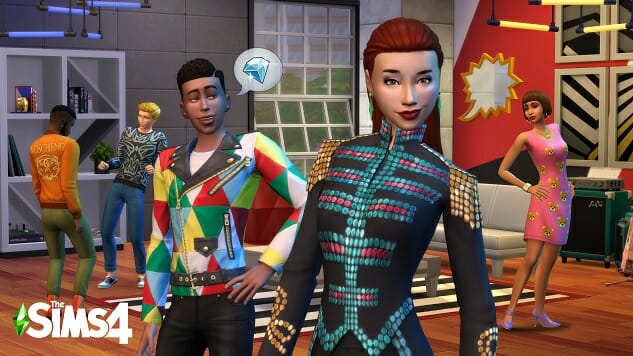 At its core The Sims is all about self expression. It's about curating an image of a dream life without the sobering limitations of your real one. It's not just about the profession, the house, and the carefully planned family. It's also about the unique markers of our personal identity through fashion: the hairstyles, the clothes, the accessories. Which is why the latest from The Sims 4, Moschino Stuff Pack, is a lot of fun for the fashion forward and self expressive.
You'd think my general disdain for the aggressive monetization strategies of EA (and how they've been tested out on the Sims audience over the years) would preclude me from enjoying a fashion pack for The Sims 4. But on the contrary, I love having more clothing options, and I think the crossover into real life is a clever and fun bit of cross promotion. I loved Diesel Stuff for The Sims 3, and H&M Fashion and the IKEA Home Stuff for The Sims 2 as well. I'd enjoy seeing more content packs that feature items actually available for purchase. I've had outfit envy towards my Sim more than once. And anyway, if you're going to experiment and develop your fashion and decorating tastes while creating a fantasy life in The Sims, why not have the chance to recreate the aesthetic in real life?
That being said, if you're looking for this pack to robustly improve your wardrobe options, you're out of luck. Like most couture and high fashion concept pieces, the Moschino items aren't particularly practical. If you have a flamboyant and outgoing Sim, they'll look quite dapper in the pack's bright patterns, sporty moto jackets, ironic novelty prints and so-gaudy-it's-good, '80s inspired evening gown. But as everyday wear, you won't get much use. Personally, I love the Plumbob swimsuit, drop earrings and umbrella, but they're the only things I've added to my regular wardrobe. The accessories and individual pieces don't necessarily mix and match well, so I got the most mileage out of just wearing the obvious outfits without any improvising or variation. It's kind of disappointing, given how visually interesting each piece is, that they can't be easily complemented by the player's own sense of self expression. But then, Moschino seems to hide its wearers behind the clothes.
The Sims 4: Moschino Stuff Pack also doesn't offer a lot of different items, which is in line with how high fashion works but also disappointing in light of the generally limited offerings of The Sims 4 content packs. But if you need a set of day glo epaulets and a tuxedo print cocktail dress, this is the one for you.
The Sims 4: Moschino Stuff Pack is out now on PC and Mac, and will come out on PlayStation 4 and Xbox One on Sept. 3.