Watch The Raconteurs and Josh Homme Play "Blue Veins" Together Live in LA
When modern rock legends unite
Photos by Kevin Mazur/Getty, John Shearer/Getty
Music
News
The Raconteurs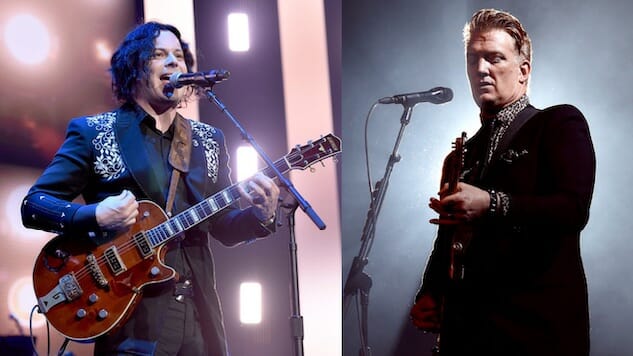 Queens of the Stone Age frontman Josh Homme joined Jack White onstage during his Los Angeles set with The Raconteurs on Friday night.
Homme and White played electric guitar in a rousing, spirited live rendition of "Blue Veins," a song off The Raconteurs' 2006 album Broken Boy Soldiers.
White and The Raconteurs' show at the Greek Theatre was advertised as a "phone-free" concert, since White notably asks his fans to put away all technological devices or distractions during his live performances.
According to White's show's notes on Ticketmaster, attendees' phones were secured in Yondr pouches that were only unlocked at the end of the show:
PLEASE NOTE: this is a PHONE-FREE show. No photos, video or audio recording devices allowed. We think you'll enjoy looking up from your gadgets for a little while and experience music and our shared love of it IN PERSON. Upon arrival at the venue, all phones and other photo or video-capturing gizmos will be secured in a Yondr pouch that will be unlocked at the end of the show. You keep your pouch-secured phone on you during the show and, if needed, can unlock your phone at any time in a designated Yondr Phone Zone located in the lobby or concourse. Enjoy a phone-free, 100% human experience.
One audience member appears to have broken that rule, capturing an almost 10-minute video of White's impassioned vocals and epic guitar solos between the two iconic 2000s rock frontmen.
Last week, White was a special guest on Homme's Alligator Hour show on Apple Music. They both discussed the media, their legacies and technology, among other topics.
The Raconteurs released their most recent album Help Us Stranger via White's own Third Man Records last month and have been touring in support of it.
Watch Homme join forces with The Raconteurs below.