Watch Jeff VanderMeer and Alex Garland Discuss Annihilation's Journey From Page to Screen
Photo via Paramount Pictures
Books
News
Annihilation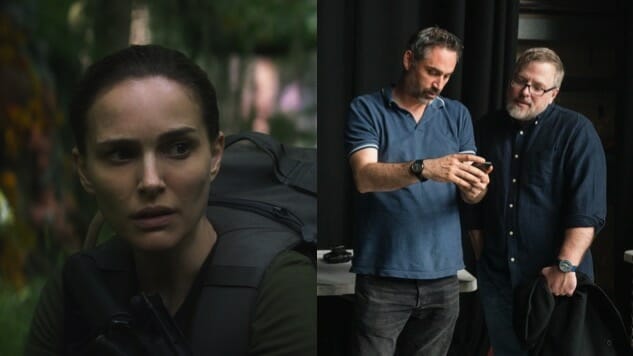 Before Annihilation was a film from acclaimed sci-fi writer-director Alex Garland, it was a novel from award-winning author Jeff VanderMeer, the first in his bestselling Southern Reach Trilogy. The author and auteur discuss the shared DNA of their distinctive works in a new featurette released Wednesday by Paramount Pictures, which you can watch below.
As those who have both seen and read Annihilation realize, this is a particularly fascinating adaptation process to examine. There are drastic differences between the two narratives, resulting in a book and film that appear on the surface to share little outside their premise, but have powerful thematic and aesthetic connections.
Whereas authors whose works are adapted for the screen are sometimes overprotective of their work to the detriment of its adaptation, VanderMeer was generous with his writing and excited to see it reimagined. "I wasn't really looking for someone to do an ironclad, faithful adaptation," he explains. "I was looking for something that was interesting, that would surprise me. And so the movie blew me away in places that I didn't expect." VanderMeer adds that his work had already expanded beyond him, citing fan fiction and art as a harbinger: "I was already kind of used to the idea that the series was not entirely mine anymore, that it created this space for collaboration." Indeed, Garland stresses the collaborative nature of adapting Annihilation's script, characterizing the process as a free-flowing exchange of ideas.
Annihilation's Area X presented a particular challenge for the filmmaker, who cited the "powerful, strange atmosphere" of VanderMeer's book as playing a key role in shaping the film's visuals. Garland lauded the novel's power to plant imagery in readers' minds, saying, "The act of reading the book was like having a dream. It was truly original and this just wasn't like anything I'd ever read." "I think some of Alex's visuals that are unique to the movie are very much kind of a reaction in some cases, I think, to the book," adds VanderMeer, who says he was "blown away" by storyboards for the film, in which the filmmakers seized on certain images that had also resonated with the author when he first wrote Annihilation.
Speaking to the narrative core of both the book and film, Garland summarizes, "The journey of the film was from suburbia to psychedelia. We begin in the world we know and we end in a world we don't know." VanderMeer identifies shared themes including "what does it mean to be human and what does it mean to encounter the unknown," praising the film as effectively sharing the novel's "mix of beauty and terror." Indeed, Annihilation is at turns gorgeous and ghastly, a gripping work of science fiction that justifies its existence with ease. (Are we talking about the book or the film, you ask? Exactly, we reply.)
Watch the featurette below (beware of spoilers) and read our review of Annihilation right here.