Markus Zusak Announces Book Tour to Align with Bridge of Clay's Publication
Images via Brendon Thorne/Getty, Penguin Random House
Books
News
Markus Zusak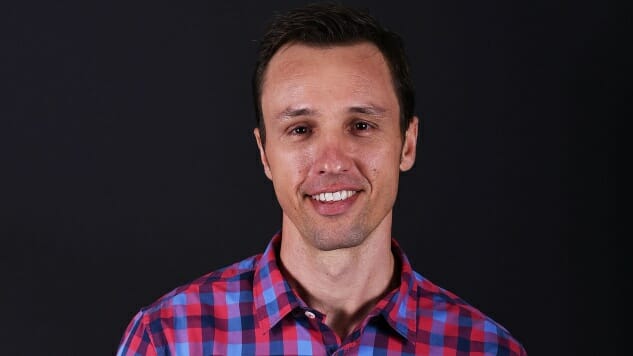 Markus Zusak, best known for his novel The Book Thief, has a new book set for publication this fall, his first novel since The Book Thief was published 13 years ago. The Australian author is going on a U.S. tour this fall to coincide with the publication of this forthcoming novel, Bridge of Clay, which will be available Oct. 9 via Random House.
Bridge of Clay is the story of the five Dunbar brothers, one of whom is the title's "Clay." The YA novel finds the boys grappling with the adult world and the less common experience of discovering the secret behind their father's disappearance. Clay is described as "a boy who will build a bridge—for his family, for his past, for greatness, for his sins, for a miracle." Zusak spoke with EW about his forthcoming novel and the time elapsed since The Book Thief:
Since writing The Book Thief—a book that started out meaning something to me, but ended up meaning everything—I'd made up my mind that I only wanted to write books that mean everything to me, which isn't that easy to do.
Paste had a discussion with Zusak about The Book Thief in 2016, which you can revisit here, and we named the novel one of the 20 best books of the decade for 2000-2009.
You can preorder Bridge of Clay here and view Zusak's book tour dates below (find more details about them here).
Markus Zusak Tour Dates:
October
09 – Scarsdale, N.Y. @ Barnes & Noble #3304 Vernon Hills Shopping Center
10 – New York, N.Y. @ Symphony Space
11 – Fairless Hills, Pa. @ Pennsbury High School
12 – Washington, D.C. @ Politics and Prose Bookstore
13 – St. Peters, Mo. @ Spencer Road Branch Library
15 – Nashville, Tenn. @ Hume-Fogg High School
16 – Kissimmee, Fla. @ Books-A-Million #520
17 – Miami, Fla. @ Miami Book Fair Miami Dade College 300 NE Second Ave.
23 – Lake Forest Park, Wash. @ Third Place Books
24 – Corte Madera, Calif. @ Book Passage
25 – Santa Cruz, Calif. @ Veterans Memorial Building
26 – Mission Viejo, Calif. @ Murray Center
27 – Los Angeles, Calif. @ Barnes & Noble #2089 The Grove at Farmers Mark