Bonfire of the Vanities Author and New Journalism Pioneer Tom Wolfe Dead at 88
Photos by Stephen Lovekin/Getty, Fernando Leon/Getty
Books
News
Tom Wolfe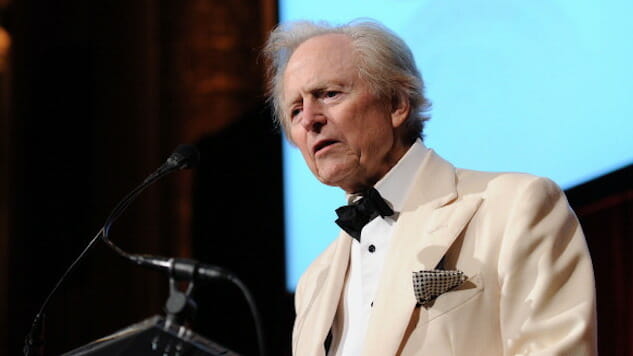 American journalist and author Tom Wolfe passed away in a Manhattan hospital on Monday after seeking treatment for an infection, as confirmed by his agent and reported by the New York Times. He was 88 years old.
Wolfe was known primarily for his reach within the field of New Journalism, a reporting style that emerged in the 1960s and '70s characterized by novelistic writing and literary storytelling techniques. Wolfe himself coined the term in 1973 when he published a book of articles called The New Journalism, featuring the likes of Truman Capote, Joan Didion and Gay Talese, who penned the famous literary-style profile "Frank Sinatra Has A Cold."
In the collection Wolfe wrote, "The most important literature being written in America today is in nonfiction."
Wolfe certainly devoted his career to the maintaining and bettering of the genre, be it through news gathering or book writing. As aforementioned, he died in New York City, where he had lived since starting work as a reporter for the New York Herald Tribune in 1962. Prior to that, he earned his PhD in American Studies from Yale University. Wolfe also worked for The Washington Post and Esquire before going on to write several popular books, including The Electric Kool-Aid Acid Test—which documented the rise of hippies in the '60s—the Bonfire of Vanities and The Right Stuff.
One of the most famous aspects of Wolfe's repertoire was his ability to wield cultural satire in his works. He once coined the phrase "radical chic" to describe social interaction between white liberals and Black Panther activists at a benefit at the home of composer Leonard Bernstein. His writing was wry, keen and wildly attuned to the issues of his day.
Other writers and creators have sounded off on Wolfe's passing and legacy. In a statement to the Associated Press, Michael Lewis, the author behind Moneyball and The Big Short, said, "What I hope people know about him is that he was a sweet and generous man. Not just a great writer but a great soul. He didn't just help me to become a writer. He did it with pleasure."