A Mutual Admiration Society: Cameron Esposito, Rhea Butcher and Take My Wife
Photo by Emma McIntyre / Getty Images
Comedy
Features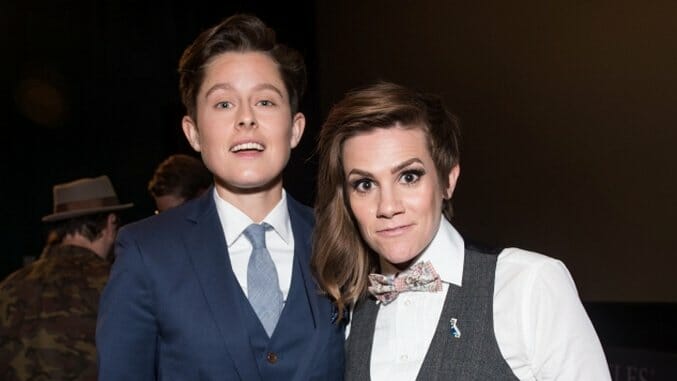 In their new Seeso show, Take My Wife, Cameron Esposito and Rhea Butcher give new meaning to Henny Youngman's best-known one-liner. The real-life couple, who were married last December, are not only breaking gender barriers but they're crossing comedy boundaries as well. (Just try and name any other lesbian couple producing, writing and starring in their own show.)
At last week's Los Angeles premiere of Take My Wife, Esposito and Butcher arrived in casual cool attire, perfect for an L.A. event. In dark jeans, waistcoats and ties, Esposito donned a bowtie, while Butcher chose a suitcoat to wear with her traditional tie. The two were greeted by friends and fans alike when they entered the Los Angeles Film School lobby for the screening. Paste was allotted a few minutes for an interview, so we ducked into a kitchenette that doubled as an impromptu, no-frills greenroom. Esposito and Butcher were immediately apologetic to the couple who were trying to chow down their Jack-in-the-Box dinners in private.
When meeting the comics in real life, their onstage stand-up styles make complete sense. Both are down-to-earth, but Chicago native Esposito is the more loquacious of the pair, barreling ahead to get her thoughts out, while the Akron, Ohio-raised Butcher is quieter, more reserved and waits for the perfect moment to deadpan a zinger herself. "I would describe Rhea as 'brilliantly understated,'" Esposito said. "I think what makes Rhea's comedy so great is that she's not selling it. She's just speaking truth and people come to her. It's unlike anything that I've ever done on stage." Butcher reciprocated, "And I would say Cameron is a 'fiercely personal.' And I mean personal in the 'personal is political' way."
The two complement (and compliment) each other perfectly, and their show—a hyper-realized version of their personal and professional lives—follows in step. Take My Wife charts job ups-and-downs for two comics at different stages of their careers. Esposito was in the stand-up game a good decade before Butcher decided to ditch her graphic design job to make the full-time leap into comedy. The series also delves into the relationship between the women, which is neither overly dramatic or romanticized; the relationship just feels "real." It's sometimes sweet, and other times awkward, but always relatable—for both straight and gay couples. The show has already earned good reviews and a few notable fans—with Tatiana Maslany, Miranda July, and Tegan and Sara tweeting out support. It's quite a stark difference with some of the misogynistic and homophobic tweets that they've have to endure. (Some even make it onto the show.)
"We just tried really hard to be honest," Butcher says. "And so far, what I've heard is that people feel the show is honest. We want to talk about those things in a way that Cameron and I talk about them when we're on the road together or when we're at home together, so I think that translates into how much we actually talk about it on the show and how much we actually live it on the show."
But Take My Wife was first envisioned as a much different project altogether. Seeso originally approached the duo to create a TV version of their stand-up podcast Put Your Hands Together, which is still taped weekly on Tuesday nights at the Upright Citizens Brigade Theatre in Los Angeles.
Cameron and Butcher countered Seeso even though the original concept was already sold. "Can we make our show a little bit different by putting interstitial sketches where you go home with the hosts?" Esposito quipped. When they got into the writers room, they realized that crafting the vignettes and stories based on their lives was the show they really wanted to make, so they pitched Seeso again. "Hey, can we just do a totally different show that's way more expensive and takes longer? And isn't what you asked for at all?" Esposito said, laughing. Seeso greenlit the six-episode series. "It the most bizarre. That's like, not a thing." (In other words kids, don't try this at home. If you have a done deal with a studio/network/platform, then it's probably a safe bet to take it. What happened to Butcher and Esposito is an anomaly.)
It's good that the spouses are each other's biggest fans because as many couples know, it can be challenging to live and work with their partners. "Before Rhea and I were dating, I was in love with her material as a comic. I introduced Rhea the first time she ever did stand-up," Esposito said, referencing her long-running open mic night in Chicago. "I saw Rhea, and she inspired me so much as a comic that I was like, 'I have to work with this person and did everything that I did to make sure that we worked together. The relationship was after that, which is actually really awesome. Because at the end of the day, I trust her brain."
"I feel the same way about Cameron," Butcher added. "Her work inspired me to do stand-up to begin with. I'm so honored to work with her because I wanted to work with her ever since I met her."
Now that the two got their wish to work together, we asked what the experience was really like.
"It's a living nightmare," Esposito cracked. "Oh yeah," Butcher agreed enthusiastically. All kidding aside, they acknowledged that while working together is hard, they're also developing separate projects and doing solo tours to grow their individual comedy careers. Butcher just released her debut stand-up album, Butcher, on the legendary Kill Rock Stars label, and Esposito is working on her first book from Hachette/Grand Central Publishing and also has a new FX show in development.
Though the two are clearly still in the honeymoon phase, it's nice to see that they've already learned a lesson crucial to any successful marriage or relationship: Absence really does make the heart grow fonder.
---
Christine N. Ziemba is a Los Angeles-based freelance pop culture writer and regular contributor to Paste. You can follow her on Twitter or Instagram.