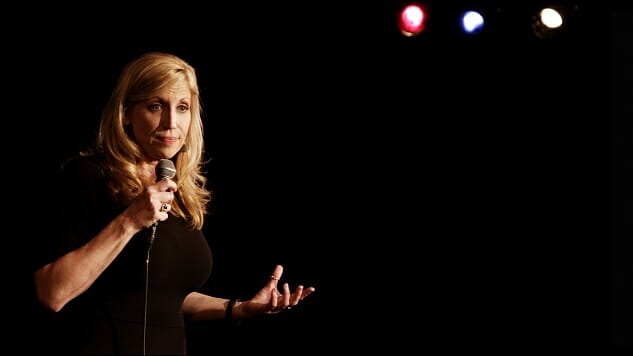 Right up there with the rule of threes, "tragedy + time = comedy" is one of the most trite principles of joke-telling. Although there are exceptions—looking at you, Jeselnik—many comedians are careful when it comes to sensitive material pertaining to death and the grieving process. Comics constantly grapple with the question: How soon is too soon?
I'm from Orlando, Florida. For weeks after the Pulse shooting, a harmless question of "where are you from?" became a sensitive matter. When my response was "Orlando," my questioners would usually take a moment or two to reassess where the conversation was headed. Some were curious if I knew anybody affected and would ask me outright. Some were quick to change the subject. A seemingly harmless question indirectly led the conversation towards the topic of death; naturally, people dealt with that in different ways.
As a comic myself, I wrote a joke about experiencing this awkward exchange that was happening pretty frequently: "I'm from Orlando. Yeah, it's weird saying that right now. People are like 'Where you from?' And I'm like, '9/11.'"
As you can imagine, this joke was hit or miss. It's hard to make death funny, but I understand why comics would gravitate towards that kind of material. There are those who simply love the challenge—looking at you again, Jeselnik—and then there are those who turn jokes into a sort of therapeutic process, a means of coping with their own grief. Here are ten comedians who are tackling the subject of death and who are, for lack of a better term, killing it.
1. Laurie Kilmartin
"My dad died doing what he did best: growing tumors."
I think it's fair to put Kilmartin at the top of this list, since her most recent special was literally titled 45 Jokes About My Dead Dad. In 2014, Kilmartin live-tweeted the painful experience of losing her dad to lung cancer which was the seed of inspiration for her special. 45 Jokes includes documentary footage of her and her family while her father was in hospice care, which give great and grave context to the hilarious 45 jokes that would follow. As Robert Ham observes in his review for Paste, "just as her tweets touched a nerve in the hearts of the people reading them, this hour could offer up the catharsis that someone needs during a tough, terrible time."
2. Patton Oswalt
"Bruce Wayne saw his parents gunned down in front of him when he was nine and he travels the world and becomes this amazing [crime fighter]… That's ridiculous—he would have grown up to have been Gotham City's most annoying slam poet."
By the end of April, it will have been a year since Patton Oswalt lost his wife Michelle McNamara. Oswalt has been open about his grieving process, talking about it publicly on Twitter and on shows like Conan and The Late Show. In a recent interview with NPR, Oswalt explains that pop culture's representation of grief is way off—hence the Batman comparison. When referring to superheros specifically, Oswalt elaborates:
…part of their motivation is based on losing someone that they love. Which then of course leads them to travel the world learning martial arts and doing CrossFit and getting really cut… And that's not been my experience. When you lose someone, you tend to eat Wheat Thins for breakfast and rewatch The Princess Bride about 80 times and not sleep all that well.
The entire interview is eight minutes long—it's really worth a listen.
3. Chris Calogero
"My best friend and roommate passed away and I am actually the one who found her in out apartment. It was just the worst way any roommate's told me they don't want to live with me anymore."
Roughly two years ago, NYC based comedian Chris Calogero lost his roommate Amy Daulton, also a comedian. I distinctly remember telling that joke at a bar show only a month or so after her passing. I was struck not only by the fact that he was onstage so soon, but by how funny the joke was. I've remembered it ever since. Chris now hosts Mourning Coffee, a podcast where he interviews other comedians about their experiences with grief—how it affects their personal lives as well as their comedy.
4. Shane Torres
"It's interesting, when somebody you know passes away, you get reminded of them in subtle ways after they're gone, you know. Like you see a picture or you hear a Linda Ronstadt song, or you drive by a little league field they said they'd be at… but the way my father has chosen to haunt me, is to have all of his debt collectors call me."
In his late night debut on Conan, Shane Torres continues to elaborate on these "hauntings" from his belated father. We'll get to see more from Shane soon, since it was recently announced that he was one of fourteen comedians selected to record a Comedy Central Half Hour. In the meantime, though, here's his set from Paste Studios.
5. Alyssa Limperis
"Hardest season to have a dead dad: holiday. Second hardest: tax"
Alyssa Limperis is a NYC-based comedian who has mounted several installments of her one-woman play No Bad Days, about her experience losing her father to brain cancer. Somehow, it's packed with jokes. (I know because I've seen it firsthand.)
In addition to taking to the stage, Twitter and Facebook, Alyssa has written numerous blog posts that serve as a beautifully raw and insightful glimpse of her inner life throughout the grieving process. On Christmas Eve in 2015, her first Christmas without her father, she posted a "Christmas Newsletter". She prefaces her entry by introducing what was apparently a tradition: "My dad used to write sarcastic Christmas newsletters to humorously highlight the not so great moments of our past year. Luckily for this exercise, 2015 was filled with many of those. In his honor, I wrote one for this year."
It's just as funny and sad as you'd expect it to be.
6. Shalewa Sharpe
I was pretty upset at the world after my mom died. One day at work, a customer complained about me not moving fast enough and I was ready to cuss him out, but my manager said, "Stay calm. Your mother would have wanted you to stay calm." Um, how the hell did my manager know what my mother would have wanted? My mother once yelled at a stranger for chewing with his mouth open—at Thanksgiving dinner at a shelter. Pretty sure she would have wanted me to slap that customer upside the head and say, "Is that fast enough for you?"
Another NYC-based comedian, Shalewa Sharpe "developed her sly yet goofy style in Atlanta where she was raised," according to her website. For more insightful, intimate observations, you should check out her album, Stay Eating Cookies.
7. Jenn Welch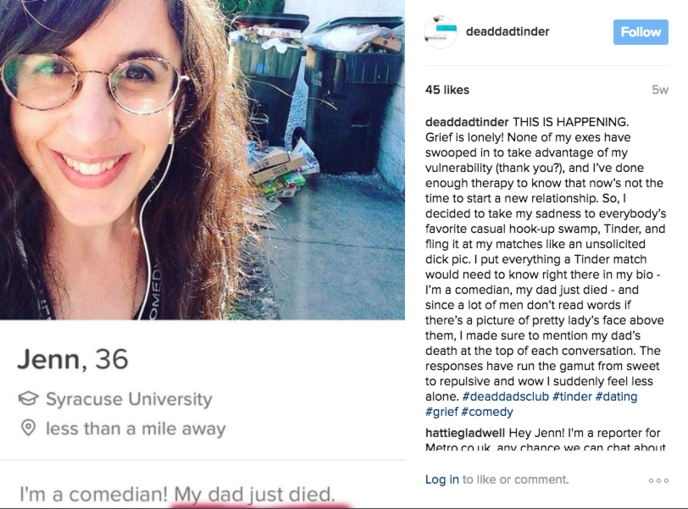 "Ugh, it's been three weeks since my dad died, how am I still single?!"
Jenn Welch was the subject of a recent Washington Post story headlined, "This comedian's dad died last month. So she added that in her Tinder profile." Yes, she really did that. In the article, Welch explains that her intent was not to make fun of those that responded: "The joke's not on the men who respond to her, Welch said. Rather, she's the punchline. 'The joke of it is to be that brutally honest about where I am and what I'm going through,' she said."
Curious to see what kind of responses she got? We all are. She's done us all a favor and made an Instagram account where she posts screenshots of her various exchanges. Here are two of my personal favorites: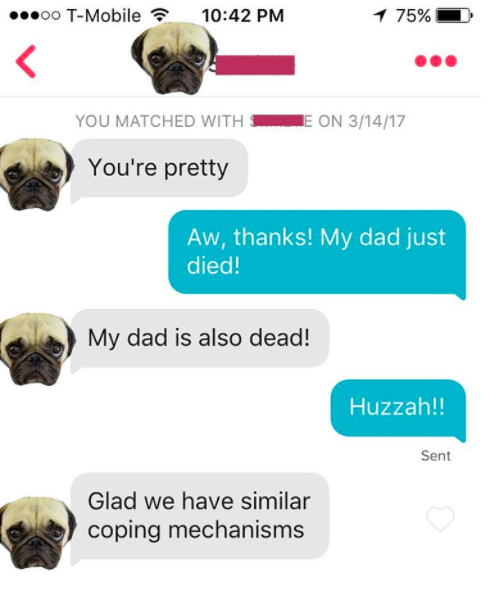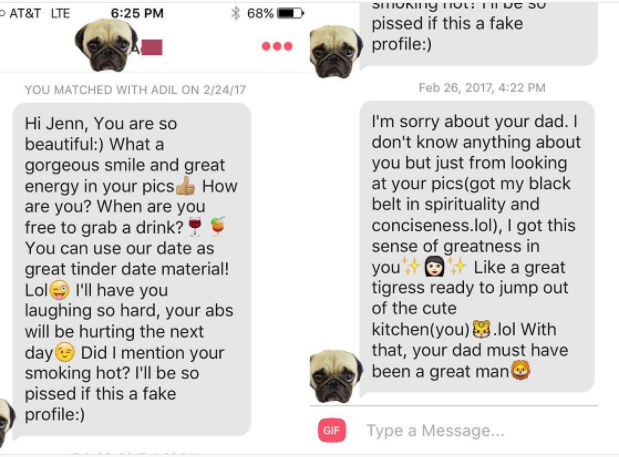 Of Welch's peculiar approach to grieving, the Post observed how social media helped her connect with other people in her shoes: "Welch did draw inspiration from social media—specifically from her friend and fellow comedian Ben Wasserman, whose father passed away from cancer two weeks before Welch's did. "We've kind of been grieving together," Welch said. "He went to town on Facebook with jokes about it… That made me feel more comfortable about being open about what I'm going through as well."
8. Ben Wasserman
"how bout an all-female reboot of MY DAD"
The joke above is one example of the many statuses that Ben Wasserman has posted on Facebook since his father's death. Welch wasn't exaggerating when she said he "went to town"—I can attest to this, being that I am his Facebook friend. A few of his other memorable takes, reacting to Daylight Savings Time and Rachel Maddow's tax return story, include "oh great first i lose my dad now i lose AN HOUR??" and "wake me up when Rachel Maddow gets a DAD return."
9. Pete Davidson
"Justin, you know, I lost my dad on 9/11 and I always regretted growing up without a dad. Until I met your dad, Justin. Now I'm glad mine's dead."
SNL's Pete Davidson has been open about his father's death, on 9/11, throughout his career as a comic. The joke above is hardly about grief, but it was just too good not to include. You should really watch the video, his delivery is on point. Plus, he's got a phenomenal follow-up joke that I don't want to spoil for you.
10. Alison Zeidman
"My mom's single. By default, because my dad died. Yeah… he literally ghosted on her."
Alison Zeidman is currently a writer for TruTV's Adam Ruins Everything. She wrote this gem of a joke about her dad, who passed away in 2014. Like others on this list, Zeidman took to social media to express herself at the time. And like Alyssa Limperis, she wrote a satirical article about the grief she was experiencing; A Father's Day Sale for the Recently Deceased Dad. Both comics have appeared on Calogero's podcast, which you can listen to right here.
---
Liz Magee is a New York-based writer and comedian.