Watch an Exclusive Clip of Cheech Marin on the New Season of The Eric Andre Show
Screenshot via YouTube
Comedy
News
Eric Andre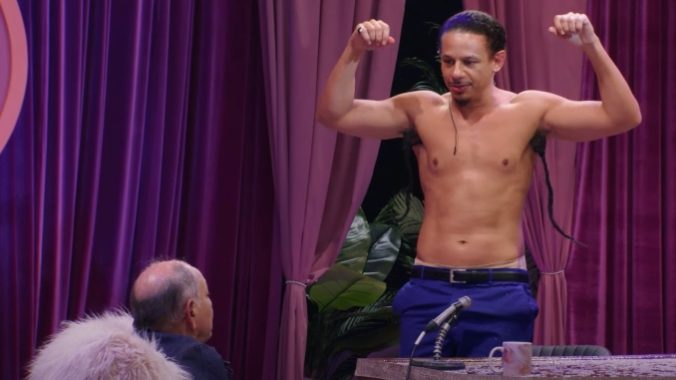 Stoner viewing has evolved greatly over the years, but Cheech and Chong remain the clear pioneers of creating entertainment explicitly by and for potheads. Their movies, particularly Up in Smoke, are known for being plotless, absurd adventures in which the two toke as much as possible. 
Now, the modern stoner often flicks on Adult Swim shows (those that still exist), whether they be surreal animated shows or the dulcet tones of one Joe Pera (until cancellation, that is). The Eric Andre Show, though, may be the stoner show of Adult Swim—it's easy to imagine blazed college kids shouting "Ranch it up!" and giggling along to Eric Andre's antics. The show has the same looseness and anything-can-happen vibe as a Cheech and Chong production, but with a far more disturbing and intentionally disjointed approach. 
Finally, these two bastions of pot culture are meeting, as Cheech Marin is due to appear as a guest on the sixth season of Andre's nonsensical talk show, which returns to Adult Swim on Sunday, June 4. Paste has an exclusive look at a clip of Marin gracing Andre's fluffy new loveseat. Besides calling Marin a "fried pork skin treat," Andre also accuses him of losing the Vietnam War for us and introduces a new character named Gay Charles. In short, The Eric Andre Show is back in full force. 
And Marin's not the only one Andre is set to torment. Previously announced guest stars include Natasha Lyonne, Jaleel White, Blac Chyna, Jon Hamm, Raven-Symoné, Diplo, Daymond John, Meagan Good, Rico Nasty, Waka Flocka Flame, Tinashe, Cypress Hill, and Lil Yachty. Andre won't be on his own to chat with the guests—as seen in the Marin video. His rotating cast of co-hosts include Felipe Esparza, Reese W, Krft Punk, and a creepy new character known as the Fridge Keeper. This season is shaping up to be worth the years-long wait.