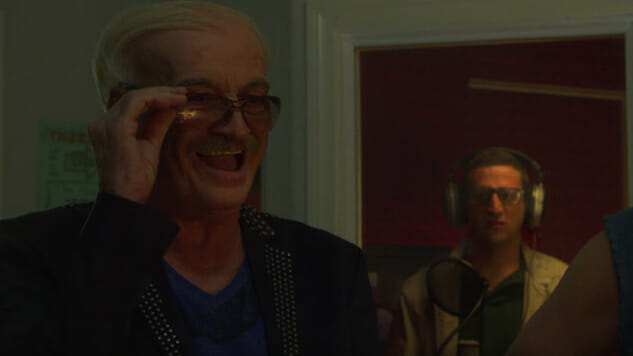 Have you forgotten Netflix's wonderful Tim Robinson sketch series I Think You Should Leave? Neither have we, as evidenced by our recent ranking of the show among 2019's best, and Christmas has come early for I Think You Should Leave enthusiasts: We've been the gift of not a new copier, but a deleted scene from Season 1, featuring breakout star Ruben Rabasa's dabbing, good car idea-having, water bottle-flipping character from the show's standout "Focus Group" sketch—revisiting that below is a good idea.
The new scene starring Rabasa, shared by Vulture on Monday, is an extension of the "Laser Spine Specialists" sketch, in which Robinson's character, recording a song under the supervision of Conner O'Malley's shady, deranged record label head, is upstaged by Rabasa and the Art Garfunkel to his Paul Simon, who perform an a cappella snippet of their smash-hit-in-waiting "Mall Baby." It's not much, but it's more I Think You Should Leave, and we stand by.
Watch the new deleted scene below and revisit our ranking of all of I Think You Should Leave's sketches (so far) here. The show's second season is expected to debut sometime in 2020.