Jimmy Fallon to Go Live on The Tonight Show After Democratic Primary Debates
Images via NBC
Comedy
News
Jimmy Fallon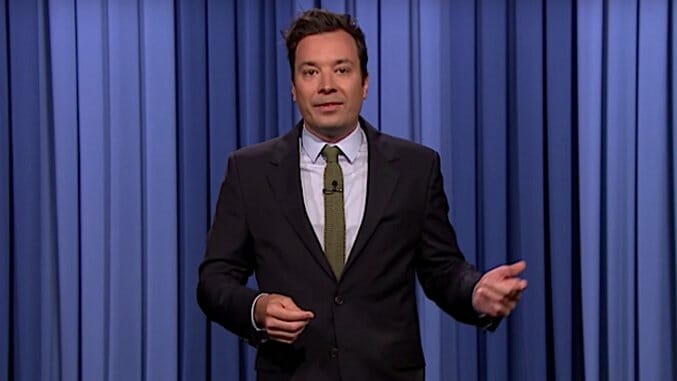 Leaning on his skills from his Saturday Night Live days, Jimmy Fallon is set to go live twice on The Tonight Show after the Democratic debates. It will be the host's first live show tied to a political event, as THR reports.
Set for Wednesday and Thursday, the Democratic primary debates are sure to cover some major political issues of today, as well as the Trump administration. Broadcast on NBC, the debates are the perfect avenue for Fallon to cover the political event. Politics aren't exactly Fallon's go-to for late-night television (he usually leaves that to peers such as Trevor Noah or Stephen Colbert), but in a climate where politics can't be ignored, and with the 2020 election on the horizon, it's an opportunity he can't pass up.
"There are certain topics and events that break out of a particular bucket," Jim Bell, Tonight Show executive producer, tells THR. "This isn't strictly a political event as it is a pop culture event. People will be talking about whatever the social media meme moment is, did somebody have a faux pas? We want to be timely and topical, and reacting to what's happening during the day."
The SNL alum will have 35 minutes after each debate ends at 11 p.m. to prep for his live show. During the debates, Fallon and his writers will be hashing out monologues, bits and such. During the live show, Fallon will do his monologue and then have normal guests like any other night. Star Wars actress Daisy Ridley and stand-up comedian Colin Quinn will appear Wednesday, and rapper Nicki Minaj and comedian Phoebe Robinson will appear Thursday. Other than those, Fallon will also have pre-taped clips, such as pranks with the Stranger Things kids for Wednesday's show. Minaj's interview with Fallon will also be prerecorded.
There will also be live music performances each night, which is much more of a challenge with the live setting. With Little Big Town on Wednesday and Julia Michaels on Thursday, the production team will have a single commercial break each night to set up the stage.
"That's not going to be easy," Bell said to THR. "At Saturday Night Live, for example, they have different stages. We're going to have an interesting challenge on our hands to make sure the band is sound-checked and ready."
Prior to this week's live recordings, Fallon did a live monologue with a prerecorded episode during the government shutdown around the time of the State of the Union address. "I think it was very energizing for the staff and crew and Jimmy and the writers to go through that exercise," Bell told THR. Otherwise, Fallon has done two live versions of The Tonight Show after Super Bowl games.
"We're going to hopefully tell some good jokes, relive whatever the interesting moments were in the debate," Bell added to THR. "And then we'd like to think we're going to give people a much-needed relief from the arena of politics and get back to doing what Jimmy really is terrific at, which is making people laugh."
Check out Paste's pool for the Democratic Primary Debate here.