Third and Final Season of Comedy Central's Brilliant Review Gets Premiere Date
Photos by Danny Feld, Michael Yarish
Comedy
News
Review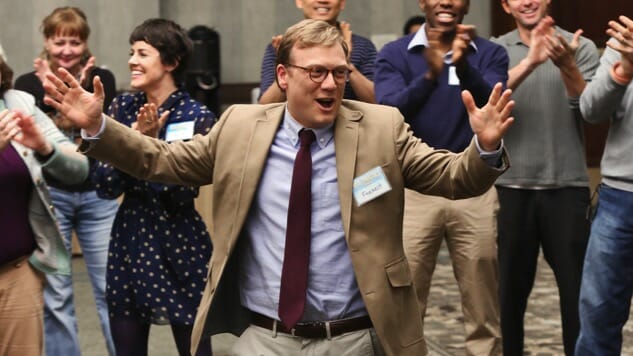 One month from today, the best show you've never seen is returning to the small screen.
We've long known that Comedy Central's Review, starring Andy Daly as long-suffering yet intrepid life critic Forrest MacNeil, will end after its third season. As of today, we know when that much-anticipated season will premiere: Thursday, March 16, at 10 p.m. EST.
We also know that, thankfully, the series will air weekly during its third installment—there had been speculation that Comedy Central would take a more unconventional approach to its airing, premiering the entire third season over the course of days, weeks, or even all at once in a "movie-like event." Fortunately, that isn't the case, and we'll be able to savor every last review as Comedy Central metes out Forrest's final misadventures one half-hour at a time.
Little is known about the third season at this juncture, though we do have an idea of its starting point. Per a press release, "In the third season premiere, Forrest returns recharged and enthusiastic after surviving a potentially fatal bridge fall with his producer Grant. Unfortunately for everyone, his faith in the importance of his work is stronger than ever."
Paste recently put out an exhaustive ranking of all 49 of Review's reviews—find that here, and watch for an update once the show's last season is in the books. You can also read up on Forrest and Grant's miraculous survival here.