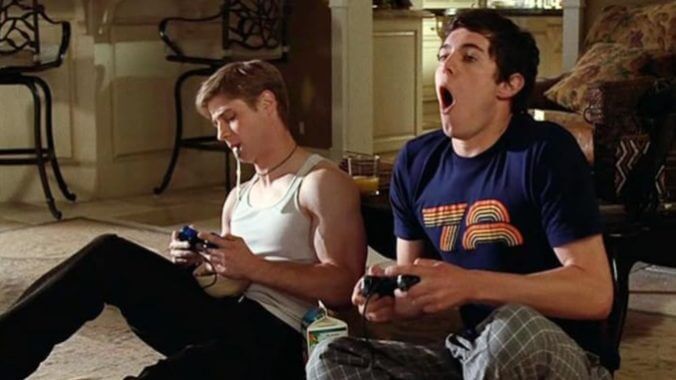 Teen dramas have often been disparaged as soapy and lowest common denominator, the type of TV shows meant to pull in numbers but not necessarily critical acclaim. Thankfully the tide seems to be turning, this old-fashioned notion being put to rest as newer shows like Riverdale, Yellowjackets, and Wednesday receive rave reviews, taking their place alongside previously praised teen series such as Friday Night Lights and Buffy the Vampire Slayer. Often overlooked in this conversation is The O.C., which doesn't have a sports focus or an added supernatural element like many a teen drama. Instead, it's a classic fish-out-of-water story about troubled teen Ryan Atwood (Ben McKenzie), who's taken in by the upper crust yet surprisingly warm Cohen family in Newport Beach. The O.C.'s real focus was its characters and their evolving relationships, and as a result the series' highlights aren't dramatic climaxes, but rather its consistent comedic beats.
Key to The O.C.'s comedy gold is the dynamic between Ryan and his adopted brother Seth Cohen (Adam Brody). Ryan is stoic, bordering on wooden at times, the straight man to Seth's nerdy goofball. Despite being born into a wealthy Newport Beach family and living next to resident hot girl Marissa (Mischa Barton), Seth has never fit in—he's the dorky, skinny kid obsessed with indie bands and video games while his peers are overly macho, chest-beating water polo players. He and Ryan's shared outsider status, albeit in different forms, bind the two together. Seth's enthusiasm and general uncoolness soften Ryan's edges, and Ryan pushes Seth to be braver and bolder than he dared to be before. Brody and McKenzie share great chemistry that makes their scenes all the funnier; Seth often runs his mouth in classic Cohen style, and Ryan will shut him down with a terse one-liner. Their relationship can be summed up pretty easily with this exchange from the first season: "​​Sometimes I think you talk just to make sounds," Ryan says, to which Seth replies, "Well, sometimes I do."
Brody and McKenzie breathe life into dialogue that was already hilarious and witty to begin with (Chad Michael Murray was considered for the part of Ryan and he just wouldn't have brought the same oomph). Series creator Josh Schwartz wrote many of the episodes in the show's first—and best—season, along with Allan Heinberg, Peabody winner Melissa Rosenberg, Erica Messer, and Stephanie Savage (who later teamed up with Schwartz to develop the popular teen series Gossip Girl). Savage holds the special distinction of writing the first Chrismukkah episode, "The Best Chrismukkah Ever," which mines plenty of humor from Seth's attempts to merge his parents' winter holiday traditions. Vitally, the writers never talked down to their young audience, which is why The O.C.'s snappy repartee works so well. By taking teens seriously, the writers maximized their comedic potential. 
Of course, you need funny people to deliver these lines, and beyond Ryan and Seth the cast is full of well-rounded characters portrayed by talented actors. Peter Gallagher is a comedic heavyweight here at Sandy Cohen, Seth's empathetic, straight-talking lawyer dad. He and Brody have a great back-and-forth, with Brody bringing all the bratty attitude of a teenager to their conversations, while Gallagher swings back at underhanded comments with the good-natured ribbing of a cool dad. (Seth: "Dad, those eyebrows are out of control." "It's a sign of power, you know," Sandy retorts, but his son has to have the last word: "Then you must be the most powerful man in the world.")
Another parent who consistently brings the laughs is Julie Cooper, played by Melinda Clarke. Clarke inhabits the role with a devilish sense of fun, hamming up certain scenes in a manner surely informed by her earlier stint on Days of Our Lives. Julie, like Ryan, comes from the wrong side of the tracks, but she has done everything in her power to bury her past life and appear to be the perfect Newport Beach housewife. That relentless social climbing means she's often the butt of the joke (as her ex-husband Jimmy says, "Your mother has to wake up every morning and be Julie Cooper. That's punishment enough."), but Julie has claws and is not afraid to fight back with barbs that would fit well in an episode of Succession.
Then there's Summer Roberts (Rachel Bilson), Seth's longtime crush and the uppity popular girl who's actually something of a brainiac upon closer inspection. Bilson plays up Summer's space cadet tendencies for laughs, as well as her bitchiness. While her counterpart Marissa is comparatively dull, Summer brings a contagious zest to their scenes. Case in point: Summer asking Marissa, "Do you remember that movie we saw about the two gay guys on the mountain?" with her friend replying, "Lord of the Rings?"
I could go on and on—there's the hilarious himbo Luke (Chris Carmack), and Taylor Townsend (Autumn Reeser) fills in the Marissa gap in the fourth season with pithy one-liners and a much more engaging presence (think Tracy Flick energy). Though the show's earlier seasons are the strongest, both plot- and humor-wise, Taylor's changed role and the writers' quick dialogue meant that The O.C. was brimming with comic gems until we finally had to say goodbye to Newport Beach.
---
Clare Martin is a cemetery enthusiast and Paste's assistant comedy editor. Go harass her on Twitter @theclaremartin.