California, Here I Come: A Love Letter to The O.C., 20 Years Later
Photo Courtesy of FOX
TV
Features
The O.C.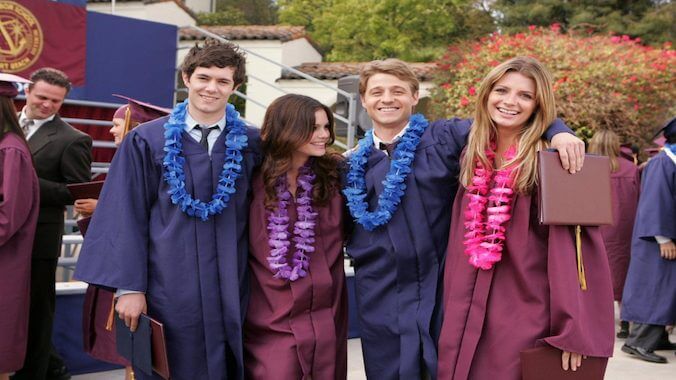 I would love to crawl around inside Josh Schwartz's mind, and no, I cannot think of a less creepy way to say this. As the creator of shows like Gossip Girl, Looking for Alaska, Chuck, and The O.C., he is forever solidified as teen show royalty in the minds of many. August 5th marks the 20th anniversary of The O.C.'s pilot, and signifies a day in 2003 that changed the formula for television aimed at teens in a way never before seen since Buffy's inception. 
The impact The O.C. had on television shows for teens from the early aughts onwards is astounding. Seth Cohen (Adam Brody) introduced the blueprint for the snarky, brown-haired best friend a la Stiles Stilinski, Nick Miller, and Jake Peralta. There would be no Blair and Serena without Summer Roberts (Rachel Bilson) and Marissa Cooper (Mischa Barton). And The O.C. far and away boasts one of the best soundtracks I have ever heard on a show.
In fact, part of what made The O.C. so unique is its proclivity for indie music and the once-underground bands of yesteryear. It was in Schwartz and his co-creator Stephanie Savage's underrated brainchild, Chuck, that I was first introduced to The O.C. and its genius usage of music moments. There's a scene in "Chuck Versus the Sandworm" in which the titular character is sprinting against the clock to an NYE party to meet his best friend; Finley Quaye's "Dice" starts playing, Chuck runs in slow-mo, and when he and Morgan meet in the middle, it looks like they're going to kiss just in time for New Year's.
Unbeknownst to me at the time, this was a parody of a scene from The O.C. that aired four years earlier in Episode 1×14, "The Countdown." I can't quite explain the magic of this song, but I became obsessed. When I was looking up the song from Chuck, I stumbled upon the original scene from The O.C. on YouTube. I watched it maybe a hundred times, sent it to friends, and showed it to my parents. I made a Spotify playlist inspired by it. It was so dramatic. It was perfect. It underscored how time slows down and everything feels like a blur in the background when you're sixteen and all you want is to get to your crush in time before they end up with someone else. 
For all its insane plotlines and random main character deaths (and not a poor person in sight!), Schwartz and Savage managed to acutely, accurately capture the life-or-death, soul-crushing feelings of being a teenager. They weren't making fun of it, or trying to make any social commentary on how teens are dumb, never passing judgment for their silly decisions.
The O.C. also dealt with delicate situations with humanizing tactics (mostly… a show that aired in 2003 cannot be expected to hold up perfectly to today's standards). For example, Marissa battled an alcohol addiction, one that was not glamorized. Seth proudly displayed his Jewish culture and was accepted by his gentile friends. Summer was nuanced as a popular, ditzy girl who wielded secret smarts beneath a pretty face. And Ryan Atwood (Ben McKenzie) was a re-homed formerly-troubled foster kid whose anger and trust issues were not treated as a problem, but rather as aspects that came with the territory, things to be accepted.
Speaking of being accepted: The O.C. arguably displays one of the strongest and best demonstrations of the found family trope in recent TV history. Marissa's biological family often takes the cake for Most Screwed Up TV Family, even more than Ryan's. Although she doesn't live to see the end of high school, her short life was filled with friends and adults (Seth, Summer, Ryan, and Sandy and Kirsten Cohen, for starters) who prioritized her well-being in a way Julie and Jimmy never could.
In the same vein, Ryan grew up with an absent father, an older brother who was in and out of jail and an awful influence, and an alcoholic mother, for whom Ryan was hardly a blip on her radar. Sandy Cohen (Peter Gallagher), as Public Defender Extraordinaire, is assigned Ryan's case in the pilot, discovering a downtrodden kid in juvie who would rather eat nails than talk emotions. Instead of being berated for his lack of cooperation, Sandy sees something in Ryan; he takes him home like a lost puppy, much to the initial chagrin of his wife Kirsten (Kelly Rowan), wanting to try and provide some semblance of stability to a boy who has never had a comfortable day in his life.
It's there Ryan meets Seth, Sandy and Kirsten's whip-smart son and Guinness World Record holder for being the Dorkiest Person of All Time. While Ryan and Seth are the true love story at the heart of The O.C., I would be remiss if I failed to mention Seth and Summer. Summer (best friend of the aforementioned, late Marissa) is everything to me. She's popular, she's materialistic, she's ditzy… and she eventually ends up at an Ivy League. Seth and Summer go together like oil and water, but they somehow work so well.
That's the other magic of The O.C. None of these characters, except for maybe Marissa and Summer, should love each other in the way they do; they all come from vastly different backgrounds and personalities. But (and I'm sorry for bringing up Buffy again) I have never met a group of friends, save for The Scooby Gang, who love each other so unconditionally—friends who will go to war for each other and take bullets for each other (sometimes literally). It doesn't matter how big the fight is or how much they messed up. They always end up back with each other. In The O.C., girls are allowed to be friends with boys without romance (at least, with the core four).
Of course, a show produced twenty years ago is far from perfect. There's problematic bisexual representation; all the main characters are white, and with the exception of Ryan, extremely wealthy; and the discussion around mental illness leaves much to be desired. Oh, and there's the small matter of Julie Cooper sleeping with her daughter's 17-year-old ex-boyfriend. The soundtrack to The O.C. may be perfect, but its characters and storylines are far from. Yet, as an avidly outspoken lover of early '00s TV, this is unfortunately something that comes with the territory.
Showing the things they chose to do on a show aimed at tweens and teens was risky at best, and potentially career-ruining at worst. The dynamic duo of Schwartz and Savage when it came to teen TV made plenty of risky decisions for the sake of showcasing realistic depictions of teens in different situations. I am forever indebted to them as an aspiring television screenwriter because there should be more teen content. Give me all of it: the Riverdales with their inane paranormal through-lines; the Yellowjackets with feral girl cannibalism arcs; the Stranger Things and Gilmore Girls and Buffys and everything in between. Teenagers don't have much influence in the real world, so I say let them rule the fictional ones.
---
Gillian Bennett is a writer and editor who has been featured in Strike Magazine, Her Campus, and now Paste Magazine. She enjoys watching copious reruns of Buffy the Vampire Slayer and fantasizing about living in London. You can find more of her neverending inner monologue and online diary on her Twitter or her blog.
For all the latest TV news, reviews, lists and features, follow @Paste_TV.