Dark Horse Announces Pros and (Comic) Cons Anthology
Art by Colleen Coover/Dark Horse
Comics
News
Dark Horse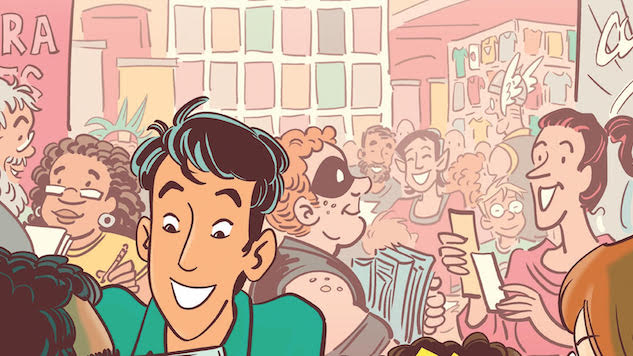 On Tuesday, Comicon.com announced a new anthology from Dark Horse that aims to give fans an inside glimpse at what it's like being a creator at a comic convention. Hope Nicholson will be editing the aptly named collection, Pros and (Comic) Cons, coming off of similar anthologies The Secret Loves of Geek Girls and The Secret Love of Geeks. Nicholson is also joined by Black Hammer editor Daniel Chabon.
As Pros and (Comic) Cons' title suggests, readers can expect a wide range of true stories, told in both comic and essay formats. Creators including Brian Michael Bendis, Greg Pak, Jenn St-Onge, Tim Seeley, Kieron Gillen, Sina Grace and Amy Chu have all lent their memories to the anthology. A few others took to Twitter to tease their appearances.
I contributed a short essay to this about my transformation from cosplayer to comics pro! Excited for you all to read it – I love writing my weird past into essays to share. https://t.co/l1c1JPpyCI

— Tini Howard (@TiniHoward) October 30, 2018
Very pleased to be contributing to this! I DREW my story, too! So when people at cons ask me if I draw, too, I can say, "Uh… sometimes?" https://t.co/rTBlMDKl4Z

— Make a plan to VOTE Nov. 6! (@gregpak) October 30, 2018
Hope was generous and invited me to write something for this. My essay is about creative isolation, popularity, and the importance of connecting with readers in person. I'm sure other people wrote better things than I did, hahahaha. Have a look! https://t.co/zxGZgMxf9k

— Hilluminati (@bryanedwardhill) October 30, 2018
With these stories, and a whole lot more, Pros and (Comic) Cons aims to highlight the culture that's shaped comics fans for years. You can get your hands on it starting May 29th, 2019. Until then, check out Colleen Coover's full cover below.