Tales From the Crypt Meets Drunk History in Edgar Allan Poe's Snifter of Terror
Ahoy Comics' Spooky, Irreverent Anthology Hits Stores on Halloween Day
Main Art by Richard Williams
Comics
Features
Edgar Allan Poe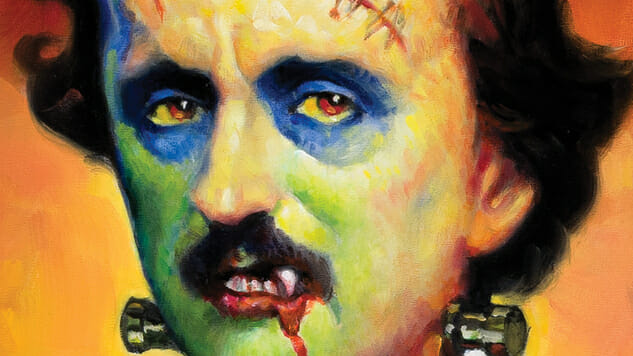 Ahoy Comics launched earlier this month with an admirable spin on the comics format: anthology magazines. With a combination of straightforward sequential art led by Tom Peyer and Jamal Igle's The Wrong Earth, prose fiction (some of it contributed by Grant Morrison!), cartoon strips and even poems, the Ahoy lineup brings to mind a less gag-reliant MAD Magazine, or any number of pulpy genre classics lost to the ages. Ahoy's latest release, Edgar Allan Poe's Snifter of Terror, hits comic shops today, expertly timed to Halloween—surely Poe's high holiday, behind any other occasion to drink and feel miserable. To commemorate the launch, we've got an exclusive look at Tom Peyer and Fred Harper's lead story below. Be sure to give that a read between bobbing for apples, and pick up the entire Edgar Allan Poe's Snifter of Terror #1 for additional irreverence courtesy of Mark Russell, Shannon Wheeler and others.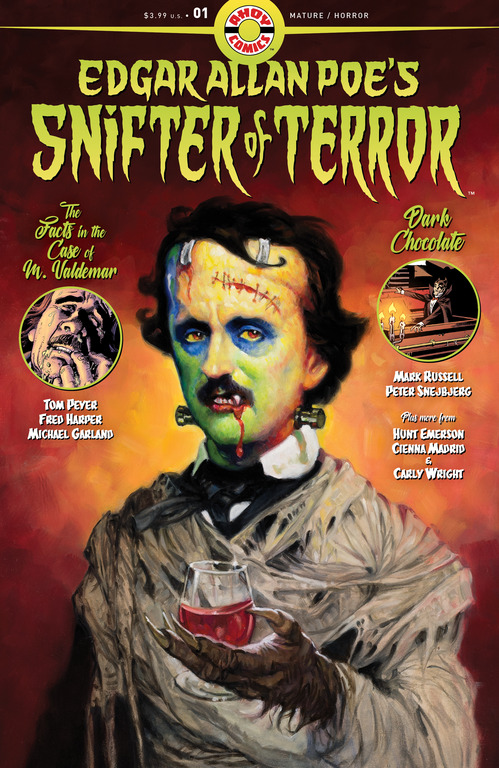 Edgar Allan Poe's Snifter of Terror #1 Cover Art by Richard Williams
Edgar Allan Poe's Snifter of Terror #1
Writers: Tom Peyer, Mark Russell, Cienna Madrid
Artists: Fred Harper, Peter Snejbjerg, Carly Wright, Shannon Wheeler, Hunt Emerson
Publisher: Ahoy Comics
Release Date: October 31, 2018
Edgar Allan Poe mangles classic tales and brand new stories in this cross between Drunk History and Tales from the Crypt! First, meet AHOY's own alcohol-damaged version of Poe in "The Facts in The Case of M. Valdemar," adapted by Tom Peyer (Batman '66) and drawn by Fred Harper. Then: Sugary cereal meets vampirism in "Dark Chocolate," by writer Mark Russell (The Flintstones) and artist Peter Snejbjerg (Starman). EXTRA! Comics by Hunt Emerson, unsettling verse by Cienna Madrid illustrated by Carly Wright, and a cartoon by Shannon Wheeler!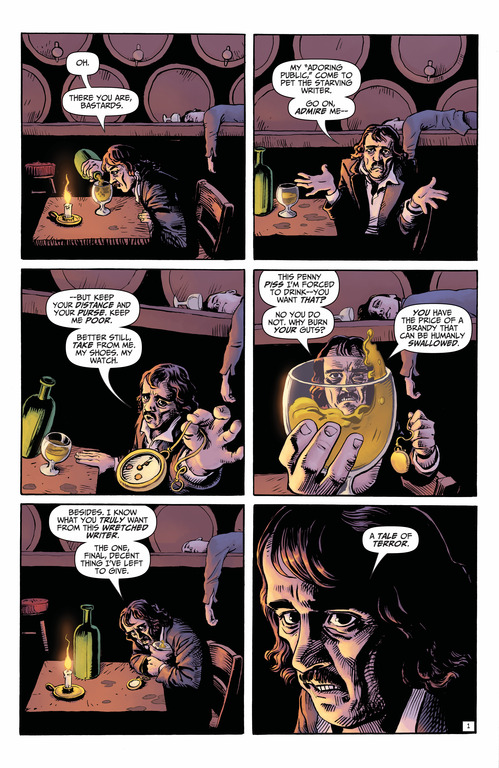 Edgar Allan Poe's Snifter of Terror #1 Interior Art by Fred Harper & Michael Garland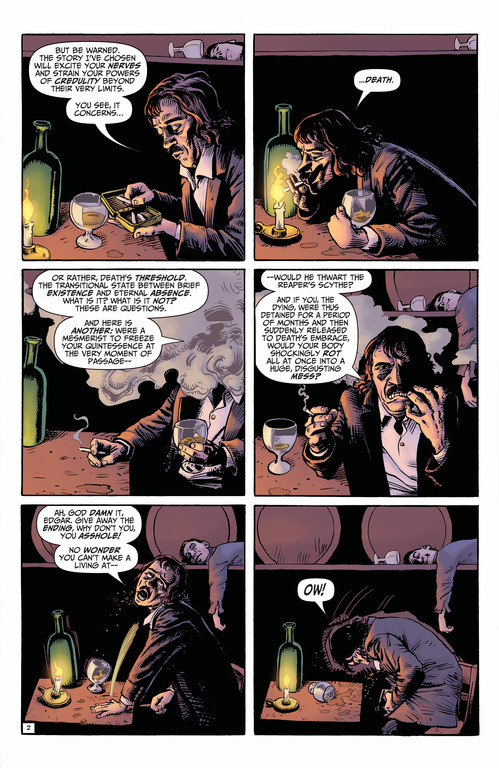 Edgar Allan Poe's Snifter of Terror #1 Interior Art by Fred Harper & Michael Garland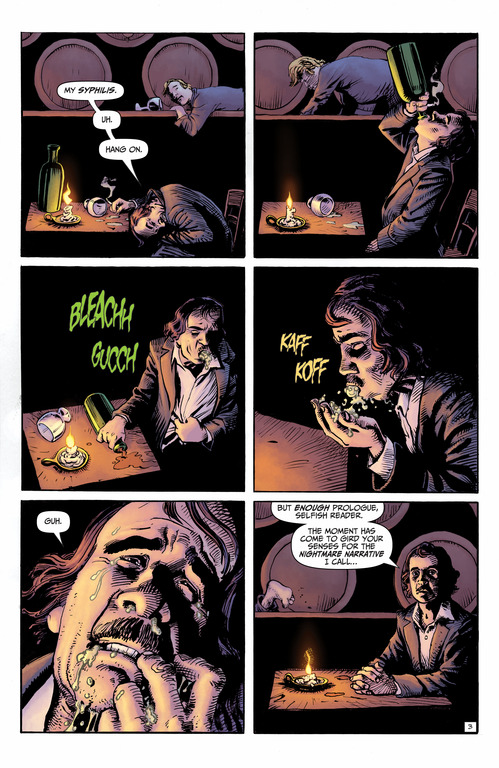 Edgar Allan Poe's Snifter of Terror #1 Interior Art by Fred Harper & Michael Garland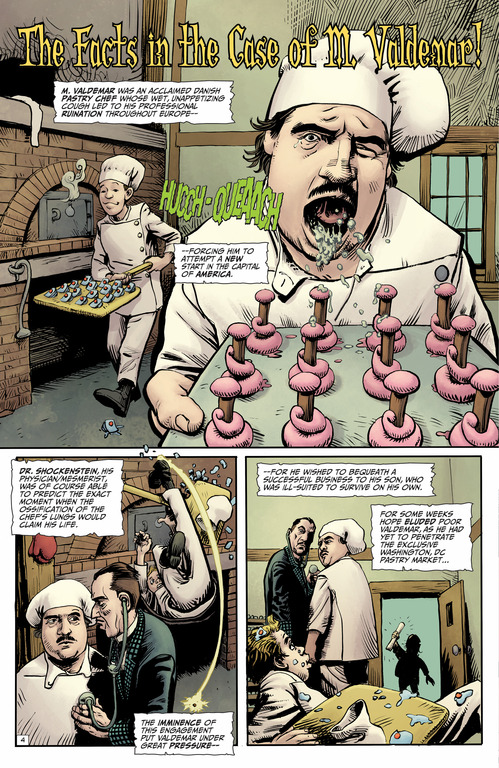 Edgar Allan Poe's Snifter of Terror #1 Interior Art by Fred Harper & Michael Garland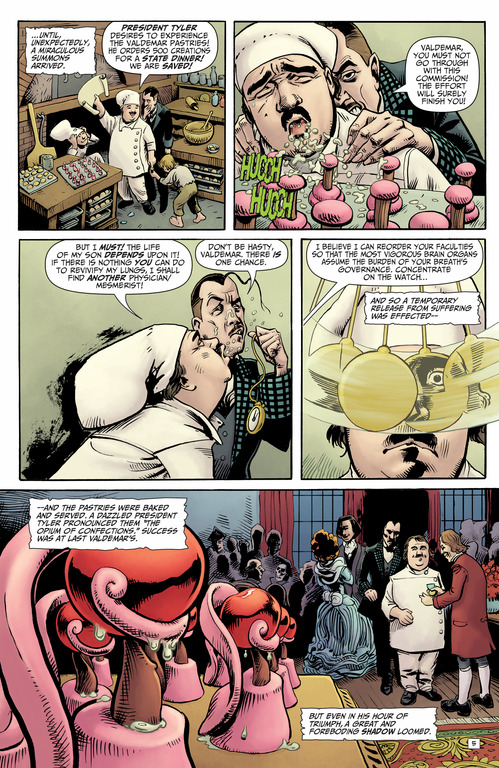 Edgar Allan Poe's Snifter of Terror #1 Interior Art by Fred Harper & Michael Garland