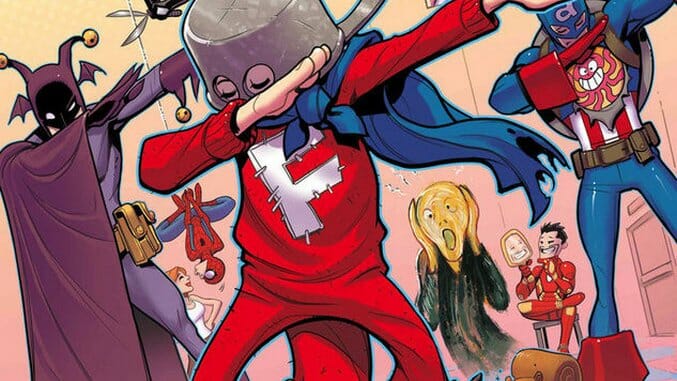 No one, not even DC Comics, wants Marvel's comic sales to crash and burn. The direct-market comic industry, comprised of specialty shops that carry monthly print comics, is too small, and too dominated by the Big Two publishers of Marvel and DC, to absorb the hit of a Marvel implosion. And while it's difficult to determine hard monthly numbers in the comics industry, observers of ICv2 and ComicChron sales estimates recognize Marvel's destructive trend in recent years: heavily inflated launches followed by near-immediate plummets. And their next attempt at repeating that algorithm with the upcoming "Legacy" initiative isn't going to work.
Sales attrition is a constant in comics. First issues almost always sell much better than subsequent installments, and so publishers aim for steady, sustainable numbers following debuts. DC Comics isn't immune to low-selling titles, but most of their marquee titles, now more than 24 issues into their "Rebirth" era, have maintained consistent sales above the 30,000-copy mark, with books like Batman, Flash, Justice League and Superman holding well above that. Marvel's attrition pattern has been much more dramatic.
X-Men Blue, one of the flagship X-books, launched in April to over 108,000 copies sold. By July, the title was hovering just over 40,000. Captain America: Steve Rogers, a key tie-in title to this summer's mega-event Secret Empire, rests around 37,000 copies. Venom and Thanos, which were cited by Marvel VP of Sales David Gabriel in his controversial remarks about how "core" titles are working better than "diverse" titles, are currently selling about 34,000 and 28,000 copies, respectively. And while Gabriel's remarks were poorly worded, he's not totally wrong: America #5, a series starring and written by a queer Latinx, sold just over 11,000 copies, and Luke Cage, despite a Netflix series and a spot in its semi-sequel, The Defenders, dipped below 15,000 copies by its third issue. The "diversity" of these titles can hardly be blamed for their poor sales when even All-New Guardians of the Galaxy has fallen below 30,000 copies an issue within the same summer that Guardians of the Galaxy Vol. 2 stormed theaters.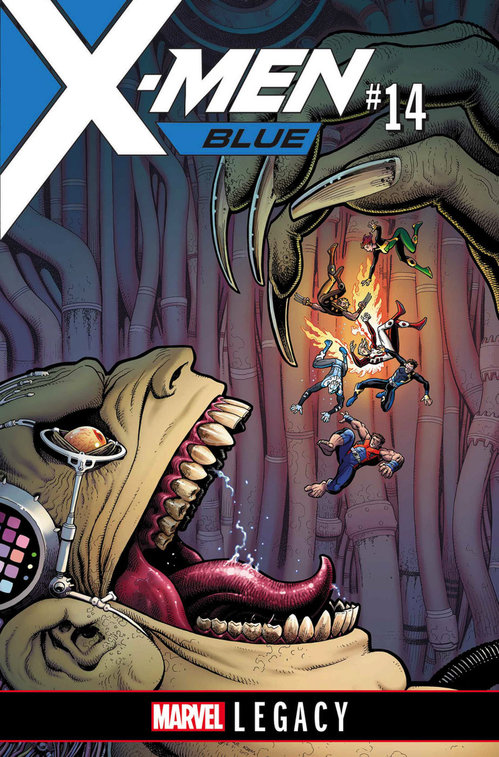 X-Men Blue #14 Cover Art by Arthur Adams
Monthly print comic sales don't tell the whole story; publishers are notoriously dodgy about stating digital sales, and books like The Unbeatable Squirrel Girl survive low monthly numbers because of consistent success in trade collections. But these numbers tell us enough to understand that Legacy, Marvel's upcoming not-quite-a-relaunch that aims to bring back "classic" elements of the Marvel universe without jettisoning recent character additions, addresses few—if any—of Marvel's current issues.
After five years of "All-New, All-Different, Now!" publishing pushes and rebrandings, Marvel has ground down fan expectation while straining retailer budgets. The last issue of 2007's original Civil War event sold over 265,000 copies; the finale to last year's Civil War II finished with less than half of that, and current event Secret Empire's latest numbers are about 20,000 below that. But beyond quantifiable data, readers no longer seem to trust the publisher.
Announcements of titles outside of Marvel's most prominent characters, like Black Panther & The Crew or Nighthawk, are met with the resignation that they're likely not long for this world, which becomes a self-fulfilling prophecy when low first-issue orders all-but-guarantee cancellation within one arc. Some observers have taken to calling these titles "stealth mini-series": books announced as ongoing series yet expected to conclude after one arc, which prompt many readers to wait for the trade collection or avoid investing in the series altogether. New writers, some of whom come to Marvel from successful backgrounds in prose publishing, must plead with their existing fans not just to buy their comics, but to buy their comics the way the direct market wants them to: preordering them sight-unseen from brick-and-mortar specialty shops. Failure to do so results in MacArthur "Genius Grant" recipients and New York Times bestselling authors having their series cancelled with just two issues on stands.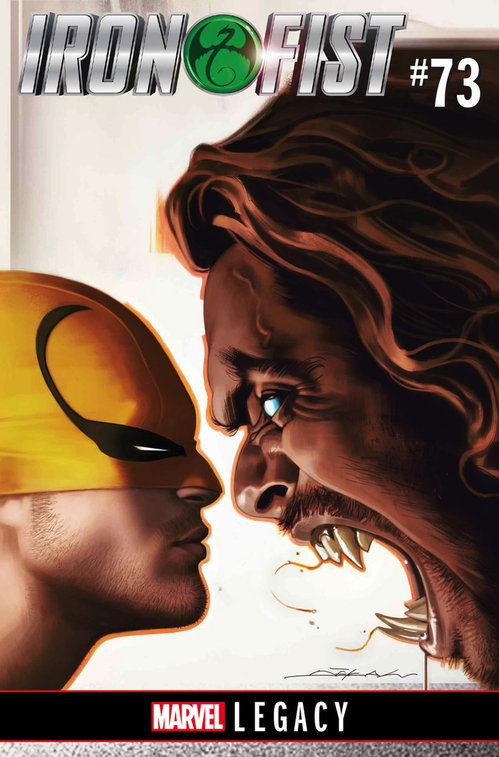 Iron Fist #73 Cover Art by Jeff Dekal
Meanwhile, Marvel continues to inflate sales on first-issue numbers by encouraging retailers to participate in variant-cover schemes, as explained in this tweet thread from popular Dublin retailer Big Bang Comics. The shop, which garners international followers through its honest accounting of which titles do and don't succeed in their store, announced that the requirements to buy Marvel's much-hyped upcoming lenticular covers, designed to literalize Legacy's stated goal of merging the new with the old, were simply too cumbersome. As reported at The Beat, other shops have followed suit and opted out of the "promotion," which tasks retailers with ordering outsized amounts of regular covers to be "allowed" to order the lenticular covers, which would likely saddle shops with dozens of non-returnable regular covers that few customers want.
With the shiny covers taken away, what does Legacy offer beleaguered or lapsed Marvel fans? Unlike Rebirth, the 2016 publishing initiative that saw DC Comics reduce its title count, shift popular series to twice-monthly schedules and restart the entire line with fresh first issues (save for Action Comics and Detective Comics), Legacy maintains nearly all current ongoing titles, keeps most current creative teams intact and returns books like Iron Fist and Luke Cage—not known for long runs—to cumulative numbering, adding together the issue numbers from all or most previous volumes of the books. Iron Fist currently sells about 22,000 copies—are there readers out there more willing to try Iron Fist #73, by the same creative team, than Iron Fist #8? And how many new or casual readers will be dismayed to suddenly see Captain Marvel #125 and wonder if they need to read 124 preceding issues to understand the story in advance of her film debut? Even diehard "Wednesday warriors" are confused at Marvel's inconsistent application of legacy numbering, which counts the issues of Tales to Astonish before the Hulk was created, yet leaves out the issues of Tales of Suspense in which Iron Man did appear.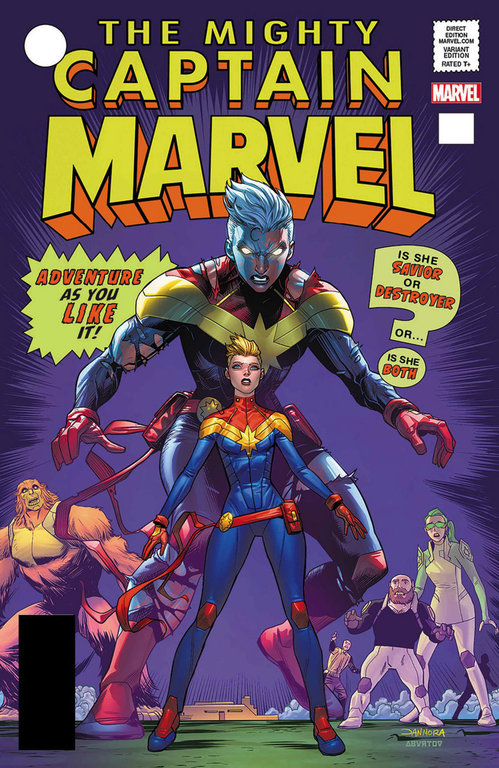 Captain Marvel #125 Cover Art by Dan Mora
The few new launches are a similarly mixed bag. A brand-new Falcon #1 may entice fans who disliked seeing Sam Wilson's identity subsumed by the red-white-and-blue of Captain America, but who's clamoring for a Spirits of Vengeance book drawn in an unremarkable superhero style, absent of the newest Ghost Rider? Or one-shot continuations of Silver Sable & The Wild Pack and Not Brand Ecch? The arrival of the God Country team of Donny Cates and Geoff Shaw on Thanos is inspired, but will they reverse that title's entropy that persisted under even popular writers like Jason Aaron and Jeff Lemire? Does Mark Waid, following low-selling runs on Avengers and Champions, still possess the fan goodwill needed to resuscitate Captain America?
The impression that one gets is that Legacy is neither an organic extension of Marvel's publishing plans nor a Rebirth-style rejuvenation of the line, but yet another marketing gimmick that relies on forcing retailers to over-order first issues and "milestone" issues, buying Marvel more time between failures. As reported at The Beat, Marvel has all but "bottomed out" its sales, with non-event, non-Star Wars titles most likely to settle into the sub-20,000 monthly sales range, which is typically cancellation territory at the Big Two. Simply put, Marvel is the publisher that cried wolf, and both fans and retailers have reached their gullibility limits.
Marvel, and anyone who cares about a robust direct market, should hope that Legacy is merely a stopgap on the way to a more substantial publishing overhaul—one that more meaningfully addresses Marvel's downturn in recent years—not the goal in and of itself. The publisher of Spider-Man, Captain America and the X-Men shouldn't need to rely on variant covers and the Star Wars license to stay afloat. If and when Marvel does take a deeper look at the practices that have driven down its sales and crumbled its trust among fans and retailers, one looming question will remain: will anyone still be around to care?