Sword of Ages, Darkhawk, Batman: Creature of the Night & More in Required Reading: Comics for 11/29/2017
Main Art by Gabriel Rodríguez
Comics
Lists
Required Reading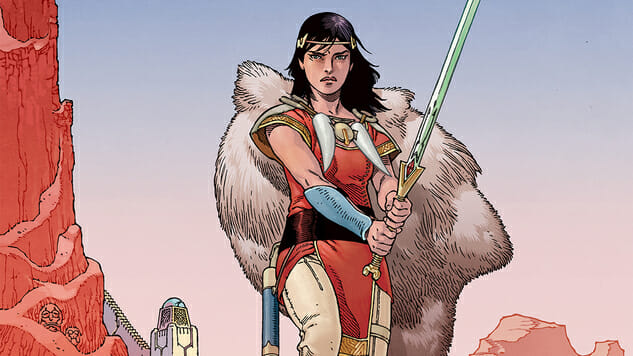 November is a five-Wednesday month, a schedule stack that always vexes comic publishers—hence the relatively bare release schedules from companies like Dark Horse this week, and the litany of annuals coming from DC Comics. Fret not, though—your diligent Paste tastemakers have still assembled 10 worthy reads for your weekly haul. Kurt Busiek, John Paul Leon and Phil Winslade turn a sobering, realistic eye to the Dark Knight this week, while Chad Bowers, Chris Sims and Kev Walker celebrate '90s bombast with Darkhawk over at Marvel. Lion Forge's Catalyst Prime universe continues to expand, BOOM! and Archaia pay further tribute to Jim Henson, Gabriel Rodríguez goes full Hero's Journey, Charles Forsman introduces more melancholy coming-of-age tension and Grant Morrison's oddest bibliography entry gets a deluxe edition. All of this and more bids adieu to November and paves the way for 2017's final month.
---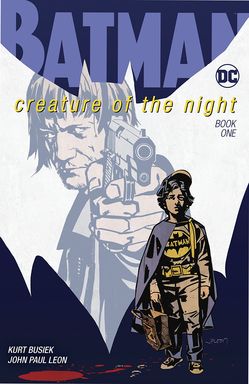 Batman: Creature of the Night Book One
Writer: Kurt Busiek
Artists: John Paul Leon, Phil Winslade
Publisher: DC Comics
Some of the most memorable superhero comics of the past 20 years have jumped from fiction to reality, showing how the cape crowd influences its creators and readers—taking a wrecking ball to the fourth wall in many cases. Paul Dini and Eduardo Risso's Dark Night: A True Batman Story narrated how the writer coped with a brutal assault through the fantasies that would never let that act occur, and Steven T. Seagle and Teddy Kristiansen's It's a Bird… was a Superman story about how hard it is to write a Superman story.
Kurt Busiek ups the meta in Batman: Creature of the Night, a spiritual sequel to Superman: Secret Identity, his 2004 miniseries with artist Stuart Immonen. Both works revolve around mundane individuals in hero-less worlds who soon trip into the myths we've come to love as readers. Creature of the Night features a child, Bruce Wainwright, who becomes an early orphan after tragedy strikes. Hints of the Dark Knight soon infiltrate his reality, but is it just a defense mechanism or a full fiction invasion? These books not only paint an intriguing character arc, but examine the literary significance of our unitard fantasies past their own immediate context. Artists John Paul Leon and Phil Winsdale have a track record of portraying the fantastic through a grounded lens, making their linework perfect for these experiments. Sean Edgar
---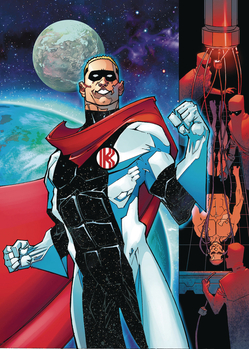 Catalyst Prime: Kino #1
Writer: Joe Casey
Artist: Jefte Palo
Publisher: Lion Forge
The Catalyst shared superhero universe at Lion Forge has been a little…quiet. Maybe it's the unusual book titles (Accell?) or just the challenge of breaking through the superhero din already dominated by the Big Two, something more established publishers like Valiant still struggle to accomplish. Kino is the latest creatively named title in the imprint, and it comes courtesy of one of the most accomplished writers in the Lion Forge stable, Man of Action co-founder Joe Casey. Casey is responsible for transformative runs on books like Wildcats, Superman and Cable. Joining him is Jefte Paolo, formerly one of Marvel's most underrated contributors. His work on books like Black Panther and Doctor Voodoo stood out as angular and dynamic, perfect for off-kilter cape tales like Kino, which bills itself as a dark mystery surrounding the return of a Superman-esque hero. It's not easy to break new superhero ground, but Catalyst Prime is worth keeping an eye on with talent like this at the wheel. Steve Foxe
---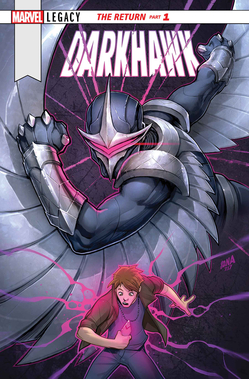 Darkhawk #51
Writers: Chad Bowers & Chris Sims
Artist: Kev Walker
Publisher: Marvel Comics
Nineties New Warrior Darkhawk got a major mythos boost a few years back during one of Marvel's cosmic crossovers, and his intergalactic Fraternity of Raptors is coming into play in the current All-New Guardians of the Galaxy arc, which helps explain the existence of this Legacy one-shot. Boasting art from New Avengers and Doctor Aphra's Kev Walker, Darkhawk finds protagonist Chris Powell stepping up to defend his power-granting amulet against alien visitors from his own Fraternity. Chad Bowers and Chris Sims handle writing duties, no doubt bringing with them the same '90s fondness and respect that aided them on X-Men '92. The Legacy one-shots have felt randomly selected, but New Warriors fans and cosmic readers should get a kick out of this one. Steve Foxe
---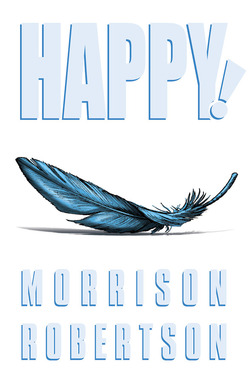 Happy! Deluxe HC
Writer: Grant Morrison
Artist: Darick Robertson
Publisher: Image Comics
Happy stands as one of the greatest curiosities in Grant Morrison's sizable oeuvre. The auteur responsible for post-modern, dimension-bending mayhem wallows in the grit and filth of a crime-ridden NYC…aided by a tiny, magical horse. The general plot description only hints at the horrors within, as despondent ex-cop Nick Sax goes on a journey to save a slew of kids from a pedophile Santa Claus. If that sounds unpalatably bleak, that's the point. Sax's blue equine friend juxtaposes his moral squalor with a saccharine, unflappable idealism pulled from a Saturday morning cartoon. Artist Darick Robertson—no stranger to horrible, hopeless people doing horrible, hopeless things in The Boys and Transmetropolitan—pivots between the gun-metal vice of Sax's fallen path to the glimmer of salvation espoused by Happy. The project is currently set to launch as a TV series on SYFY starring Christopher Meloni, and this deluxe HC is the perfect way to catch up with an added 10-page story. Sean Edgar
---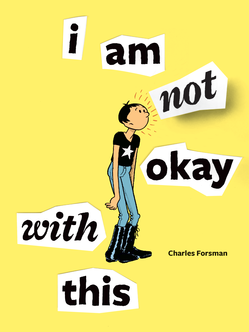 I Am Not OK With This
Writer/Artist: Charles Forsman
Publisher: Fantagraphics
Charles Forsman paints character portraits of normal kids with complex, and often disturbing, interior lives. His graphic novel The End of the Fucking World may start as a charming romance about two kids in feverish puppy love, but soon evolves into a harrowing look at sociopathy and troubled enablers. Those stark themes are only more pronounced as rendered in Forsman's disarming style, which shares more in common with kids-comics queen Raina Telgemeier or the legendary Charles Schultz than the contorted realism of Charles Burns. I Am Not Okay With This continues that streak with the story of Sydney, a freshman struggling with her emergent sexual identity, the death of her father and some latent superpowers. Originally released as a series of self-published minicomics, the entire saga is collected here courtesy Fantagraphics. In tandem with his other works, it further confirms Forsman's skill at ratcheting tension for aimless kids learning to be disappointed adults. Sean Edgar
---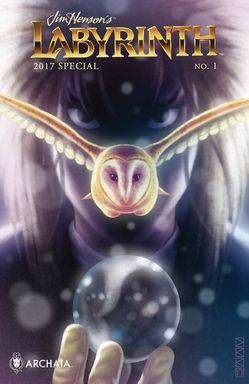 Jim Henson's Labyrinth 2017 Special #1
Writers: Katie Cook, Delilah Dawson, Alessandro Ferrari, Roger Langridge, Curry Ross
Artists: Katie Cook, Jared Cullum, Roger Langridge, Jeff Stokely
Publisher: Archaia/ BOOM! Studios
BOOM! Studios and its Archaia imprint have continually done a sterling job of preserving the '80s/'90s magic of The Jim Henson Company. Starting with its international approach to The Storyteller to ushering dormant projects like The Musical Monsters of Turkey Hollow to reality (we're not counting the 2015 Lifetime movie), the cartoonists of BOOM! have channeled Henson's mix of wonder and optimism from three-dimensional puppetry to two-dimensional panels. The publisher has recently honed in on two of Henson's fantasy tentpoles: The Dark Crystal and Labyrinth. Writer Si Spurrier and artists Nichole and Kelly Matthews have been releasing the un-produced sequel to the former, while Spurrier and artist Daniel Bayliss are prepping to reveal Jareth the Goblin King's origins (a.k.a. David Bowie singing about making babies pee) in a future series.
In the meantime, a cache of funny, seasoned cartoonists is piling into a 2017 special that highlights the idiosyncratic beings lurking in the surreal wonderland of the 1986 film. Katie Cook, Roger Langridge, Jeff Stokely and others will reveal how fox-terrier knight Sir Didymus encountered his mount Ambrosius, with another short following a lone goblin late to Jareth's iconic "Dance Magic Dance" number. For nostalgic millennials, and youth catching up on Henson's legacy, these comics bring the power of voodoo. Sean Edgar
---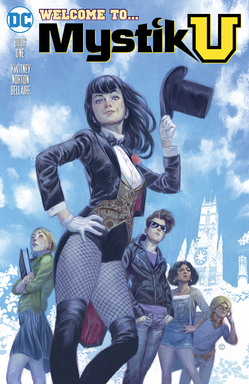 Mystik U Book One
Writer: Alisa Kwitney
Artist: Mike Norton
Publisher: DC Comics
DC Comics hasn't yet officially launched its YA/middle-grade imprint, but projects like Mystik U seem to be testing the waters nicely. First announced (without much detail or a full creative team) during the DCYou era at the twilight of the New52 publishing initiative, Mystik U re-imagines fan-favorite backward-talking magician Zatanna as the student of a mighty magical academy alongside fellow DC sorcerers like Enchantress, Sargon and Faust. Alisa Kwitney hasn't been around comics too often in recent years, but is a foundational voice of the old-school Vertigo era, most notably working with the offspring of Neil Gaiman's Sandman mythos. Mike Norton is old hat to teen-focused stories, working with Jamie McKelvie on Young Avengers and co-creating Gravity at Marvel. He also knows how to lean into the horrific with titles like Revival, should Zatanna's education hits any magical potholes. The oversized series will release bimonthly, much like the gothic romance Deadman series from earlier this year, and should find substantial reader overlap with that haunted three-issue delight. Steve Foxe
---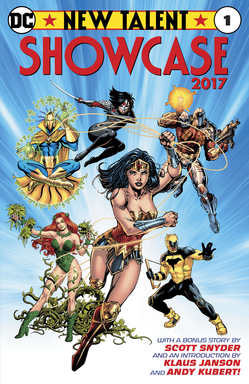 New Talent Showcase 2017
Writers: Al Letson, Aaron Gillespie, David Accampo, Desirée Proctor, Erica Harrell, Owl Goingback, Tony Patrick
Artists: Jagdish Kumar, Lalit Sharma, Matt Merhoff, Siya Oum, Lynne Yoshii, Minkyu Jung, Sam Lotfi
Publisher: DC Comics
Graduates of DC's first talent workshop are starting to find purchase at the publisher, with Christopher Sebela taking over Blue Beetle and Michael Moreci pinch-hitting on Superman and The Flash. This one-shot helps spread the love to Scott Snyder's second class of rising writers, paired with alums of the program's artistic side. While talents like Sebela and Moreci had healthy bodies of work before crossing DC's radar, most of the creators assembled here are truly new names to comic readers, beyond Black Mask contributor Tony Patrick, who's already tapped to co-write the upcoming Signal series with Snyder. The stories within focus on Poison Ivy, Katana, Doctor Fate and more. If you're interested in previewing DC's potential future stars, this 80-page sampler platter is a good use of your $7.99. Steve Foxe
---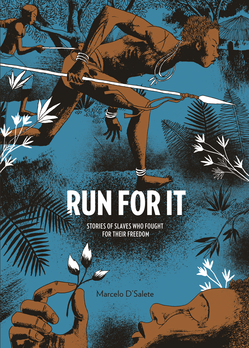 Run For It: Stories of Slaves Who Fought For Their Freedom
Writer/Artist: Marcelo D'Selate
Publisher: Fantagraphics
Brazilian-born cartoonist Marcelo D'Selate's collection Run For It: Stories of Slaves Who Fought For Their Freedom is by no definition an easy read, but it is essential. These vignettes work through Brazil's history as one of the biggest incubators of the slave trade; slavery was common between tribes before the Portuguese colonized the country, and it only amplified as the country became one of the largest sugar exporters throughout the 1600s. D'Salete never veers into misery porn, but he unflinchingly shows the brutal logistics that eschewed humanity for business. When the subjugated men and women of these pages transcend their circumstances through uncanny acts of will, the sense of catharsis can be overwhelming. The artist renders these pages strictly in black and white, using thick, textured swaths of ink to add dimensions and darkness to the immense trials that unfold within. Sean Edgar
---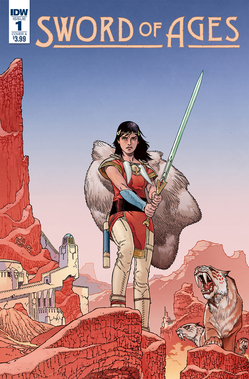 Sword of Ages #1
Writer/Artist: Gabriel Rodríguez
Publisher: IDW Publishing
Chilean illustrator Gabriel Rodríguez has spent over a decade at IDW Publishing, most notably as Joe Hill's collaborator on the Eisner-award winning Locke & Key. His non-Hill projects, like Onyx, have failed to make as much of a splash despite his precise cartooning and expert visual pacing. Sword of Ages represents his first long-form solo outing for the publisher, a sci-fi/fantasy heroic epic in the grand European tradition. With his consistent line weight and stunning colors, Rodríguez has evoked something of a Moebius vibe in the preview pages released thus far. If there's any justice in the sequential art world, Sword of Ages will help remind readers that, Hill or not, Rodríguez is one of the most skilled and consistent artists working today. Steve Foxe