Superman: Year One, Psi-Lords, Hot Comb & More in Required Reading: Comics for 6/19/2019
Main Art by John Romita Jr.
Comics
Lists
Required Reading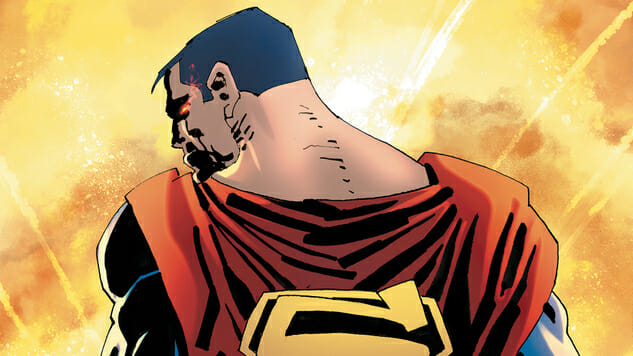 Superhero comics may dominate the discourse, but weeks like this serve as a good reminder that capes and tights are only part of the vivid tapestry of sequential art. Alongside Superman: Year One, this Wednesday also sees the release of a comic tie-in to an American children's property originally based on reused footage from a Japanese TV show, a sci-fi reinvention of a defunct '90s series, a special installment of a literary Vertigo series starring the original archfiend, a coming-of-age story set in a Black edify parlor and so much more. We love our superheroes, but we also love weeks like this that remind us that so, so many other adventures still fall under the Required Reading banner.
---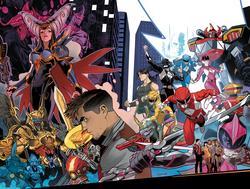 Go Go Power Rangers: Forever Rangers #1
Writer: Ryan Parrott
Artists: Eleonora Carlini, Francesco Mortarino
Publisher: BOOM! Studios
BOOM! Studios has proven to be the perfect caretaker for Saban's Power Rangers, with two beloved ongoing series and a host of spin-offs and events. One of those pillar titles reaches a head this week as Go Go Power Rangers explodes into this special oversized issue. Written by series mainstay Ryan Parrott and drawn by Eleonara Carlini and Francesco Mortarino, Go Go Power Rangers: Forever Rangers finds Jason, Kimberly, Zack, Trini and Billy squaring off against Alpha One, who is hellbent on defeating his creator, Zordon. For those unfamiliar, Go Go Power Rangers takes place in the early days of the Mighty Morphin Power Rangers, as they're acclimating to their new responsibilities and before they meet Green Ranger Tommy. Like other Power Rangers artists, Carlini and Mortarino have slick, action-oriented styles that perfectly suit the teen drama, costumed fights and Megazord throw-downs required by the title. Forever Rangers may mark a climax for Go Go Power Rangers, but fear not: the ongoing series continues next month with new co-writer Sina Grace.
---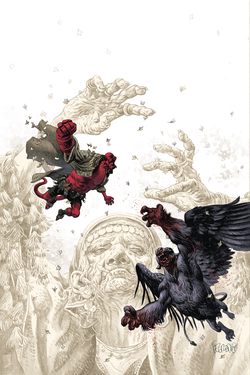 Hellboy and the B.P.R.D.: The Beast of Vargu #1
Writer: Mike Mignola
Artist: Duncan Fegredo
Publisher: Dark Horse Comics
Hellboy's main story may be over, but Mike Mignola is far from done with his most famous creation. In this one-shot, Mignola teams up with perhaps his greater collaborator, Duncan Fegredo, who previously illustrated key volumes of Hellboy's epic saga, for the "first issue of a new era for Hellboy and the B.P.R.D." Hellboy and his teammates travel to Romania for two tales involving a curse, a demi-god, a sinister puppet show and, of course, the titular man-eating monster. More Hellboy is pretty much always a good thing, especially when when Mignola is indulging his interest in Eastern-European folklore. More Hellboy with Duncan Fegredo attached? That's not just Required Reading—that's a must-buy.
---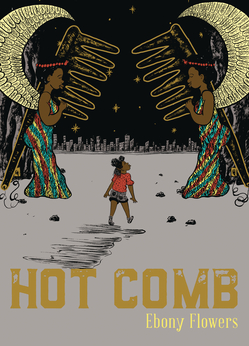 Hot Comb
Writer/Artist: Ebony Flowers
Publisher: Drawn & Quarterly
It's an understatement to say that Black creators, especially Black women, are underrepresented and undervalued in comics, from mainstream super-heroics to the often-insular indie world. Hot Comb by cartoonist Ebony Flowers zeroes in on the sort of intrinsically Black experience that the industry is finally starting to acknowledge, with a glimpse into a Black beauty salon and the stories and gossip shared over perms and other treatments. In the titular tale, a young girl tries to change her hairstyle to avoid accusations of being "too white" for her new, predominantly Black neighborhood, allowing Flowers to interrogate intersections of race, class and identity with a perspective that is vital in comics, now more than ever.
---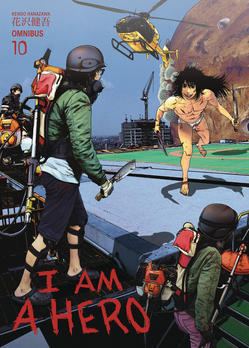 I Am a Hero Vol. 10
Writer/Artist: Kengo Hanazawa
Publisher: Dark Horse Comics
We are truly running out of ways to recommend Kengo Hanazawa's I Am a Hero, so perhaps it's a bittersweet blessing that we're now up to the penultimate two-in-one volume. Hanazawa's zombie apocalypse started strong if somewhat typical—Japan is overrun by bite-happy undead—but quickly deepened into one of the most unique takes on the genre in recent memory. Protagonist Hideo is an awkward wannabe manga creator, thrust into survival mode and eventually entrusted to protect others, as he's one of the few remaining licensed gun owners in Japan. Far from a trigger-eager treatise on why guns are good, actually, I Am a Hero goes out of the way to show Hideo's insistence on following safety protocols even as his country crumbles around him. Recent volumes have introduced zombie/human hybrids, gargantuan undead monsters and other countries under siege. It's frightening to imagine a world where I Am a Hero takes place, but even scarier to imagine one where there series is over. Luckily, readers have one more oversized volume to expect this fall.
---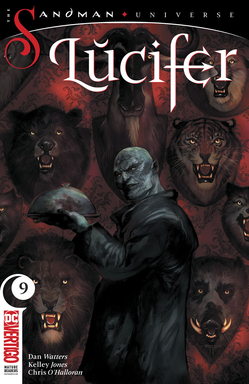 Lucifer #9
Writers: Dan Watters
Artist: Kelley Jones
Publisher: Vertigo/ DC Comics
Each Sandman Universe series had initial hurdles to overcome: The Dreaming carried the pressure of directly following Neil Gaiman's core story, Books of Magic had to reintroduce Tim Hunter in a post-Harry Potter world, House of Whispers needed to ingratiate fans to an entirely new corner of the universe and Lucifer not only picked up a character defined by Mike Carey and Peter Gross's epic run, but one endlessly reinterpreted across the western canon. Dan Watters and the Fiumara brothers haven't just succeeded in crafting an intricate new chapter for the Morningstar—they've made it look easy. Now, with the first arc behind him, Watters teams up with legendary former Sandman artist Kelley Jones for a one-off issue focusing on Caliban's quest to track down his devilish father on the streets of 19th-Century England. A far cry from the television adaptation, Watters and co.'s Lucifer owes as much to Milton as it does to prior comic versions, resulting in a literary Satan staying one step ahead of every other fiend in the room. Few artists in comics do hulking brutes better than Kelley Jones, making this a match made in—well, you know. Don't make us spell it out.
---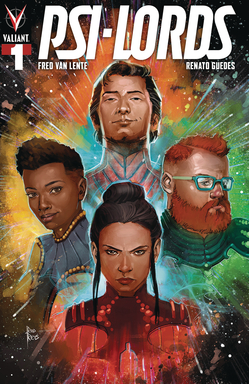 Psi-Lords #1
Writer: Fred Van Lente
Artist: Renato Guedes
Publisher: Valiant Entertainment
Valiant Entertainment led its relaunch with familiar faces—X-O Manowar, Bloodshot, the Harbingers—before branching out into fresh properties like Divinity. Although the title Psi-Lords may seem new to recent readers, it actually is another throwback property, albeit one Valiant has been holding in the wings. The original Psi-Lords were a far-future version of Valiant's H.A.R.D. Corps, with mental implants that allowed them to access different powers. This update, from Valiant mainstays Fred Van Lente and Renato Guedes, kicks off with four agents from different space agencies waking up together in a massive intergalactic prison, stripped of their memories. Not only do they need to break out—they also need to find the powerful beings known as the Psi-Lords. Like other recent Valiant launches, the publisher is planning long term, with Van Lente and Guedes aiming to draw out elements of the mystery for a full year. Valiant fans and sci-fi readers will want to get in on the ground floor of this Lost-in-space saga.
---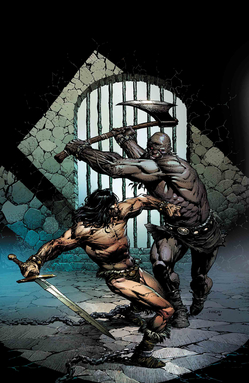 Savage Sword of Conan #6
Writer: Meredith Finch
Artist: Luke Ross
Publisher: Marvel Comics
Meredith Finch's first major outing, a late-era New 52 run on Wonder Woman alongside artist husband David Finch, was met with a mostly chilly response (a new armored costume certainly didn't help). Her Image Comics series Rose, on the other hand, has attracted a seemingly stable fantasy following. This week, Finch takes her first plunge into the world of Conan with a guest spot on anthology series Savage Sword. Finch is joined by frequent Star Wars contributor Luke Ross for a self-contained tale of Conan fighting for his survival against the son of a man the barbarian slew years prior. Finch's stay in the realm of Robert E. Howard doesn't end here: later this summer she'll launch Age of Conan: Valeria, a mini-series exploring one of Howard's lesser-known female creations.
---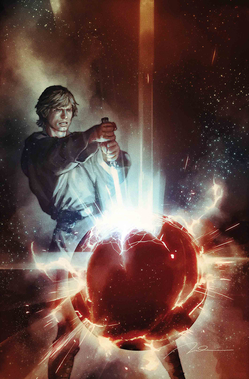 Star Wars #67
Writer: Kieron Gillen
Artist: Angel Unzueta
Publisher: Marvel Comics
Kieron Gillen has been a major architect of Marvel's Star Wars line since day one, launching the critically acclaimed Darth Vader, co-creating spin-off sensation Doctor Aphra and eventually taking over the core Star Wars series from writer Jason Aaron. This week, Gillen's time in a Galaxy Far, Far Away comes to an end with Star Wars #67. Although Gillen's run has been illustrated by artists with a penchant for a near-uncanny-valley level of photo-realistic likenesses, Gillen, Salvador Larroca and Angel Unzueta have crafted one of the strongest Star Wars comic runs since Marvel regained the likeness, capturing character voices perfectly and generating conflict that fits neatly between Episodes IV and V while still feeling substantial. This issue wraps up the long-gestating Shu-Torun war first seeded in Darth Vader, and makes way for new creative team Greg Pak And Phil Noto to take over next month.
---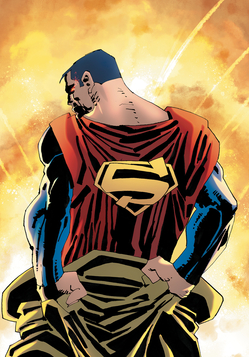 Superman: Year One: #1
Writer: Frank Miller
Artist: John Romita Jr.
Publisher: DC Black Label/ DC Comics
No one can claim that DC's Black Label imprint is predictable. Pitched as mature-readers, out-of-continuity takes on DC's iconic heroes and villains, Black Label also has room for projects like Superman: Year One, an ostensibly faithful, hopeful take on Clark's first months on the job—from no less than Frank Miller, architect of some of comics' biggest-ever stories. Miller is known for…let's be generous and say "edgy"…content in recent years, which makes Superman: Year One all the more surprising, as Miller and artist John Romita Jr. have promised an inspiring tale of a powerful young man, shaped by the kindly influence of the Kents, choosing to be a hero. Romita Jr. is of course a major draw in his own right, having contributed to countless iconic Marvel titles over the decades, and several major DC runs since signing with the company a few years ago. Like Miller, Romita Jr.'s style has evolved into an angular, sketchy version of his previous work, which should fit a younger, less brawny take on Superman. If nothing else, Superman: Year One is worth checking out to see how the writer of the "Goddamned Batman" and the artist of Kick-Ass pivot to more wholesome, inspirational storytelling.
---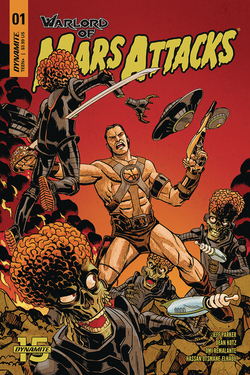 Warlord of Mars Attacks #1
Writer: Jeff Parker
Artist: Kyle Hotz
Publisher: Dynamite Entertainment
You want mash-ups? Dynamite's got your mash-ups! Following hot on the heels of Barbarella/Dejah Thoris, Vampirella/Red Sonja, Peanut Butter/Jelly and approximately 438 other mash-up series, Warlord of Mars Attacks jams two licensed Dynamite properties together with the typical entertaining, amusing results. The creative team sets this combo apart from the pack: Jeff Parker's name is all but synonymous with a consistent level of comic quality, and artist Kyle Hotz is a modern descendent of the EC Comics style, balancing horror with slightly grotesque humor. In Warlord of Mars Attacks, John Carter, the titular Warlord of Mars, stumbles on the little green men of the Mars Attacks franchise—a far cry from the sort of Martians Carter is used to dealing with. Their zany conflict soon spills over to Earth, where havoc ensues. Dynamite lays it on a little thick with its crossovers, but fans of the involved franchises may appreciate a change of pace from the more faithful tales.