Baltimore has a reputation for being a gritty, blue collar East Coast town. But despite being somewhat rough around the edges, Baltimore is affectionately nicknamed Charm City. It's known for its crab cakes, Old Bay seasoning, Johns Hopkins University, the MLB's Orioles and the NFL's Ravens.
Baltimore has also become a home for both skilled brewers and a slew of bars and restaurants serving up the best microbrews from around the city and beyond. Whatever your reason for visiting, here are the breweries and beer-focused restaurants you need to put on your next Baltimore itinerary.
---
The Breweries
Baltimore-Washington Beer Works
Also known as RavenBeer, this brewery churns out beers inspired by Baltimore poet Edgar Allen Poe. The Tell Tale Heart IPA (7.25% ABV) packs a good punch without being overly bitter. On the other end of the spectrum is the Pendulum Pilsner (4.5% ABV), a super drinkable and crisp brew that will satisfy beer drinkers that appreciate a more mellow flavor profile.
The Brewer's Art
?The Brewer's Art doubles as a brewery and restaurant. It offers several standard beers, which are also canned and distributed in six packs around the region. The signature beer is the Resurrection (7% ABV), an abbey-style brown ale. Beazly (7.25% ABV), formerly named Ozzy, is a Belgian-style strong ale that goes down surprisingly easy for its volume. Another refreshing choice is the Birdhouse pale ale (5% ABV), a well-balanced brew named for the Baltimore Orioles and it's perfect for baseball season. The Brewer's Art also produces a host of interesting large-format and seasonal beers that are sold in stores and tapped at bars around the city.
DuClaw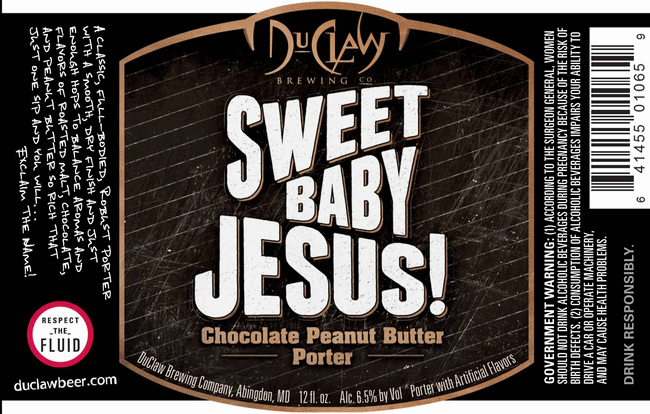 DuClaw is known for its off-beat brews. The most unique is the Sweet Baby Jesus (6.2% ABV) chocolate peanut butter porter. If you've ever wanted to drink a boozy peanut butter cup, this is your chance. Its Misfit Red (5.1% ABV) is an American Red Amber Ale with a bit of roasted malt flavor. Brewery tours are still in the works, but DuClaw does offer several Baltimore-area tap houses.
Heavy Seas Beer
This Baltimore brewery has been in business since 1995 and has been steadily ramping up production in past years. It produces beers with appropriate nautical-themed names like the popular Loose Cannon IPA (7.25% ABV), the strong Small Craft Warning pilsner (7% ABV) and the rich, toasty Peg Leg imperial stout (8% ABV). Stop by the brewery for a free visitor tour, or hit up its Baltimore alehouse location.
Monument City Brewing Company
A relatively new entrant to the Baltimore scene, Monument City currently bottles two beers. One is its 51 Rye IPA (6.5% ABV), which is brewed with 51% rye grain paired with citrusy hop flavors. The American brown ale (6% ABV) is a straightforward take on the style. Monument City also offers its Battle IPA (7.5% ABV) on tap only and also features some other limited-release kegs from time to time.
Oliver Brewing Company
Oliver's has been cranking out English-style suds in Baltimore since it began operating out of the Pratt Street Ale House as Oliver Ales in 1993. Popular options range from the 3 Lion's English strong ale (7.5% ABV) to the Bishop's Breakfast oatmeal stout (4.4% ABV) and the Draft Punk English-style IPA (7.0% ABV). The brewery recently announced a rebranding along with opening a new standalone location and tasting room, allowing it to increase its offerings.
Union Craft Brewing
Union started brewing in Baltimore's Woodberry neighborhood in 2012 with its flagship Duckpin pale ale (5.5 ABV).  Duckpin then gave way to Double Duckpin (8.5 ABV), a double IPA brewed with five types of hops. Both are reliable options that can be picked up in canned six packs around the area. Union also brews and cans its Balt altbier (5.6% ABV) and Blackwing lager (4.8% ABV) year round. There are many interesting seasonal and special beers to look out for as well, such as Snow Pants oatmeal stout (8% ABV). The taproom is open Thursday through Friday from 5 p.m. to 10 p.m. and gives tours Saturdays from 12 p.m. to 5 p.m.
---
Not Quite Beer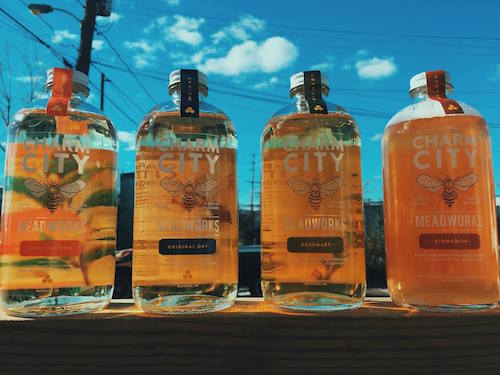 Charm City Meadworks
?3511 8th Ave.
Mead is a tasty beverage made from honey, water and fermented yeast. Charm City Meadworks produces both still and draft meads. The standard bottled lineup checks in at 12% ABV and includes original dry, rosemary, cinnamon and sweet blossom. The 6.9% ABV draft meads come in varieties like elderberry, wildflower and basil lemongrass and are available in 1/2 or 1/6 kegs and cans. The tasting room is open from 5 p.m. to 9 p.m. on Friday and 1 p.m. to 5 p.m. on Saturdays.
The Beer Bars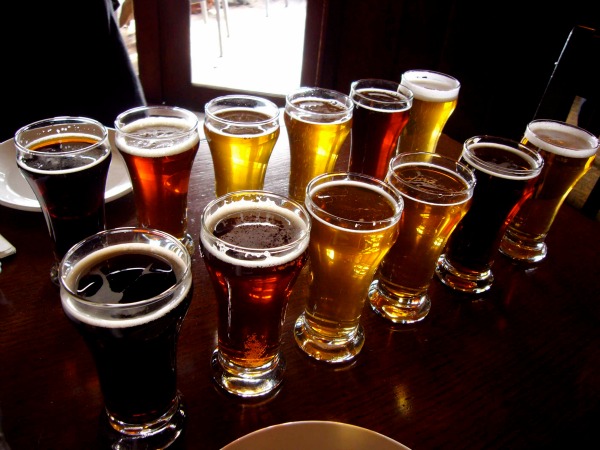 Alfewife Baltimore
21 N Eutaw St.
This downtown Baltimore beer tavern was built inside of what was once a bank. Now the space boasts 40 taps and 100 different bottles of fantastic craft beer from Baltimore and beyond. Check out Alewife online for the most current list. The supper menu is a bit more upscale than a typical bar, with options like blue catfish tacos and wild boar sliders. Most people go for the indulgent Smoke Burger, an 11 ounce beef patty topped with smoked gouda, gruyere, bacon, caramelized onions and chipotle aioli and served with duck fat fries.
Le Garage
911 W 36th St.
Le Garage is located in Baltimore's Hampden neighborhood, just west of Johns Hopkins University. Beers here usually includes a few Belgian, French and German options along with the best local and national brews. Traditional Belgian frites and the accompanying dips are the star of the menu. There are plenty of heartier options as well.
Max's Taphouse
737 S Broadway
Max's Taphouse features an astounding 102 rotating beer taps along with five casks. Options include local Baltimore favorites as well as far-flung offerings from breweries like Baladin in Italy. The unfussy menu is sure to help soak up all the delicious beer. Try Max's tater bowl – tots smother in pulled barbeque pork with melted cheeses, sour cream and bacon – or go for the classic Maryland crab pretzel.
Mahaffeys
2706 Dillon St.
Head over to the Canton neighborhood and grab a beer at Mahaffeys, which has nearly two dozen beers on tap as well as an extensive bottle list. Selections rotate frequently, and a current list is kept updated online. Tuesdays usually feature a pint night for a specific brewery. The bar also has the 100 Beer Club, which lets regular customers track their beers and earn prizes as they mark off tasting milestones. While you're at it, grab one of the bar's 10 oz burgers or some crab cake sliders.
Of Love and Regret
1028 S Conkling St.
Of Love and Regret is part-owned by Baltimore native Brian Strumke, the founder of Stillwater Artisanal ales. There's no dedicated Stillwater Brewery (it's known as a Gypsy brewery), so this bar is a great place to find the brewery's products like Cellar Door witbier (6.6% ABV) or the Vacuum black IPA (8% ABV). Of Love and Regret (7.2% ABV) itself is actually a spiced beer made with chamomile, lavender, heather and dandelion. Of Love and Regret also serves up a cocktail list featuring beer and liquor pairings and other craft drinks. The upscale bar food menu changes frequently with the season.
Pratt Street Ale House
206 W Pratt St.
The birthplace of Oliver Brewing, Pratt Street Ale House serves up a selection of year-round and seasonal Oliver Brewing drafts as well as several guest drafts. There are also four cask conditioned taps and plenty of options for non-beer drinkers. Menu items center around typical bar fare like wings, quesadillas, flatbreads, sandwiches and entrees. There are plenty of crab options, like crab cakes or crab mac and cheese. The bar is located just around the corner from Oriole Park at Camden Yards, making it a popular place for a pint and a bit before or after a game.
Racer's Cafe
7732 Harford Rd., Parkville
Take a drive out to Parkville to sip from one of the 13 rotating taps at Racer's Cafe. Established in 1944, Racer's has built a reputation as a neighborhood hangout, and the prices back that up. Every day from 10 a.m. to 7 p.m., Racer's Cafe offers a special of three 12 oz beers for just $7. There's no kitchen, so guests are encouraged to bring their own food.
---
The Beer Shops
Beverage Depot Liquors
7705 Harford Rd.
Make the drive to Parkville for a shop with a full selection of craft and local beers from Baltimore's top breweries. There's also lots of free parking. The owner will also do his best to order any special requests for pick up.
Grand Cru at Belvedere Square
540 E Belvedere Ave.
Grand Cru is a full-service wine and beer bar and retail store. It's located inside the Belvedere Square Market, which hosts a variety of specialty restaurants along with food and shopping vendors.
Lighthouse Liquors
2701 Boston St.
This shop has a huge beer cooler and advertises having 32 doors with 30 products in each. There's also a bar with rare draft-only releases and other hard-to-find options. If you get hungry, there's also a deli serving up a variety of sandwiches.